make it or bake it
Veggies: Vivacious and Vibrant
Throw away all your prior notions of vegetables being dietary and guilt-free. Because, your humble everyday vegetables can be turned into ultimate guilty pleasures, giving meat a run for its money!

You are surely to be in search for a good alternative of proteins for your guests, friends and family; most importantly for your tummy after the heavy duty it has under taken in this  recent festive season. Some of the scrumptious baking recipes given here will not only bring variation to your dinner spread but also work great as a side of your protein, a holiday brunch or an evening snack. Turn on your oven and bake some vegetables now - you will be delightfully surprised.
Vegetable Lasagna

Ingredients

3 capsicums (best if each is of different colour)

2 eggplants, large, round

2 zucchinis

8 tbsp olive oil

½ can tomato paste/puree, about 1 cup

1 can button mushroom, cut into slices

White sauce, about 2 and a half cup

Full cream milk, butter, flour, onion, garlic, nutmeg, white pepper for white sauce

250grams or half a block mozzarella or cheddar

Handful of cherry tomatoes, halved

Lasagna sheets, penne or any other pasta of your choice

Method

Heat oven to 200C/fan 180C/gas 6. Deseed the peppers, halve, then cut into large chunks.

Trim ends off eggplants and zucchinis, cut into slices about ½cm thick. Lightly grease 2 large baking trays, place peppers, zucchinis and eggplants on top. Toss with the olive oil, season well, roast for 25 minutes until lightly browned.        

Reduce oven to 180C/fan 160C/gas 4. Lightly oil an ovenproof serving dish (30 x 20cm). Arrange a layer of the vegetables on the bottom, then pour over a third of the tomato sauce. Top with a layer of lasagna, then drizzle over a quarter of the white sauce*. Repeat until you have 3 layers of pasta.        

To finish, spoon remaining white sauce over the pasta, making sure the whole surface is covered. Scatter mozzarella over the top with the tomatoes. Bake for 45 minutes until bubbling and golden.

*white sauce:

Heat milk on the stove with one whole onion and garlic in it.

Heat a deep-bottom pan. Break butter into chunks and leave them in the pan until it melts. Pour flour and stir well with a wooden spatula for a few minutes. Pour in milk, keep stirring until the mixture sticks to your spatula. Mix one tsp. nutmeg shavings, one tbsp. white pepper powder and salt to taste.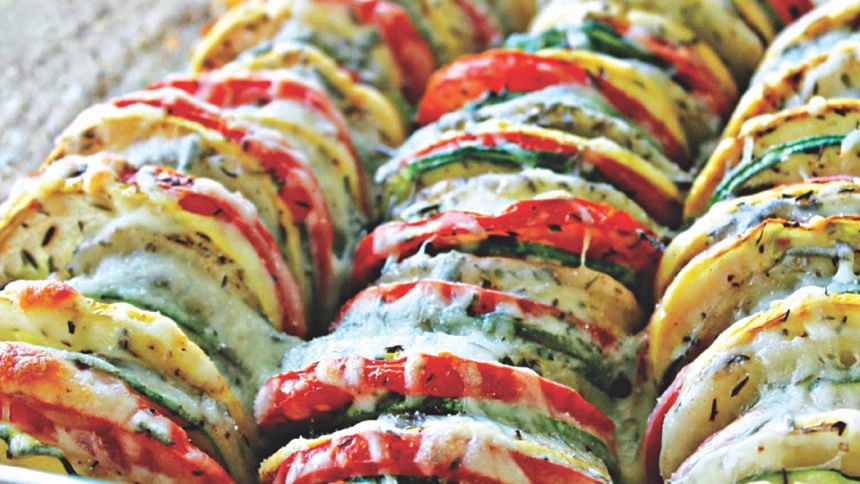 Spinach-Mushroom Frittata

Ingredients

2 tbsp olive oil

12-15 mushrooms, sliced

2 bunches of fresh spinach

4-3 large onions

4 eggs

½ cup grated cheddar

2 tbsp parmesan

black pepper

sea salt

Method

Beat eggs thoroughly and keep aside.

Heat the grill to its highest setting. Heat the oil in an ovenproof frying pan over a medium-high heat. Tip in the onions and caramelise on low heat. When the onion is transparent, throw in the mushrooms and fry for 2 more minutes until the mushroom is mostly softened. Stir in spinach and cook for 1 more minute or until the spinach has wilted. Season well with black pepper and salt.

Reduce the heat and pour over the eggs. Cook undisturbed for 3 minutes until the eggs are mostly set. Sprinkle over the cheese and put under into the oven for 10 minutes at lowest heat. Serve hot or cold.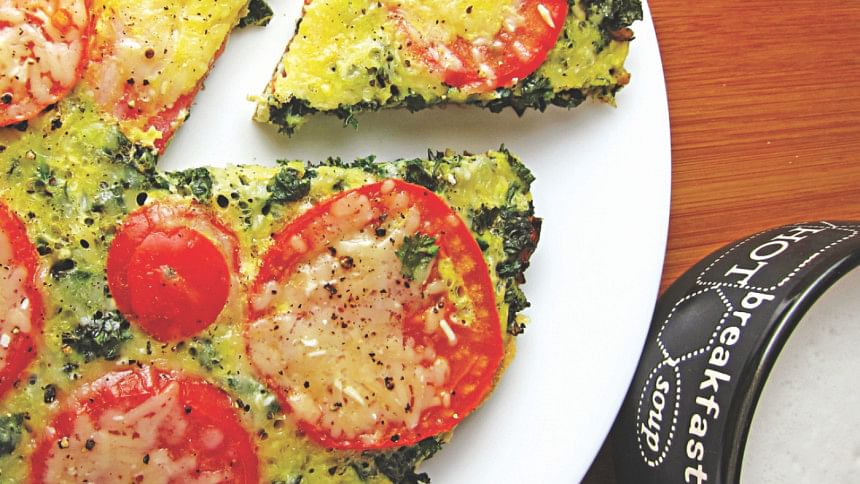 Cheesy-Creamy Eggplant  

Ingredients

Olive oil, for baking sheets

2 large eggs        

3/4 cup breadcrumbs

3/4 cup finely grated cheddar

2 tbsp parmesan for topping

1/2 cups shredded mozzarella   

1/2 cup cubed Dhaka Ponir

1 tsp dried oregano

1/2 tsp dried basil

Coarse salt and ground pepper

2 large eggplants, peeled and sliced into

1/2-inch rounds

6 cups store-bought sundried chunky tomato halves

Method

Preheat oven to 375 degrees. Brush 2 baking sheets with oil; set aside. In a wide, shallow bowl, whisk together eggs and 2 tablespoons water. In another bowl, combine breadcrumbs, 3/4 cup cheddar, oregano, and basil; season with salt and pepper.

Dip eggplant slices in egg mixture, letting the excess drip off, then dredge in breadcrumb mixture, coating well; place on baking sheets. Bake until golden brown on bottom, 20 to 25 minutes.

Turn slices; continue baking until browned on other side, 20 to 25 minutes more. Remove from oven; raise oven heat to 400 degrees.

Spread 2 cups tomato sauce on a 9-by-13-inch baking dish. Arrange half the eggplant in dish; cover with 2 cups sauce, then 1/2 cup mozzarella. Repeat with remaining eggplant, sauce, 1/2 cup ponir; sprinkle with remaining 2 tablespoons Parmesan. Bake until sauce is bubbling and cheese is melted, 15 to 20 minutes. Let stand for 5 minutes before serving.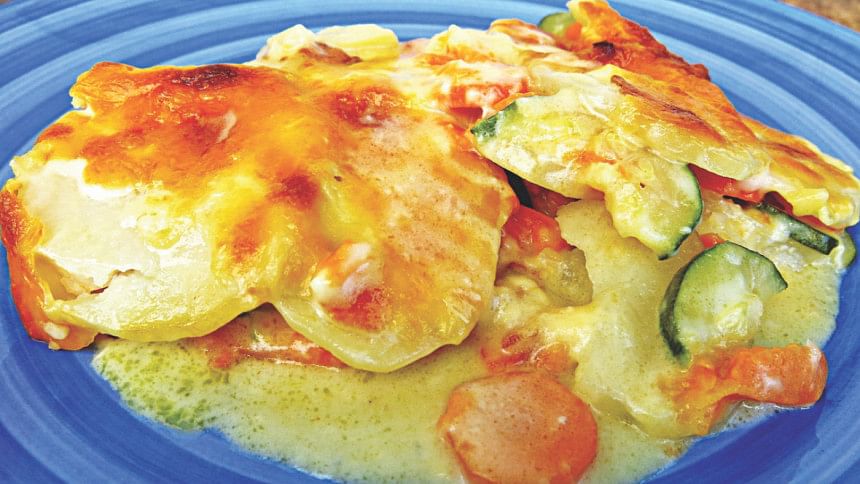 Cheese baked Potatoes

Ingredients

Melted butter, to grease

300ml thin cream

1/2 cup milk

1.25kg potatoes, peeled, thinly sliced

2 large onions, thinly sliced

100g thinly sliced pepperoni or finely chopped sausages

3/4 cup finely shredded mozzarella

Method

Combine the cream and milk in a saucepan over low heat and cook, stirring occasionally, for 2 minutes or until heated through.

Preheat oven to 170°C. Brush an ovenproof dish with melted butter to lightly grease. Arrange half the potato slices over the base of the prepared dish. Sprinkle with half the onion. Season with salt and pepper. Pour over half the cream mixture. Continue layering with the remaining potato slices, onion, salt and pepper and cream mixture.

Cover with foil and place on a baking tray. Bake in oven for 1 hour or until potato is tender.

Scatter chopped sausages over the potato bake and sprinkle with mozzarella. Bake, uncovered,  for a further 25-30 minutes or until golden brown and the potato is very tender.

Wait for about 15 minutes to let it set and cool. Serve.

You can make this recipe up to 1 day ahead. Cover and store in fridge. To reheat, preheat oven to 170 degC. Cover with foil and bake for 20 minutes or until heated through.
Zucchini Potato Pie

Ingredients

600g potatoes, washed

1/2 cup parsley, chopped

4 zucchinis

1 tbsp olive oil

1/2 cup milk

3 eggs

1/2 cup grated cheese, any kind

2 tablespoons pine nuts or almonds

Method

Preheat oven to 180°C. Grease an at least 3cm deep pie dish.

Place potatoes into a saucepan. Cover with water. Bring to the boil over medium heat. Simmer for 10 minutes or until tender. Drain. Dry. Slice.

Cut zucchinis diagonally, brush olive oil onto them and grill lightly.  

Layer half the potatoes over base of dish. Sprinkle with half the parsley and add half the zucchini. Repeat layers.

Whisk milk, eggs, and pepper together. Pour over the veggies. Sprinkle cheese and pine nuts on top. Bake for 35 minutes or until set in the centre. Serve.
Photo: Collected