ls suggests
Art on eyelids
While some call it watercolour eye makeup, others call it a pastel splash, but the simplest way to describe this emerging eye shadow trend is to call it art on the eyes — for it looks very similar to a bunch of crayons rubbed on the lid, or a wash of watercolours gently laid on by a brush. Whatever you end up calling it, does not matter, but how to execute it for the best outcome, without it looking like a kindergarten art project, is where we need to focus on.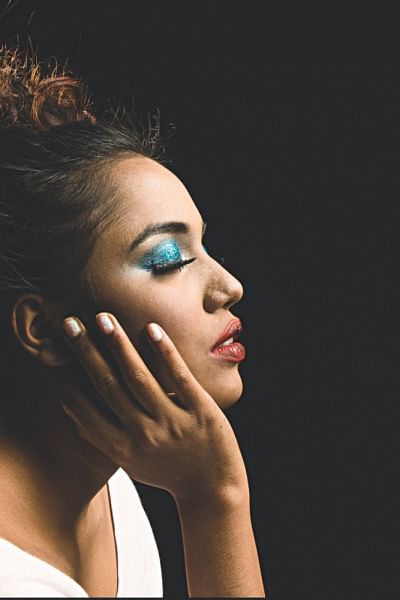 FORGET THE RULES
Some basic eye shadow rules tell us to blend in a colour in the crease, lay out a white all over, have inner corner highlights, and much more. The fun part about this trend is that you can throw all these traditional techniques out the window, and place colours however you like it. Think of your eyelid as one blank canvas instead of having dimensions, so throw on colours as you please.
CHOOSE YOUR TONES
If you recall, art supplies come in numerous colours, all with a different vibes, and these create similar effects on you after you have wear them. So, sticking to the right tones and palettes is important.
PASTEL FANTASY
Cool pastel tones such as peach, aqua, or lavender create a calm and peaceful look, perfect for mornings and brunches. Paired with soft colours all over, a pink gloss and fluttering lashes will complete this look.
BLOOMING SUNSET
Reds, oranges, and shades of purples together can recreate a sunset over your eyes. But instead of making it a traditional sunset eye look, make it bloom by placing the colours without any symmetry or rule so it looks like a splash of colour instead of a planned outcome. Matte coral lip and striking gold highlighter can turn this to an evening look in a heartbeat.
DREAMY SKIES
Whites and blues, placed in streaks like an acrylic painting across the eyes, create a dreamy look that will dress up any plain white dress. A subtle pink satin blush and clear gloss will help complete the look.
OPAQUE RAINBOWS
For the party girl in you, this look involves lots of bold and bright colours such as hot pinks, neon greens, and radioactive yellows, placed in random chunks or in lines. This one involves the least blending and most colour, and will need a strong eyeliner to tie it together.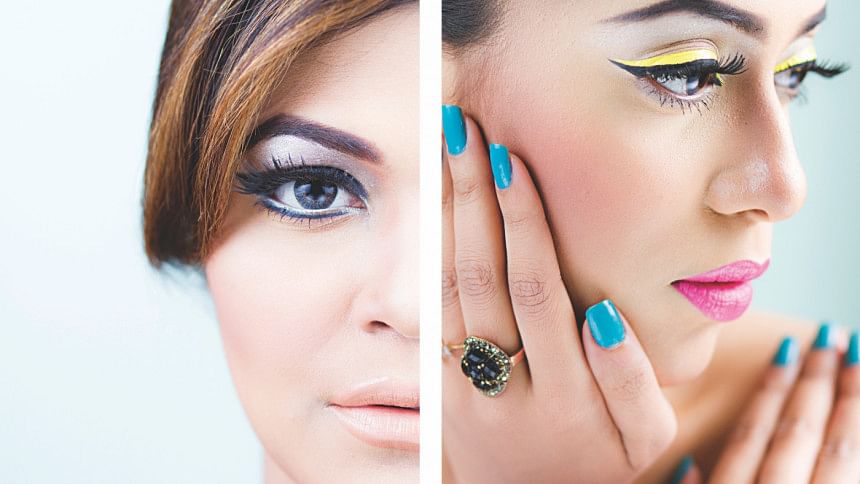 PRIMER IS A MUST
All these combinations involve a lot of colours. While casual browns and beiges do not need much backup, when working with such bright colours, an eye shadow primer is a must to get the full effect of the tones, otherwise it will end up looking bland and unfinished.
THINGS TO REMEMBER
Do not overlap colours while blending because with so many hues together, overlapping will create a muddy and unpleasing outcome that you do not want. For a clean and transparent look, use eye shadow sparsely, and build on as you go. And if you feel the colours do not pop as much, even after a primer, use a white shadow as a base before starting with the colours.
A nice and easy way to keep it playful and fun is to not match both the eyes and make them as asymmetrical as possible.
EVER-IMPORTANT TOOLS
Even though this is a whimsical way of doing makeup, one will need the right tools for a seamless finish. This includes a fluffy blending brush to blend out the outlines and fuse in the different colours together. You can start by placing the shadows in their places with your fingers, but to eliminate the harsh lines, you will need the brushes.
GO THE EXTRA MILE
Because there is no structure to this kind of makeup, it gives us a lot of space to add on bits and pieces as we like. These include glitter and rhinestones, and even funky stickers. Lay them on in a line above or below the lids, or place them just as playfully as the rest of the makeup to really make it pop.
The last thing to do for a proper finish to this look is to tight line the eyes. This does not always mean a strong eyeliner, but more of a subtle black line, closing off the eye shadow terrain from the lashes so it does not look dusty. Mascara is another must because usually, after so many colours, there is residue left on the lashes, which can be overcome by a clean coat of mascara.
Makeup is a form of expression, and this trend is by far one of the most expressive of what one wants to showcase. Be it fierceness from a red-hot eye look, or tranquillity with soft shades of green, makeup is what you make of it.
Photo: LS Archive/Sazzad Ibne Sayed