Finding good entertainment for the minimum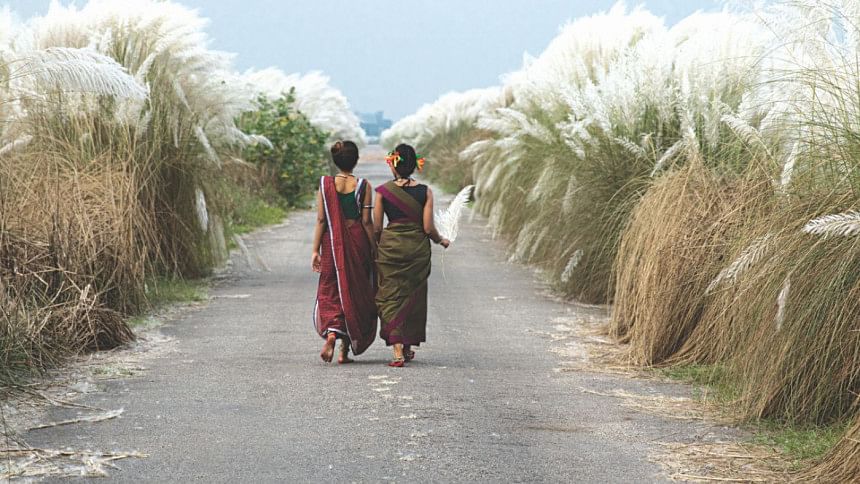 When I asked 29-year-old Sadia, a banker by profession, if she had any plans for the next weekend, she simply replied, "No, not really. I might just go out with friends for a late lunch on Saturday. That's all." 
"There is hardly ever anything to do around, you know," she added, after a small pause. 
Sadia is not the only person who thinks there is not much to do for entertainment in Dhaka though. To many city dwellers, entertainment is now equivalent to shopping, dining, watching TV and spending time on the Internet. 
But does entertainment mean lunching at a fancy restaurant, shopping around for a fashionable garb, or spending long hours on the Internet? No, not really! 
Entertainment means taking a break from your everyday life to enjoy the things that you never had a chance to enjoy, or have not enjoyed in a long time. It can also mean doing something different and meaningful to fulfil your self-actualisation needs. 
When it comes to entertainment, remember that it should not cost one a fortune because many of the little pleasures of life cost little or nothing. For instance, have you ever thought of being a tourist in your own city? If not, start exploring the hidden jewels of the city you live in. Be adventurous and brave the city's gridlock to tour its history-rich and architectural and architectural feats. 
If you are a resident of Dhaka, you can easily plan trips to the city's historic locations. For example, have you ever been to the 17th century Lalbagh Fort situated in Old Dhaka? Do you know that this incomplete fortress was constructed by Mughal prince Subahdar Muhammad Azam Shah, the third son of Emperor Aurangzeb?
If you are interested in exploring Dhaka and its outskirts, but do not want to go through the stress of personally arranging a tour, you can always pick a tour operator. For instance, you can book a day-long Dhaka and Buriganga River tour with Vromon Buddy for Tk2,000 per person only. There is another day-long tour offered at the same price, which gives you an amazing opportunity to visit the Sonargaon Folk Arts Museum, the medieval Goaldi Mosque, and the colonial 'lost city' of Panam Nagar followed by a river cruise on the mighty Meghna. 
To learn more about such tours and to book one online, you can visit Vromon Buddy's website: vromonbuddy.com. 
"We conduct tours in and around Dhaka in small groups of six people all year round. The fee covers costs of transportation, lunch, and entry tickets to tourist attractions," said Raw Hasan, CEO of Vromon Buddy. 
Children growing up in a metropolis like Dhaka need time away from screens for healthy growth. If you have a child at home, make him/her your companion as you quest after Dhaka's treasure troves. 
Give your young children an opportunity to love their country and be proud of their heritage. Educate them in their country's struggle for independence under the British regime and the nine-month-long War of Liberation in 1971. Spend a weekend morning at the Liberation War Museum located in Dhaka's Segun Bagicha. You can also plan an outing to the National Martyrs' Memorial at Savar, Shaheed Minar on Dhaka University campus, or Martyred Intellectuals Memorial in Rayer Bazaar. 
Instead of spending your weekends and evenings on a cosy couch, enjoy an art or a photo exhibition at one of Dhaka's many art galleries. You can experience a live theatre performance by our theatre artists at the Mahila Samity Auditorium on Bailey Road (now known as Natok Sarani) or the Shilpakala Academy. To make your evenings eventful, catch a live show or recital performed by local artists. Information on live performances are generally available in the entertainment section of your daily newspaper. 
Many of us throw parties at home on weekends. But your weekly entertainment can actually go beyond throwing an elaborate dinner party at home on a Friday night. Prepare a few sandwiches and throw a rooftop picnic for your family instead. You can also choose a picnic spot somewhere on the outskirts of Dhaka, where it is green and serene. And when you pack for a picnic on the green, do not forget your Frisbee and football! 
If your child, niece or nephew's school is having a sports contest, fair, or play, where guests are allowed, do not miss it for the world. You are likely to find that it is much more entertaining than watching a Hollywood flick on your living room TV. 
Perform an act of kindness. Have you ever thought of spending your time with people who are less fortunate than you? You can make your weeks and weekends truly meaningful by spending time with children at an orphanage. Buy snacks, gifts, or prepare a home-cooked meal to enjoy with your little friends. 
You can also teach at free schools! The JAAGO Foundation has various opportunities to get involved and volunteer at their schools. The process begins by filling out a registration form on the website (vbd.com.bd) of Volunteer for Bangladesh, the youth wing of JAAGO Foundation. Remember that very few things are as genuinely gratifying as spending time with children. 
Asked whether full-time professionals can also work as volunteers at JAAGO, Korvi Rakshand, founder of JAAGO Foundation, said, "We always welcome volunteers. People who are busy on weekdays can volunteer at JAAGO schools on Saturdays when we hold our co-curricular activities" 
"Professionals with experience can also train our budding volunteers by teaching them how to write grant proposals, raise funds and design campaigns," he added. 
Entertainment is referred to anything that gives you pleasure and distraction from another humdrum day or week. Your stints of entertainment should lift your spirits, fuel your mind with renewed energy, and set you ready to welcome the challenges of a busy world. 
Choose your entertainment options carefully so that the hours spent on the activities can count towards a healthy and purposeful life.
Models: Linda and Jui 

Photo: Sazzad Ibne Sayed

Make-up: Farzana Shakil's Makeover Salon

Wardrobe: Deshal

Styling: Isha Yeasmin