Baishakh 1425 with Apex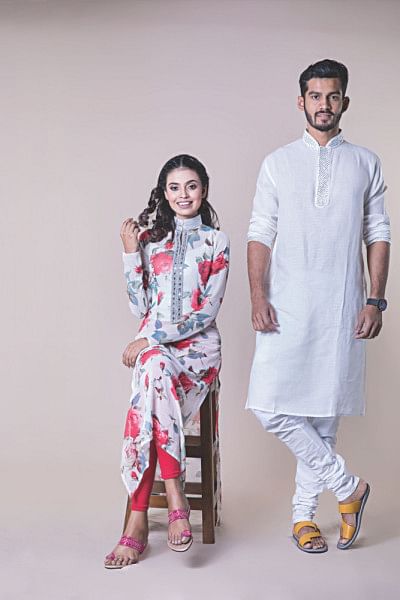 As the scorching summer approaches, your best light wear is already out and you are preparing to welcome Baishakh. Just as your wardrobe is fashionably light and festive, your footwear too has to match the mood! No worries on that front though; Apex has a trendy, fashionable lineup for the fashion forward as well as those who are looking to match tradition with comfort.
Apex, this season, is all set on style and festivity. Women's footwear is the focus for this Baishakh. Their latest Nino Rossi collection, which is mainly for the traditional crowd looking to balance fashion with comfort is featuring wedges, slip-ons and ballerinas.
The wedges with beautiful stonework and rhinestones are the perfect match for saris. The slip-ons have laser cut designs and the ballerinas are in blue and fuchsia to match the vibrant ambience of the season. The slip-ons in muted reds and blues plus black and beige can be the best choice if you are going for a contrasting look.
For the trend-seeking younger crowd, their Sandra Rosa collection has flats and sling back sandals. The whole collection gives a floral summer vibe that is sure to be a hit. The featured beadwork on the sandals and cut flowers are eye catching and trendy to be worn year-round.
If you are looking for a premium selection of footwear, then do give Moochie a try. While there is no Baishakhi collection for this line-up, you can easily find your next best stylish footwear from this selection of clog heels and stilettos. The Nino Rossi lineup is priced between Tk 990 to Tk 1990, the Sandra Rosa sandals are between Tk 890 to Tk 1690 while the premium line up of the Moochie collection falls in the Tk 2190 to Tk 3790 range.
Gentlemen need not fret as Apex has a lineup of comfortable leather sandals for this season. To match the season, the featured colours are red and yellow. Again, the fashion forward men can look to Venturini for a premium set of footwear to wear on special occasions around the year. The men's sandals for the Baishakhi collection are between Tk 1690 to Tk 3490 while the Venturini lineup falls in the Tk 3990 to Tk 9990 range.
If you have a whole day of walking this Baishakh, then let Apex be the companion for your feet to make your style statement in comfort!
By Iris Farina
Photo: Sazzad Ibne Sayed
Styling: Sonia Yeasmin Isha
Model: Efa, Orko
Footwear: Apex
Make-up: Farzana Shakil's Makeover Salon
Check out www.apex4u.com for more on their collection and visit facebook.com/apex4u to stay connected for more offers.