The Rebel Bride
When rules are meant to be broken, bending them is just fine. No one is suggesting a call for outright war, but a simple rebellion is all we ask for. Being a slave to rules is not only orthodox, but also boring, which we think is absolutely worse. Rebel brides are bold, confident, and are ready to make a big statement on the day that sees the commencing of a new chapter for the couple, and start of their long journey together. Life is about compromises — sage ones will say. "Compromise on the wedding day" — said no fashionista ever!
HER CHANGING PERSPECTIVES
As much as we want to avoid, we are now faced with weddings that have layer upon layer of hullabaloo before the big day, to the extent that one often gets exhausted. More so for the bride, but not so much for the rebellious kind. 
From day one, she gets into this vibe with a glow on her face, masking signs of silent anxiety. On one hand, she cannot be expected to retreat from all her day to day acts, and on the other, she needs to look the part in every single event that marks the approach of the big showdown. 
The rebel image, if one wishes to pull it off rightly, must start here and now. The true image is in her mind, and all she needs to do is give it a nudge and reflect on what she wears. 
Sari has always been the quintessential wedding garb, but let's not overdo it this wedding season, or any season for that matter.
The phone keeps ringing, the partner-to-be calls, in the anticipation of the new step to be taken. Talk to him, and decide how things should go about. If you felt the man is of little use when it comes to wedding couture, be prepared for surprises. Women today are taking some rule-breaking rebel advice from their groom to be, and he just might come up with the magic solution to taking things easy, if not anything on the sartorial side. 
If he is having a ball with his best friends, make sure you have the space to share some time with your besties as well. Set the inner girl loose, and be comfortable.
Do not overpower and intimidate those around you. Breathe, and let others breathe too. And all the way, have some fun.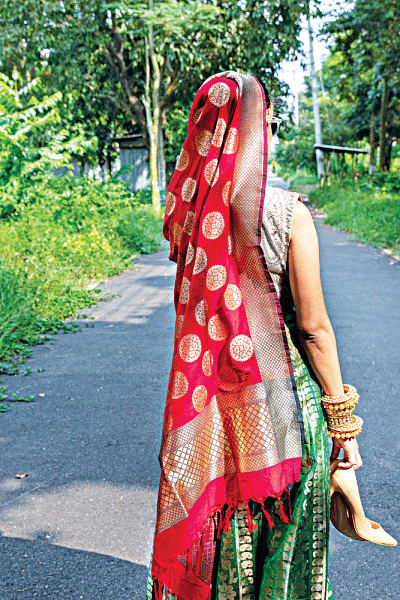 HER REBEL RED
A rebel bride is not necessarily looking for red on her wedding day. She is as comfortable in green, a colour of vitality, or cool blue, a message to the world on her mind-set. Truthfully, with her man on her side, she is here to amp the style quotient one notch higher in any shade she picks. The only point that really matters is whether she is strong enough to carry off her whim!
A rebellion in any form should not be confused with outlandish garbs, or eccentricities. With some thought, one can retain traditional approaches and make decipherable statements. Not everyone can pull this off, and unless done so with zest, zeal, and a whole lot of understanding, the entire exercise is a recipe for huge disappointments. But should that mean one cannot look for alternatives?
The bride and groom are not the only stars that shine on the wedding day. The bridal entourage, and the groom's family and friends are very much in it too.
We never suggest the entire bridal side to wear the same dress, or sari (read: done to death) and the groom's side to wear the same pagri — after all, we are not trying to be gentlemen cadets here, marching with the same feathered cap.
We are here to celebrate the union of two, and while nuptial bonds are being tied, make merry as much as time, patience, and money allows.
As long as all cues are from the bride, and on to the groom, and from there on, spread around the whole hall, things should work just fine.
Coming back to the bride. A rebel is not only about the clothes she chooses to wear. It's about how she wears it, and how she carries it while the evening draws the curtains at night. No surprises there.
HIDE AND SEEK
In a time when one is not bound by any boundaries, the rebellion can take us back in time, with the bride in a timeless red, or take us forward, into the high fashion of the 21st century wedding scene in a red velvet dress.
 At first glance, a wedding gown may seem inappropriate in a 'deshi-wedding.'  These trends, however, are 100 percent rebel approved, especially these two-pieces that are pretty, but not uber feminine. They are in the middle ground between extremes, neither too traditional to be claimed orthodox, nor too into the future. If there are any rules when it comes to wedding fashion — this look is surely breaking them all!
 Another great option is somewhat radically different. Sheer has recently made headlines as the Jamdani is now making a comeback. Today's heirloom pieces maintain the signature translucency, albeit in myriad unseen designs. Jamdani was once thought to feature only inanimate shapes and designs, but recent investigations reveal an unexplored past.
 Only a rebel bride is brave enough to wear such sheers, 'barely there' wedding style, but it works.
 Colour frontiers are also opening up. If men can now don the black dress, maybe the bride too can toy around with the shades a little. These untraditional wedding styles have vintage influences, borrowed from the East and the West, and put everything together in unexpected contemporary ways.
 Also, take note — one can never go wrong in a black sari, or a stunning kameez on an occasion as deserving as the wedding of a good friend, or a dear family member.
So, why should the bride herself shy from all the fun. True, she must stand apart, but that should not be the game plan for every single event.
ALWAYS BE OUR BABY
The quintessential wedding attire is not about colour, the lehenga you have ditched; the sari that you are planning to wear, or the kameez you wish you could put on and have a breather. To the artful rebel bride, it is the complete ensemble, from head to toe; coordinated with the man by your side, and aided by all those who love you enough to spend time away from their busy lives with you.
Life is not about pretentions, the key to success lies in being what we are. Treating ones we care about with the same amount of love as we wish they would shower upon us.
The label of a new bride is hard to shrug off. So, why make things boring with saris and kameezs on repeat. Be creative, and play some hide and seek…
If you are daring enough to wear this attitude on your big day and every day, then you are surely a rebel bride, our darling fashionista.
Photo: Sazzad Ibne Sayed
Model: Mili
Wardrobe: Almirah
Jewellery: Sparkle
Styling: Sonia Yeasmin Isha
Makeup: Farzana Shakil's Makeover Salon
Special thanks to Ashraf Kaiser