Loving and Living with Plants
Siyara – the new age planter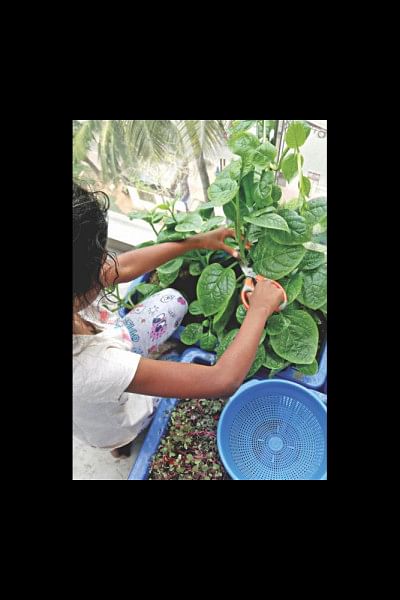 It has been over one year since the day Siyara came to my office and expressed her desire to visit a nursery – home of the plants!  She wanted to touch the seeds and soils and see by herself how the life of a plant begins. What an idea!! I wonder how many of us would think in that manner. Siyara came in with full preparation too - even her t-shirt was representing her passion. She was 6+ years! From that day onwards, she is my hero!
Together, we visited the BRAC Kanan nursery at Mohakhali. After taking the first round of the nursery wings, we settled down at the office cum sales centre, where the seeds, fertilisers, tools and soil bags were lined up for plant lovers. The sales people were busy handling customers. Siyara was eagerly, but patiently, waiting to get her turn to talk to the customer service people. Meanwhile, we moved to the shelves, checked the labels of seeds and tried the gardening tools. Siyara learnt that a good home and very good care is required for a plant's healthy life, and by extension, any living creature. She also understood about the essential ingredients required, like accessibility of sunlight, along with air, water, and a drainage system. In that context, we decided upon the space. It was to be the guest room balcony, since it fulfils the criteria. Then, we selected the most familiar leafy vegetable types/'shaak-family' that Siyara has on her plate regularly. We also discussed the colour of each vegetable type, its lifespan and what kind of support – food, sunlight, are to be ensured for their healthy growth. We returned to the soil section, and checked out the soil bags and looked at container sizes. We took three large square shaped containers to create individual homes for our three type of seeds. The staff helped us fill the container with the right kind of soil, and enriching it with the fertilizers mix. Without hesitation, Siyara took part in preparing the soil, and then she opened the seed packets. I fondly remember the way she handled the plant seeds, and that spark of enthusiasm in her eyes! At this stage, some curious visitors of the nursery surrounded her and one of them asked whether she wants to be a gardener? Without much thought, she politely replied - I want to be a PLANTER! The response came as a surprise to the lady who put the question forward, along with the rest of us in the room. Perhaps the difference between the terminologies are not familiar to many of us. I realised that as a daughter of a business person, seeing the bigger picture was in her blood. And it is also related to the upbringing - in particular, the earlier part of life has huge influence over someone's life. 
While returning home, Siyara shared her concerns about the street side plants, in particular, the status of the big trees standing by the road side, mostly bearing all sorts of damage all over their bodies. She asked me all sorts of questions regarding them - who provides water and extra nutrients, who is responsible for protecting them from harm, etc. She felt that the bigger plants and roadside trees need more care. After a few weeks, I visited her balcony garden and to my surprise, I saw that she had added a few more containers. By this time, the seeds turned to young plants -the laalshak had a purple colour, and the thriving pui-shaak hogged half of the space, tiny chilli plants on the verge of bearing baby chillies. Credit goes to her helping staff who saved the used tea leaves for her plants. The plants looked really nice and healthy. Siyara now knows all about plant life- how to nurture them with water, sunlight and good nutrition. She was also adept at handling the scissors and garden tools as well.    
Dear readers, whenever we speak about parenting, we often hear that these days, both the parents and children are too busy and hardly have any time to spend on anything other their academic pursuits. While that is certainly true to some extent, especially considering the fact that our children are tied into the schedule of coaching centres, dance, music, and art classes. Siyara apparently has no time in hand. She herself has a very busy schedule; her day starts early in the morning, school hours are long, and her piano teacher comes in the evening. I do not know how much time is booked for other things, including time for the Arabic class, how much time she needs to spend on social events and visits. I knew that she was a natural swimmer – the Gold Award of ISD Swimming Gala speaks a lot about her skills. Siyara is also a natural learner.
Her time is even further stretched out after the arrival of 'Caramel,' the young and handsome doggy. These days, most of us consider parenting means fulfilling children's demands with toys, fast food or giving access to smartphones. We read what Bill Gates says – a 'No' to phones until a child reaches their teens. I would request our young parents to think about this, considering that cybercrimes and smartphone addiction can isolate a child away from the real world. Please involve your child with real life tasks; take them to the grocery shops/markets, and introduce them to new things. 
Meeting Siyara is one of the most wonderful experiences of my life. Let us help Siyara and others like her to think big and think about nature. Let us implant the concept of nature in the early stages of her life.
Dear readers, I was away from you for a long time, due to health crisis in the family…but my heart is always with the issue - bringing nature in our everyday life! 
Photos and story of Siyara published with the permission of her guardians. Please share your thoughts, asks and stories, experience related to plants and gardening. Mail us at [email protected] and your letters will be forwarded to the writer.
Photo courtesy: Laila Karim