Loving and Living with Plants
Know Dr Tree — our very own shojne!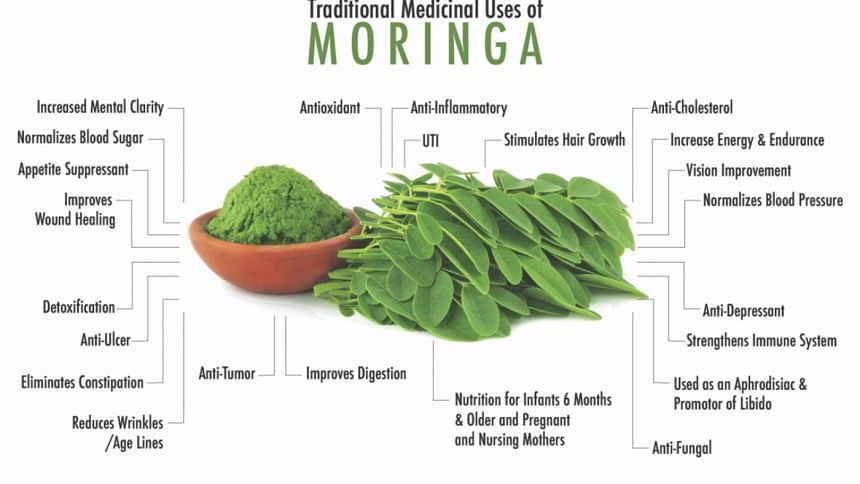 Today, while I was plucking some shojne daata/pods from our roof top garden, I just felt like sharing the thrill with my readers. I know many of you are fans of this yummy vegetable that has been valued by our ancestors for its health benefits and also for its place as a summer specialty. In the exhausting hot summer days, many of us find respite with this vegetable as it is soothing, light and cool enough to lure us to the dining table. 
Each and every part of this tree is useful — from the green leaves to the white bunches of its flowers to the end product — shojne daata, the roots, the barks — all are useful in caring for our health. This is the high time to enjoy this summer vegetable; all the urban markets are now offering shojne daata and given the fact that they are in season for a short time, this is the perfect time to taste them. 
As a child, my mother introduced us to this vegetable. She used to make different types of bhorta out of its slender bark. She served us the crispy fried leaves and pakora or shojne piyaju, which is also very tasty with steaming hot rice. She greatly valued this vegetable for its special taste and therapeutic use. Our Shojne, also known as moringa/drumstick, horseradish, is gradually widening its reputation in the western world with the title of 'super food' for its highly nutritious profile and powerful anti-inflammatory, antioxidant and tissue-protective properties.
Shojne usually grows as part of the family vegetable patch in parts of Bangladesh, and I have yet to see commercial cultivation of this plant. But I am sure soon this plant will find its own colony. 
Shojne is a soft natured, very easy to grow but sturdy plant that lives with minimum care or support. It grows best in any kind of soft soil but not in stagnant water. Its green leaves, white tiny flowers, the hanging fruits – all add extra beauty and value to the surroundings. We are lucky that till today, we can still find some shojne plants here and there in between the buildings in this concrete city.
I have seen more of the shojne tree in and around greater Dhaka districts and in the northern part too, but it is gradually expanding its territory due to its own quality and richness. Shojne is respected as the 'Miracle Tree, or the Tree of the Tree of life' — a special gift to us from Mother Nature.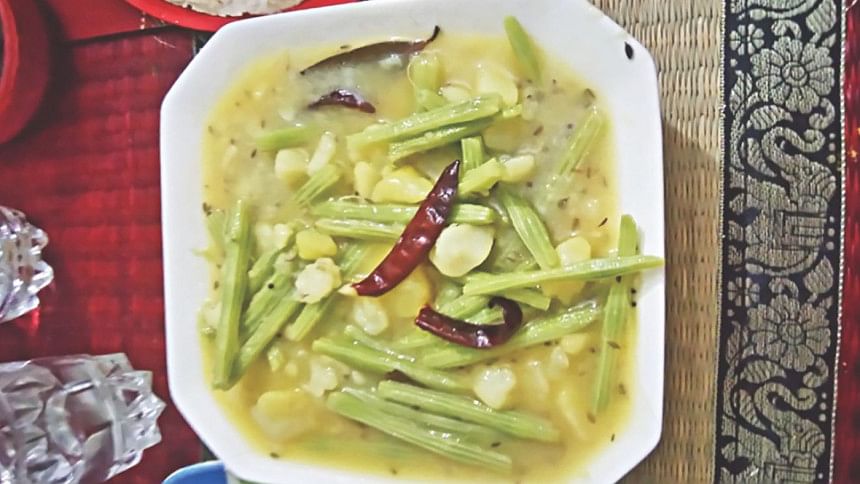 From my own story, one morning fifteen years ago while returning from my walk, I noticed the fruit bearing tree in my neighbourhood. I collected a branch of it and planted that in a halved-drum container on our rooftop. Since then it has become a loyal member of my kitchen garden; good enough to satisfy the need of our small family. I just put nothing but some regular fertiliser and water. The mother plant is helping me multiply her family each year with its branches. After the season, I just cut one/two matured branches and house that in a new container base.
Shojne is thought to help in prevention and combating diabetes, heart disease, anaemia, arthritis, liver, respiratory infections, and skin diseases, and also for digestive disorders. All parts of the tree – from root to the leaf, flowers and the fruit (data); even the bark and seeds all are edible and used as a traditional remedy for multiple ailments.
"Dr Shojne" is a nutrient-packed source of vitamins, minerals, and amino acids as it contains significant amounts of vitamins A, C, E; calcium; potassium; and protein; its antioxidants properties help combat stress, cell damage and inflammation.
Scientific study found that the leaf extracts has higher antioxidant activity. This means it prevents the damage and degradation in the cells of different organs in the body; helps in keeping them healthy and functioning.
Its antibacterial and anti-fungal properties fight infections. Blood-clotting properties in its leaves, roots and seeds benefits in healing wound and  reducing  clotting time to stop bleeding. The leaf powder is getting popularity as a drink ingredient — became a new type of tea with a slightly earthy taste. The leaves have laxative effects in large quantities, so a safe dose, ½ to 1 teaspoon per day is recommended to avoid digestive problems.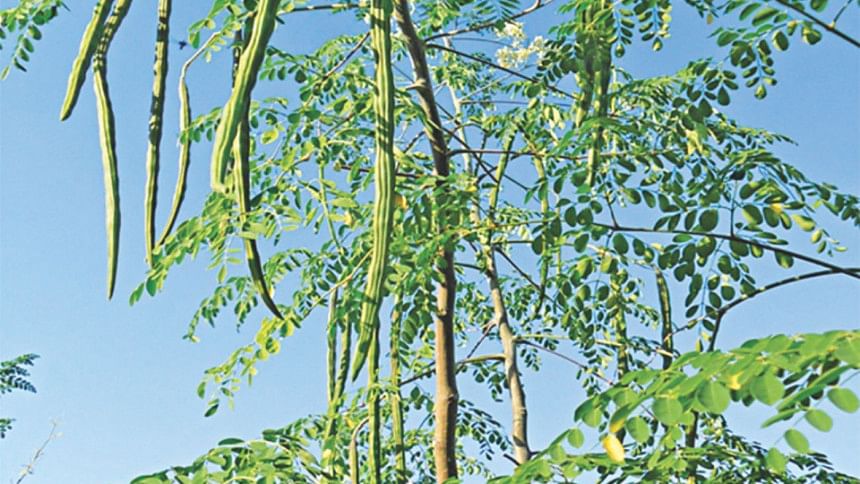 MORE FACTS ABOUT YOUR NEW DOCTOR
Shojne is a solution for iron deficiency or anaemia that is very common among people, particularly in women.  Study shows that the leaves, fruits, and seeds contain more vitamin C than oranges! So, Instead of running to the medicine store for an expensive bottle of multivitamins, simply pick a few leaves for a snack filled with nourishment.
Shojne is also an ideal protein supplement for vegetarians, vegans and people who regularly work out. The leaf powder is found to be effective at reducing lipid and glucose levels and regulating oxidative stress in diabetic patients, which means it lowers blood sugar, cholesterol and gives protection against cell damages and also supports brain health and cognitive function through its antioxidant and neuro-enhancer properties.
It has been tested as a treatment for Alzheimer's disease with favourable preliminary results. It's high content of vitamins E and C fight oxidation that leads to neuron degeneration, improving brain function, which play a key role in memory, mood, organ function, responses against stress and mental health, for example in depression and psychosis.
The high concentrations of polyphenols in its leaves and flowers protect the liver against oxidation, toxicity, and damage. Shojne can reduce liver damage and fibrosis and reverse oxidation in the liver. The oil can also restore liver enzymes to normal levels, reducing oxidative stress and increasing protein content in the liver.
Before I end, I Just want to remind you that sunlight is a must to have a healthy tree with shiny leaves and healthy shojne daata.  So, go and grab one Dr Shojne tree for your home garden.
Photo courtesy: Laila Karim
Please share your thoughts and stories and love for plants and green life with Star Lifestyle.  Mail us at [email protected] and your letters will be forwarded to the writer.