Loving and Living with Plants
Dreaming Vincent's dream
On 30 March, the world celebrated artist Vincent Van Gogh's 164th birthday. To honour his memory, I decided it was best to begin with a short letter for him and to him directly, reminiscent of the song his artwork inspired, one whispering of starry, starry nights. 
Vincent, Your popularity as an artist has been on the ascendancy ever since the world recognised your true ingenuity, a period which sadly you never got a chance to see in your lifetime. 
Even as a layman, with little understanding of art, I cannot help but appreciate your bold strokes even when capturing scenes from a wheat field, or depicting a vase of sunflowers. Your choice of colour, fiery and bold like the blazing sun, is equally bewildering. 
In your short lifespan of only 37 years, you gifted the world over 2100 artworks, 900 paintings, and 1100 drawings and sketches – a colossal achievement by any means, and a rare gift to humanity by an artist once misconstrued. Your struggle to find peace and serenity even in the brilliant works you did, were only to be recognised by your sibling Theo.   
Your artistry breathed life in the 'still life' paintings, and your approach to landscapes and the working man gave a new vision to us, a rare opportunity to see the world as your observant eyes saw the world.
You truly identified with the inner artists in the last two years of your life, the short span of time yielding some of your best works, widely acclaimed as some of the best artistic endeavours ever to have been accomplished by a painter. 
During this period you broadened your subject matter to include the trees, fields of wheat, farmyards, and even incorporated those famous fiery shades of yours in the flower series.  
Today, I am going to share some of Van Gogh's work that truly represent his vision, his take on life that still inspires us to view the world around us, and marvel at the depths of his imagination.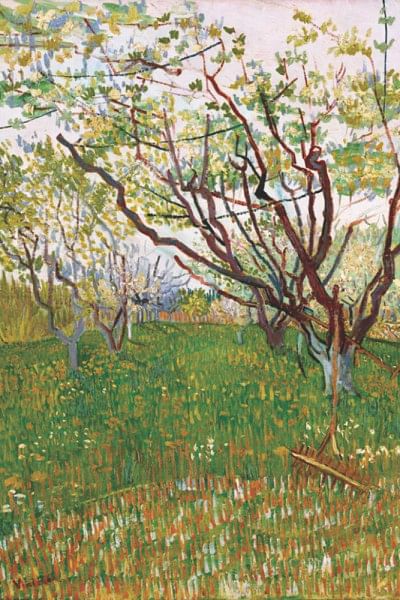 Dear readers, the pleasure of sharing some of my favourite Van Gogh paintings in honour of his birthday is truly a humbling experience.  
Van Gogh and sunflowers are synonymous, which in many cases celebrate the perpetual happiness of life. Yellow and blue are the colours of his choice, which binds his childhood and memories of the Dutch period of his life. 
His Sunflower series, considered one of the greatest works of human creativity, are not only appreciated but also make marks in the art business often realising breathtaking figures at auctions. 
In 1987, a Sunflower by Van Gogh sold for a record 40 million dollars at a Christie's London Auction; a figure to be shattered only a few months later. His numerous self-portraits, landscapes and flowers are among the world's most recognisable and expensive works of art. 
Throughout his life, Van Gogh struggled to find, what we would consider, sanity. He began to work on the series on Irises within a week of entering an asylum in May 1889. His props were the scenic flowers in the hospital garden. He called painting "the lightning conductor for my illness" because he felt that he could stop losing sanity by continuing to paint through his depression.
But his struggle came to an abrupt end when on 27 July, 1890 he shot himself in the chest with a revolver, in an attempt to end his life. He succumbed to his injuries only two days later.
If we look at his life strictly from the perspective of the art market, Van Gogh was a failure in his life time. Often considered a madman, he struggled to make friends but that did not stop him from drawing inspiration from the world around him, the fields of fiery yellow or the quaint night cafe of Saint-Remy.
The Almond Blossom, an oil on canvas, now housed at the Van Gogh Museum, Amsterdam, is my most favourite. Almond flowers shining in the early spring sun is the symbol of renewed life. This painting was a gift to his brother Theo and sister–in–law on the occasion of the birth of his nephew, Vincent Willem. 
Van Gogh called this 'the painting of the garden with lovers' which shows a couple in love, strolling under the chestnut trees and sitting along the winding paths. Van Gogh was also inspired by the Japanese style of visual representation. Flowering orchards were a frequent subject of Van Gogh till 1888. 
Visit van Gogh Museum at Amsterdam in the Netherlands, if you happen to visit the country. Dedicated to the works of Vincent Van Gogh and his contemporaries, this is one place no art lover, or romantic for that matter, should miss. It is a good idea to buy tickets online in advance to avoid the long queues and get easy access. 
The souvenir shop at the museum offers a good range of gift items, books and high quality prints of some of his seminal works at affordable prices, which vary depending on the size of the prints. 
The museum contains over 200 paintings, 500 drawings and 700 of his letters. Opened in 1973, this is considered the truly 'cutting edge exhibition and visitor space' for lovers of Vincent's works.