Loving and Living with Plants
Allan Garden Conservatory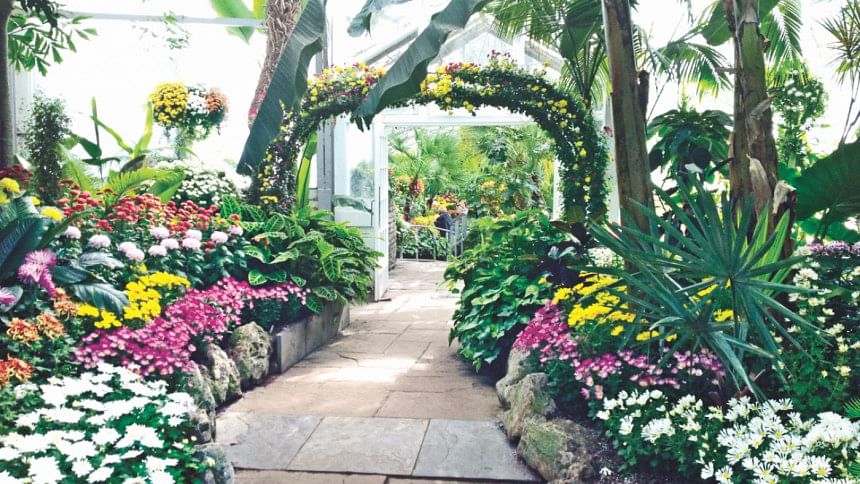 Toronto city of Canada itself could be termed as a vast park.  It has more than 1,500 parks with numerous open spaces and 600 km of trails. The parks system covers 8,000 hectares - roughly 13% of the city's land area. It includes about 40% of Toronto's natural areas, many of which lie within the ravine system and along the Lake Ontario shoreline. City parks also feature beaches, playgrounds, sports fields, gardens, conservatories, ice rinks, special events and many innovative special programs for the visitors of these natural adornments. I wonder how thoughtful the city authority was when they laid out their designs. They turned an age old brick field to an eco garden -Don Valley Brick Works Park or so it is called.  
Then, think about the Toronto Music Garden. The Garden is in its mind and body!  These gardens not only offer the beauty of nature, but also educational and recreational facilities for appropriate age groups. Today, I will share my experience of visiting the renowned botanical conservatory, popularly known as Allan Garden. During our annual visits to any place, a small town, or a city - visiting parks, gardens and other natural attractions always get preference in our to do list. This month we paid two episodes to the garden in question. The first one was to explore what it had to offer and then we decided to come back during the special event of Chrysanthemum festival.   
---
---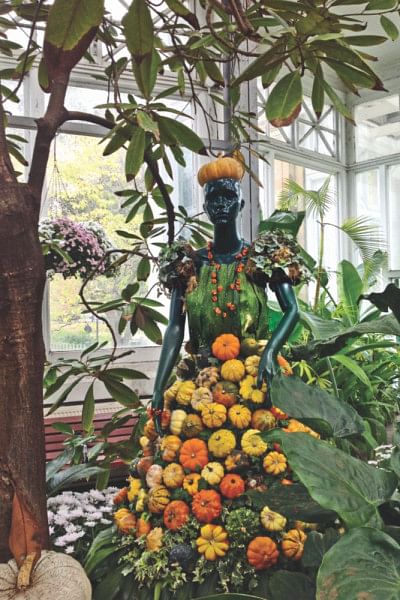 This garden is over a hundred years old, surrounded by a park with big and small trees, children play-areas, small ponds with fish, tortoises and plenty of squirrels bringing it all to life. The creatures are everywhere and are not hesitant in their curiosity. There is also a fantastic greenhouse which could be considered the heart of the garden!  Even during weekdays, we saw people - young and seniors- passing a quiet time with a book in hand. Young men, women and parents walk with their children and pets, with whole families seemingly having a blast.
Allan Gardens Conservatory is a major landmark and tourist attraction in the downtown of Toronto city. Its historic glass dome "Palm House" was built in 1910, and is designated under the Ontario Heritage Act. The Gardens have a permanent collection of exotic plants.  The park is rich in both fauna and flora with a selection of all types of plants from all over the world.  I spotted our oal kochus (taro) and our household jobas in a range of colours which are not seen on our side of the world. The plants are organised in sections as per their nature and type. Seasonal plants are the special ornaments of the garden.
The indoor botanical garden, with six greenhouses comprising over 16,000 square feet, has added special value to this garden. The indoor conservatory features colourful plants and flowers - orchids, cacti and succulents have their own corners. The colourful seasonal plants supplement the permanent plant collection of botanical importance since 1858. Allan Gardens Conservatory is a historic landmark that began with the donation of a five-acre of land by George Allan, a prominent local politician and cultural leader in 1858.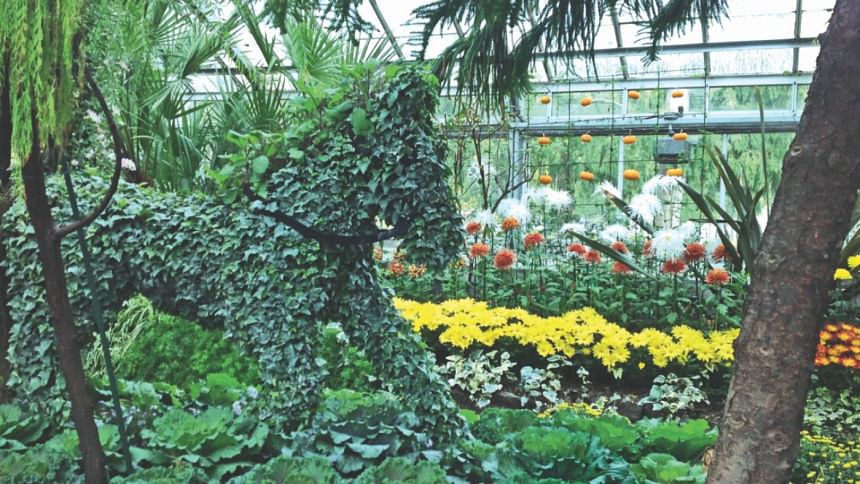 The garden celebrates the seasons individually and there are special events around the year offering annual flower shows in Spring, during Easter, Summer, Fall and also in Christmas. The Chrysanthemum show is on from 09 October to 06 November, 16. It is a feast for the eyes! We spent an unforgettable few hours just enjoying the colours, the size and types of Chrysanthemums presented in so many modes and shapes! Like a well run project, the garden (and other gardens/parks abroad) also runs a calendar.  The Spring show in February offers thousands of bulb shows - tulips, daffodils, hyacinths etc.  The summer show runs from June to September, bringing the newest varieties of the season. The beauty of Autumn/Fall is represented by our Chrysanthemum show and the Christmas show that starts from the 1st Sunday of December and is the highlight of the shows of the year when the entire park and conservatory are decorated with thousands of flowering plants, adorned with masterpieces of decorative figures and unique presentations - all made of flowering plants and plant products. Recreational arrangements like horse and wagon rides, candlelight weekends and visits of Santa are special features of the end year show, which continue till mid-January.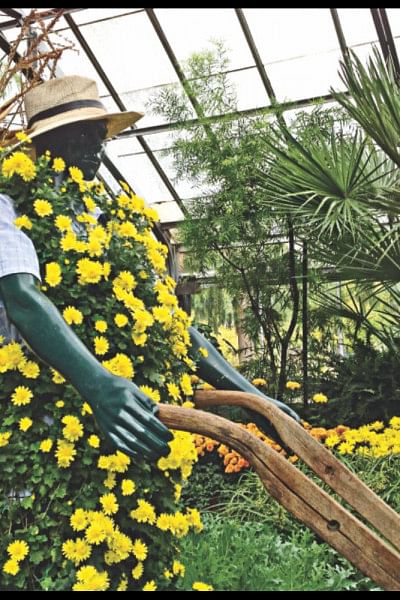 INFORMATION - FOR YOU 

Allan Gardens is located on the south side of Carlton Street between Jarvis and Sherbourne Streets. Limited free parking is available off Horticultural Avenue. Private tour is also possible for group by advance booking. Toronto City Council new bylaws prohibit smoking in all city sports fields, swimming beaches and certain park amenity areas such as the skateboard park. Like other places and park areas, Allan Garden is also equipped with clean wash room facilities for men and women. Currently its children section is under renovation, but the children play section is still open.  The park is wheel chair accessible. Entry to the park is free and open all 365 days of the year from 10am to 5pm. 
In your next trip to this beautiful city of Toronto, make sure you keep half of a day for Allan Garden and remember to take your children too there to introduce them to the huge collection and varieties of the blessings of the Mother Nature preserved for our enjoyment, learning and appreciation! Don't Miss out!
Photo courtesy: Laila Karim