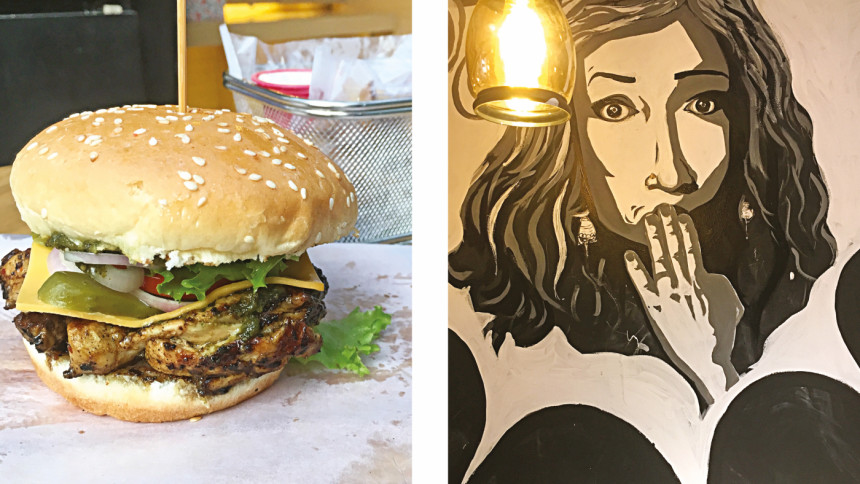 Daniel Rahman set out on his quest to perfect the burger after already achieving milestones in pioneering radio stations in Dhaka, eventually becoming one of the youngest CEOs. His love for food sent him on a quest for burgers, which he perfected for over 2 years with his business partner and trained chef, Naorose Bin Ali. He left no stone unturned, and even visited foreign locales to further his research on what makes a burger great. The culmination of that effort being 'Boma Burger,' a passion project materialised from a need for the best comfort food.
When asked why he chose the name 'Boma,' he simply said, "Whenever my friends went out to eat, we would describe great food in just one word — boma!" The name seems not only appropriate but deserving, because Rahman emphasises on quality with taste. The patties are made fresh from Bengal Meat, while all the other ingredients are collected and assembled every morning. "We make the sauces for the burgers and the fries from fresh produce every day," he added. He believes that there is no end to bettering the quality and taste; so he keeps adding new and fresher ingredients to always give patrons the best of burgers.
Despite starting out in a tiny garage, the popularity and demand for their burgers has allowed Daniel to expand to a much larger location in Banani. "I wanted a simple and casual place for people to relax, chill and enjoy good, affordable burgers. So we went for plain wooden chairs and tables and plain walls. But it seemed a little too bland for my artistic tastes, so I called many local artists, painted the walls black and made them into canvases to paint on." The artists did their magic and now, Boma's walls are adorned with huge artworks that will surely leave you snapping photos to share on Instagram while you wait for your burgers.
Some of the must-haves include the Banani Bombastic, the Joss Burger and Murgi Milon. The name Banani Bombastic stemmed from the popularity and importance of Banani in the food scene. It's a simple, clean, classic burger with a thick juicy patty and fresh toppings such as lettuce, tomatoes, onions and pickles, with a slice of cheese and their home-made sauce. The best part is that it is not soggy or messy; all the layers are visible— almost as shown in tantalising commercials. The Joss Burger is a tribute to original Bangladeshi burgers with tamarind mayo. "It's our childhood wrapped into a burger," explains Rahman. Their seasoned, chunky fries, that are boiled and fried 2-3 times, perfectly compliment the burgers because they come with a light, tangy sauce that has the added effect of cleansing the palate.
To further enjoy your meal, order the only shake on their menu, because it has just the right amount of sweetness and richness to balance the rich flavours of the burgers, leaving you feeling satisfied but not uncomfortably full. They have recently added a new Scottish dessert to the menu called 'Bong Marley,' the perfect snack for a sweet-tooth; a deep fried snicker bar.
"I have launched another outlet in Cox's Bazar on 19 July, and plan to launch one in Dhanmondi too," said Rahman. "I also have plans of launching two new food restaurants with my friend Naorose soon — a Japanese pancake restaurant, and a shawarma restaurant. Both will be affordable yet innovative to broaden the prospects of food and restaurants in Dhaka." Without a doubt, Daniel Rahman's passion for food and Naorose Bin Ali's culinary skills will keep on adding delicious new stops to our list of places to go to.