Celebrating Awadhi cuisine
Kurry Accent, an Indian restaurant in Gulshan-2, had recently organised Awadhi Food Fest. Food festivals by eateries, particularly by hotels, have become rather commonplace nowadays. But this particular one, which took place from 13 to 20 September, 2019, ran the extra mile, quite literally: they invited an Indian chef who is a torchbearer of the cuisine, being a descendent hailing from the historic Awadhi royalty!
Meet Manzilat Fatima from Kolkata, the great great granddaughter of Wajid Ali Shah, Nawab of Awadh, and Begum Hazrat Mahal, his heroine of a queen who rebelled against the British in the 1857 revolt.  
Given her family's glorious past, Fatima decided to create awareness regarding the history and the contribution her ancestors made. Her medium of doing that? Food!
Because food, after all, is not just food, but the stories surrounding it. Food which tastes the best is sometimes those which have been marinated through the ages, with the rich ingredients of glory, pomp, and excellence. 
And with recipes handed down through generations, Fatima has, at her disposal, just that.
"When I started sharing recipes on Facebook, I received a lot of positive feedback. People were always telling me why I am not reaching out to more people and let the world have a taste of the food," Fatima said.
After several small and steady — but successful — steps in the form of pop-ups and other endeavours, she finally opened her own restaurant in Kolkata in 2018.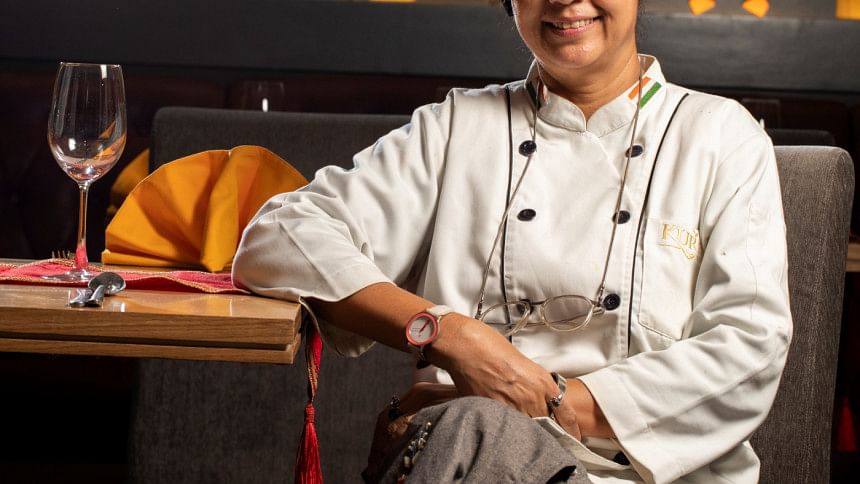 "I want to highlight the historical larger-than-life-figures," she shared, saying that she sees herself as someone representing that history and cuisine.
Wajid Ali Shah came to Kolkata in 1856. "One huge culinary contribution he made was the inclusion of the potato to biryani," she explained.
She continued, "You come to me, no need to see me. Taste our unique food and learn a bit about our past."
As a representative and preserver of that legacy, she never compromises with quality. "When I am representing the food of the royal family, I have to maintain the highest standards in the selection of ingredients. After all, the Nawabs spent lavishly in the kitchen, and spared no expenses in their culinary undertakings." 
And hence, her association with Kurry Accent's Awadhi festival. "It is a proud moment of victory for me that I have been able to bring this history even outside my country, to here in Dhaka," she says. "And the response we got was great!"
The festival featured delicacies of not simply Awadhi cuisine, but also of the remnants of the Awadhi food of the royals, through the hands of Fatima.
From her special mutton biryani cooked with mustard oil, to the mouth-watering Galawati Kabab which has a hint of papaya that is being added, to an array of other dishes, you would feel the elegance of subtle flavours, a homely touch, and of the magnificence of the cuisine.
Every family does it differently, of course — cooking dishes as passed down through generations. But when your family was previously once officially royal, then it takes things on a whole different level!
And hence, holding on to tradition and drawing inspiration from her family — and also in some dishes from the Shia community she belongs to — Fatima brings to the table not just food, but a whirlwind of stories on the side. 
And that's what the Awadhi Food Fest at Kurry Accent was all about: a range of delectable dishes from a cuisine, and along with not just an authentic feel, but a royal, nostalgic, and personal touch to it!
For more information on Manzilat Fatima, the history and her restaurant, visit www.manzilatfatima.com