Le Méridiens new signature menu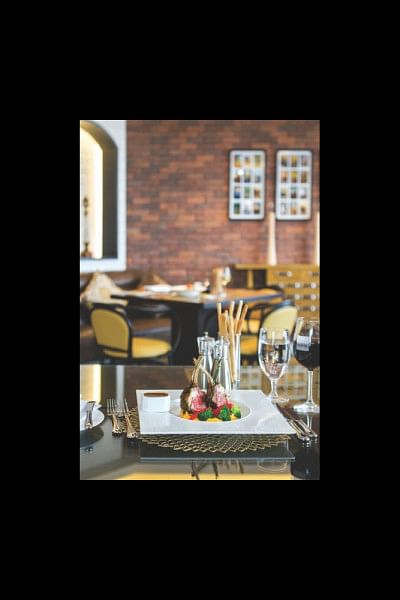 Le Méridien Dhaka, the city's newest upscale hotel, has already become the talk of the town this summer with its signature all day dining restaurant introduced in June. Now the hotel has opened yet another restaurant signature to the global brand of Le Méridien. Enter Favola, which means "fable" or "story" in Italian, and step into an era of transition where traditional Italian gastronomy infuses with contemporary flavours. The hotel partnered with The City Bank Limited American Express to introduce the restaurant to some of the most significant patrons of the capital with an exclusive preview menu tasting on Thursday night, 13 August, 2015.
Made to share intimate soul-warming meals with your loved ones and business associates alike, Favola has a distinct, cosy and rustic feeling of home in Italy juxtaposed against modern and chic expressions of art and culture.And added to this is the breathtaking view of the Hazrat Shahjalal International Airport runway and the lake beside the Airport Road highway, lush with perhaps the widest expanse of untouched foliage left in the main city.
Cheerful and friendly, the delicious aromas emanating from its fire oven arranged in an open-kitchen style invite people to come join the fun. The menu reveals simple yet classic Italian fare. A large selection of appetisers, salads, soups, fire oven pizzas and fresh handmade pasta are just some of the delicious options available. But more importantly, the sumptuous dishes selected for the menu have been curated by an international team of gourmet specialists. While Executive Chef Olivier Loreaux has garnered his experience working and leading hotel restaurants over five continents, Italian Master Chef Richard Bernard Costa has had experiences opening multiple Italian restaurants in the Middle East.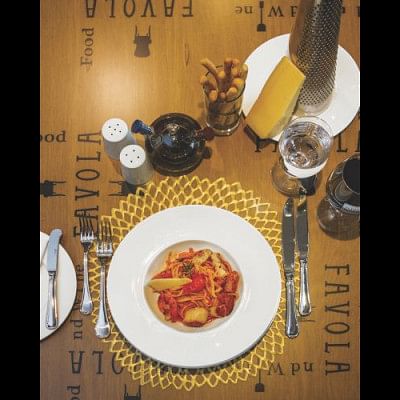 The team of service professionals selected for the restaurant possess all the proficiency and flair necessary to make dining experiences engaging and sensorial for guests, led by the hotel F&B Director Johannes Steyn, who himself has a global experience of managing nearly 36 restaurants during a single tenure in his previous employ. To ensure that the experience at the preview is authentic to the ideals of Favola, Chef Loreaux personally guided guests through each course with a story dedicated to the dishes presented.
The event was opened by the MD & CEO of The City Bank Mr. Sohail R. K. Hussain and Food & Beverages Director of Le Méridien Dhaka Mr. Johannes Steyn. Favola certainly promises to redefine Italian dining in Bangladesh and is now open to guests, every evening from 6:00 pm till 11:00 pm. The restaurant may accommodate up to 90 guests and prior reservation is highly recommended. Guests are invited to call +8801723595463 for further information or table booking.