Variations on Vermicelli
The Vermicelli appears in different avatars in different countries. In this sub-continent, the most popular form of preparing the noodles is of "shemai", a type of sweet dessert like rice pudding, or a variation of the sweet kheer. This shemai is now synonymous with Eid in Bangladesh, with most preferring to finish their Eid breakfast with this delectably sweet delight. Because of the versatility of vermicelli, everyone is free to add their own unique touch to the end product. This week, two of Star Lifestyle's most popular food columnists bring you their twists to the traditional treat. We have a luxurious variant in saffron, one with the caress of cardamom, another lapped in milk and one that makes your spice buds tingle. Take your pick and do something different this Eid; be sure to add your own special touch if you want!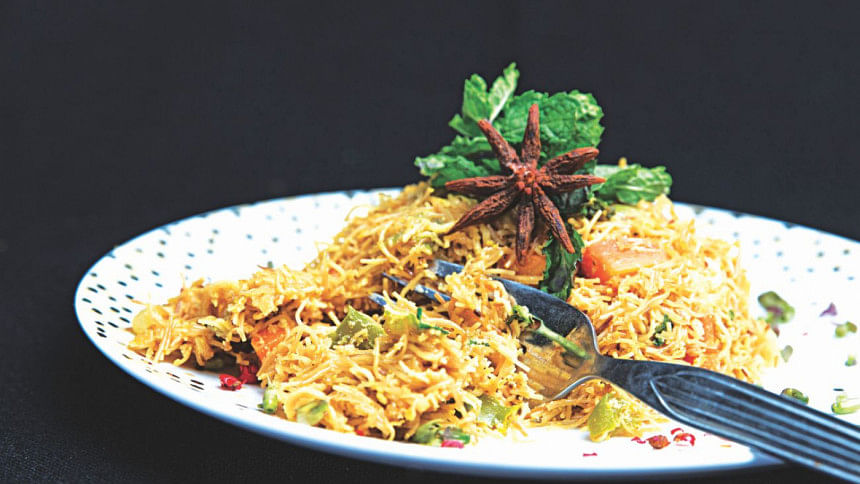 SHAWKAT OSMAN

Sweet Vermicelli in Saffron

(Serves 12)

Ingredients

½ cup ghee

500g shemai (vermicelli)

3 cups water

¼ tsp saffron, soaked in

½ cup water

75g castor sugar

1 tbls almond slivers
Heat ghee in a pot. Break the vermicelli into 10cm-long pieces and add to the pot. Cook until these turn dark in colour.
Pour water in the pot, swirl to mix. Add saffron and sugar. Cook over high flame until all the water evaporates and the vermicelli gets a sheen on its surface. Transfer to a serving dish and sprinkle almonds on top. Serve at room temperature.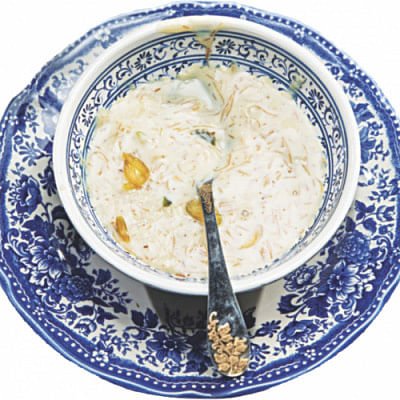 SWEET VERMICELLI WITH CARDAMOM

(Serves 12)

Ingredients

500g shemai (vermicelli)

100g castor sugar

½ cup ghee

5 cardamoms, seeds only, milled into powder
Method

Break the vermicelli into 8cm-long pieces. Place the pieces in the centre of a piece of cotton cloth. Tie the corners of the cloth into a neat bundle, containing the vermicelli.
Heat water to a rolling boil, and dip the cloth packet the boiling water and cook for a minute. Take out the packet, open, and spread out the vermicelli on a flat platter. Place the platter in an airy place and allow the vermicelli to dry until all moisture evaporates.
Transfer the vermicelli to a serving bowl and mix with sugar, ghee and cardmom. Serve at room temperature.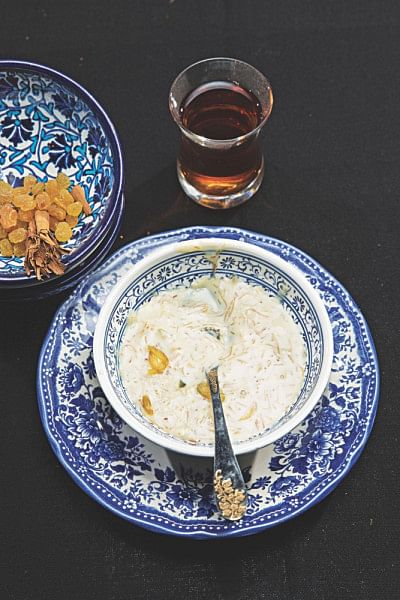 SWEET VERMICELLI IN MILK

Ingredients

100g ghee

500g shemai (vermicelli)

2 litres milk, reduced to 1 litre

750g sugar

1 tbls almonds, slivered

1 tbls pistachios, slivered

2 tbls raisins

1/2 tsp salt, 1 tsp rose water
Method 

Heat ghee in a pot and add vermicelli, broken into small pieces. Roast until they start changing colour. Pour milk and bring to a boil. Add sugar, almonds, pistachios, raisins and salt, and bring to boil again. Pour into a serving dish, sprinkle with rose water and cover immediately with cling-wrap. Chill before serving.
RICE CAKE KHIRTOSH PITHA

(Serves 12)

Ingredients

3.5 litres milk

10 green cardamoms, gently cracked

2 cups sugar

500g fragrant kalijira (fragrant rice) flour

1/2 cup mawa (reduced milk), grated

2 cardamoms, seeds only, milled 

1 cup moida (wheat flour)

2 cups oil for deep frying
Method 

Pour 2 litres milk into a deep pot and toss in the cardamoms, stirring frequently over a gentle flame, until the milk reduces to 1 litre. 
Add 1/2 cup sugar, stir until the sugar dissolves, and take pot off the flame and set milk aside.
Now make the kheer. Bring 1.5 litres milk to a boil in a steel pan. Slowly reduce it to 750ml, stirring constantly all the time. Add 1 cup sugar and reduce milk further to 500ml. Put 2 tablespoons rice flour in a large mixing bowl, pour 2 tablespoons milk from the cooking pot, and then whisk to integrate.
Pour the milk back into the pot and toss in mawa and cardamom powder. Bring back to boil, stirring constantly.
Cook for 2 minutes, make sure the mawa dissolves, and take pan off the flame and set kheer aside. Wait until the kheer sets and is solid enough to handle. Alternatively you can have it set in the refrigerator. 
Now make a batter that's easy to pour by mixing 500g rice flour, wheat flour, 1/2 cup sugar and enough water.
Heat oil in a pan, and make small patties with the kheer. Dip these kheer-patties in the batter and deep fry in the hot oil, until they turn golden.
With a slotted spoon, scoop out the kheer-patties and drain on absorbent tissue napkins. Soak the well-drained kheer-patties in thickened milk and refrigerate for 4 hours. Serve Khirtosh Pitha chilled.