Dal-gosht malaikari
Ingredients: 
1 kg chevon, cut pieces 
100g raw Peanuts
100g split-chickpeas (boot er daal)
100g white sesame seed
1 cup coconut milk,
1st extract 2cups coconut milk, 2nd extract 
3 tbsp onion paste 
½ tbsp ginger paste
1 tbsp garlic paste 
½ tbsp green chilli paste
½ tsp turmeric powder
2 bay leaves (tejpata)
2 tsp cumin seeds
4 tsp salt
½ cup cilantro, chopped 
Method:
Soak peanuts, chickpeas and sesame seeds in plenty of water for 8 hours or overnight. Before cooking, drain and grind all three together. In a large mixing bowl, combine the following: onion paste, ginger paste, green chilli paste, garlic paste and turmeric. Whisk to merge. 
Drop in the meat pieces. Coat pieces with the spice. Cover mixing-bowl with cling film and keep refrigerated for 8 hours/overnight. Return to room temperature before cooking. Heat oil in a korai/wok, toss in: tejpata and cumin. Cook undisturbed for few seconds. As soon as cumin seeds stops crackling add the ground ingredients sauté stirring constantly until they release their flavour. 
Chuck in the meat. Cook over high flame; scraping the bottom of the korai/wok with a wooden khunti.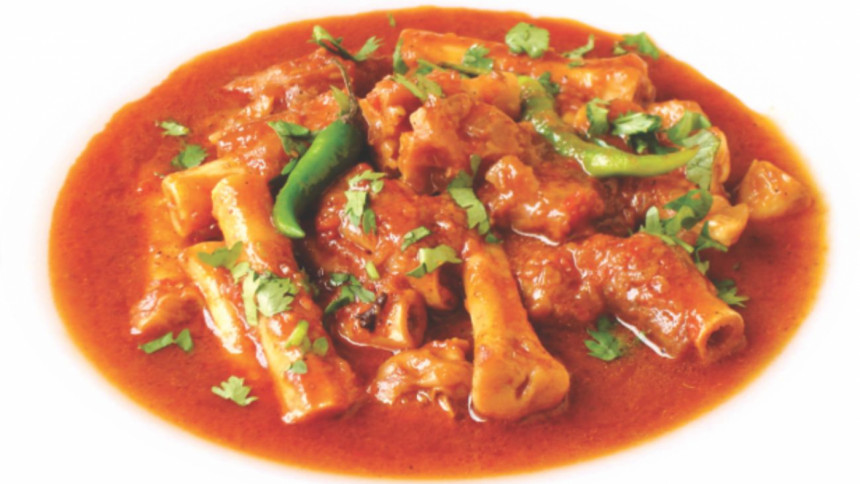 When spice dries up, add 2 tbsp coconut milk 2nd extract. Stir-fry after each addition stirring and scraping the bottom until the liquid is absorbed. Go on adding the 2nd extract of coconut milk in batches, until they are exhausted. 
Next pour in the 1st extract of coconut, mix up and lead it to a gentle simmer. Do not boil. Lower heat, season with salt and gently simmer until meat is tender. Sprinkle with cilantro and cover with a lid. 
Lower the flame further to its lowest point. Softly simmer for a further 5 minutes. Take korai/wok off the flame. 
Serve hot, if delayed re-heat the korai/wok for 2 minutes just before serving. 
Narkel mangsho
This sweet and sour meat dish, comes from Khulna; it also has a pronounced touch of pungency. Usually cooked with "choi" root to make the 'jhol' (gravy) pungent, this recipe, replaces choi with capsicum, green chillies, black pepper, and red chilli to get a similar flavour of chui, which is not available outside Khulna. 
Ingredients:
1 kg chevon, pieces 
1 Capsicum, burnt over open flame and ground to a paste 
1 tsp red chilli powder 
¼ tsp turmeric powder 
1 tsp ginger paste 
2 tsp garlic paste 
1 tbsp coriander powder 
½ cup soya oil 
2 tsp fennel seeds (mouri) 
½ cup coconut meat, grated 
4 onions, chopped 
10 green chillies, slit 
1 tbsp ginger, julienne 
2 tbsp garlic, crushed 
4 tomatoes, chopped 
2 tsp black peppercorn, crushed 
2 cups coconut water
2 tsp gorom mosla powder 
3½ tsp salt 
1 tsp sugar 
3 tbsp tamarind paste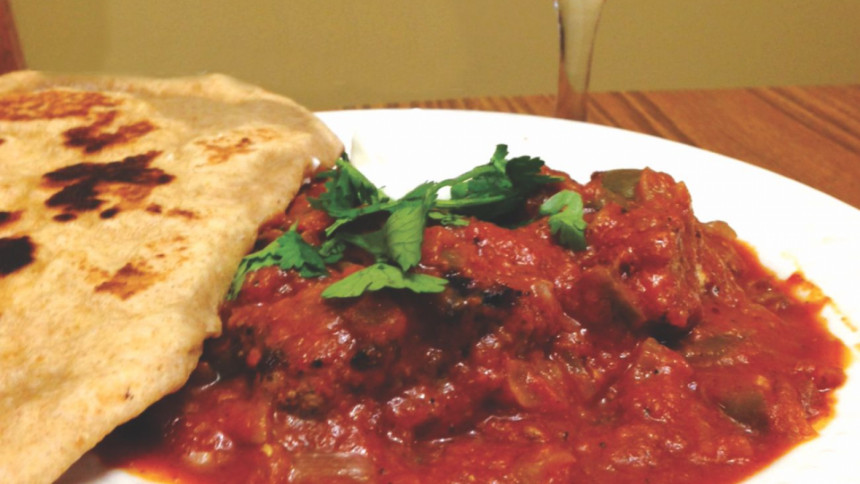 Method:
Marinate meat with: capsicum paste, red chilli, turmeric, ginger, garlic and coriander. Stand for an hour. 
Place meat along with marinade in a deghchi/pot and cook over medium flame until meat is ¾ done. Set deghchi/pot aside. Heat oil in another deghchi/pot, when smoking hot, toss in: fennel seeds, and coconut meat. Sauté, stirring for 2 minutes. 
Then add: onion, green chilli, ginger julienne and crushed garlic. Sauté stirring occasionally until onion turns translucent. Next chuck in: meat, tomato, black pepper, coconut water, salt and sugar. Mix up. Bring contents to a boil. Lower the flame. Simmer over reduced heat for 20 minutes. Pour in the tamarind paste. Stir to dissolve paste with the gravy. Cover with a lid and continue cooking until meat is ready. A few minutes before the end of the cooking time sprinkle with gorom mosla. 
Paya
Ingredients:
1 kg or 6 goat trotters dressed and cut into 5 cm pieces
2 black cardamoms
5 cm cinnamon stick
10 cloves
2 bay leaves (tejpata)
1 cup ghee
2 cup onions, sliced
4 tsp salt
1 tbsp red chilli powder
2 tsp coriander powder
2 tsp cubed pepper (kebab chini) powder
½ tsp turmeric powder
1 tsp cumin
Freshly toasted and ground
2 tbsp garlic paste
1 tsp gorom mosla powder
2 tbsp cilantro, chopped
Method:
In a large pot place trotters, cardamoms, cinnamon, cloves, bay leaves and 12 cups water - cover the pot and cook over low heat until tender. Usually they are done overnight over a very slow fire. Lift off the trotters, strain the liquid and pour it back again into the pot and add the trotters.
In a sauce pan sauté the onions in ghee until golden; strain them out and place on tissue paper to turn crunchy. Grind with a tablespoon of water. Put this paste into the large pot with the trotters. Mix up.
In the residual ghee add: red chillies, salt, coriander powder, cubeb powder, turmeric powder, cumin powder, garlic – sauté until fragrant and well browned. Pour this spice mixture into the trotter's pot. Put the pan over high heat, cover the pot and bring it to a boil. Lower the heat and keep hot until required. Before serving stir in the gorom mosla powder and sprinkle it with the cilantro.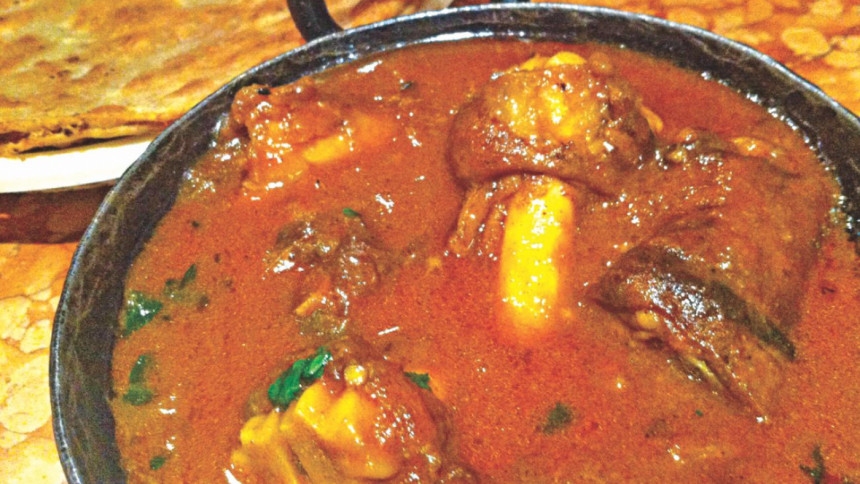 Doi kima
Ingredients:
1 kg chevon, mincemeat
4 tbsp ghee
2 bay leaves (tejpata)
5 green cardamom pods, gently cracked
5 cm long cinnamon stick
10 cloves
4 black cardamom pods, crushed
2 tsp black pepper, ground
1 cup onions, minced
6 garlic cloves, minced
1 tbsp ginger, minced
10 dry red chillies
2 tsp salt, 1 cup yoghurt
1 tbsp coriander power
1 tsp red chilli powder
1 tbsp lemon juice
1 tbsp ghee
5 cm long charcoal piece
Method:
A live charcoal is used to impart the smoked flavour of `al fresco' cooking all over the food. Traditionally the ghee is poured on an onion skin and a live charcoal is added to the ghee. Heat four tbsp ghee in a deghchi/pan; toss in tejpata, green cardamom, cinnamon, cloves and black cardamom. Sauté undisturbed for a few seconds.
Stair in: onions, garlic, ginger and sauté, stirring frequently until spice loses its raw smell and imparts its aroma.
Chuck in: mincemeat and dry red chilli. Sauté stirring continually until mincemeat changes colour.
Sprinkle with salt and sauté stirring occasionally. The mincemeat with release its juices; evaporate this liquid over high flame. Pour in: yoghurt, coriander, red chilli powder. Mix up and cook until the mincemeat is done.
Take deghchi/pan off the flame, drizzle with lemon juice and mix up. Pour 1 tbsp ghee on a small saucer & place it on top of the mince. Light a piece of charcoal over open flame, gently blow on it to spread the fire all over the charcoal's surface. Plant the glowing charcoal in the ghee and immediately cover the deghchi/pan with a tight fitting lid.
Open cover only before serving. Pick out the charcoal and discard. Mix in the ghee - dust with black pepper & serve.
Photo: Collected