aappayon
Eid day specials
During the month of Ramadan Muslims observe strict fasts, and cap it off with a three-day joyous celebration of Eid on the first day of Shawwal in the Islamic calendar. Before Eid day, each family donates a certain amount of food to the poor so that the latter are not left out of the celebrations. This donating of food is known as Sadaqah al-fitr, od Fitra, (charity of fast-breaking). 
On Eid, Muslims gather early in the morning at outdoor locations or mosques to say their prayers. Afterwards they usually hug and wish each other Eid Mubarak. The day is an occasion to visit family and friends and exchange gifts. In Bangladesh, the entire three days are observed as official holidays. 
This is also the time when all homemakers bring out their best in food, to try something out of the ordinary to add to the celebrations fervour. The spreads usually feature heavy meals, high on sweets, and mostly a high point in the day for everyone.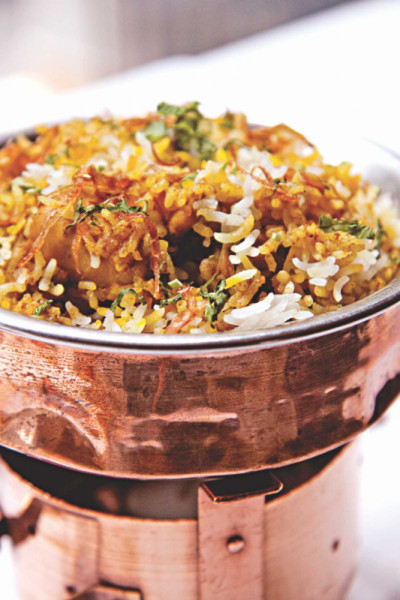 MINT GOLD DRINK

(Serves 12)

This drink, served in small glasses at the very start of a rich meal, is meant to perk up appetite. Pudina (mint) and cumin are known to have digestive value as well. 
Ingredients 

2 tbsp tamarind, seedless pulp

2 tsp cumin seeds 

1 tsp black pepper 

3 tbsp pudina (mint) leaves 

2 tsp sugar

2 tsp sea salt

1 tsp black salt
Method 

Soak tamarind pulp in 1litre water for 2 hours. Knead the pulp and dissolve it in the water. Strain and pour the tamarind juice into a jug.
Heat a tawa (griddle) and dry roast cumin seeds and pepper. Transfer them to a mortar, and pound to a fine powder. Put mint, 1 cup tamarind juice, cumin-pepper powder, sugar and salt in a food processor and blend until the sugar dissolves. Pass this blended spice-mixture through a fine sieve or muslin and discard any impurities. Pour the spice-mixture into the jug containing tamarind juice and swirl vigorously to mix the contents thoroughly. Chill before serving.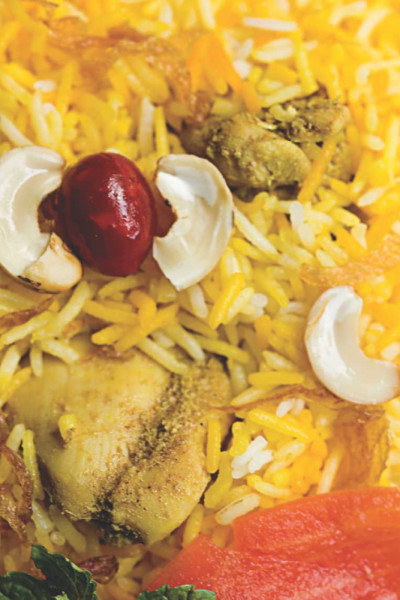 MILK DRINK

Ingredients 

2 tbls almonds, blanched

2 tbls pistachio

20 green cardamoms, seeds only

1/2 tsp turmeric power

1/4 tsp nutmeg, grated pinch of saffron, soaked in 2 tbls milk

2 litres chilled milk

120g sugar

1 bucket ice cubes
Method 

In a food processor, grind almonds, pistachios, cardamom seeds, turmeric powder, the nutmeg and saffron mixture and 1/4 cup milk. Blend to make a smooth paste.
Pour 2 cups milk and sugar and blend again until sugar dissolves. Pour the remaining milk into a jug, add the contents of the food processor passed through a fine strainer and mix well. Pour drink on ice cubes and serve.
MUTTON PULAO 

(Serves 12)
Ingredients

½ tsp black cumin seeds

½ tsp cubeb pepper

½ tsp cumin seeds

1 tsp black pepper

¼ tsp nutmeg

½ tsp mace

2 cloves

6 onions, diced

2.5 kg lamb meat, cut into 2 inch pieces 

750g tomatoes, diced

boiling water

7 tsp salt

8 cardamom pods, gently cracked

10 dry red chillies

4 (2.5cm-long) cinnamon sticks

4 cups kalijira rice (a fragrant variety of rice), washed and drained

1 tbsp lemon juice

½ cup slivered almonds, for garnish
Method

Buy karolir gosht, (lamb shanks) or leg of lamb, and cut into 5cm (2inch) segments.
Heat a tawa (griddle), and roast black cumin, cubeb, cumin, black pepper, nutmeg, mace and cloves for a minute. Grind to a fine powder when done.
Heat ½ cup ghee in a heavy pot, add onions and sauté until they turn golden, then add the lamb pieces and sauté, until well browned on all sides. Add the tomatoes and pour enough boiling water to just barely cover the lamb pieces, and let simmer over medium flame for about 2 hours, or until the lamb is tender.
Stir in the salt, cardamom pods, red chillies, cinnamon and the powdered spice mixture prepared earlier. Pour rice into the pot containing lamb and stir with a wooden khunti (wooden spatula) to mix the two.
Pour lemon juice with enough water to cover the rice and lamb. The liquid should come up to 4cm (1 ¾ inch) above the level of rice and lamb mixture. Cover the pot and cook over medium heat for about 12 to 15 minutes until the rice is done.
Saute the almonds in 1 teaspoon ghee until lightly browned. Serve pulao hot, garnished with almonds.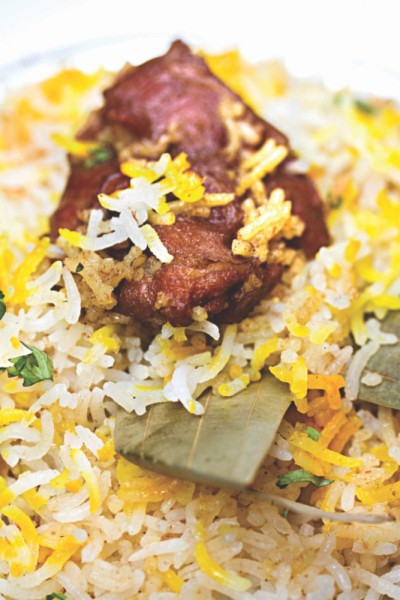 WHOLE CHICKEN ROAST 

(Serves 12) 
Ingredients 

5 cardamoms, seeds only

10 cloves

1 large (2kg) chicken

3 tbsp ghee

1 tsp black pepper, pounded

½ tsp jaiphal (nutmeg) powder 

½ tsp joittri (mace) powder

2 ½ tsp salt

2 tbls onion, sliced

1 tsp ginger paste

2 tsp garlic paste 

250 gram chicken, minced

1 apple, cubed

1 tbsp raisins, rinsed

2 tbsp pistachios, chopped

1 tbsp pudina (mint leaves), chopped

6 boiled eggs, halved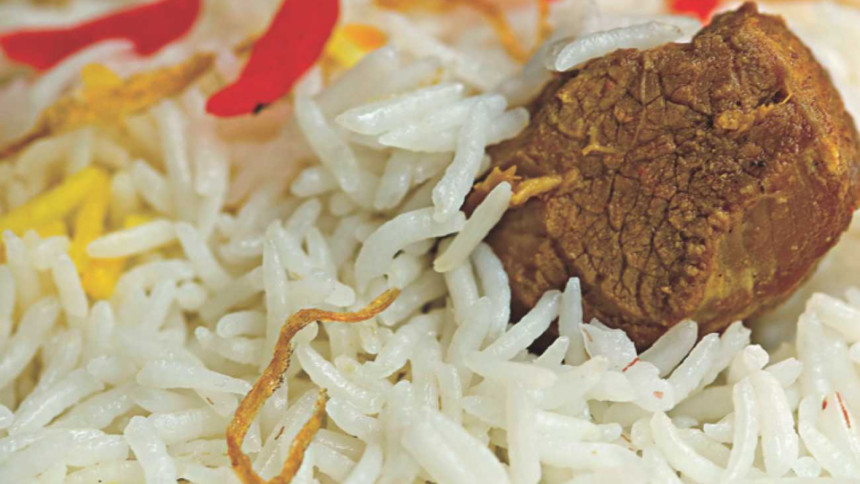 Method 

Grind cardamom and cloves to a fine powder. Set aside. 
Now clean the chicken inside out any dry with a kitchen towel. Grease the chicken inside and out with 1 tablespoon ghee. Sprinkle black pepper powder, nutmeg powder, mace powder and 2 teaspoons salt on top, and keep the chicken aside, while you prepare the stuffing. 
Heat 1 tablespoon ghee in a korai (wok), toss in cardamom and cloves powdered previously, and saute for a second. Add the onions, and saute until translucent. Add ginger and garlic paste and stir. Saute the mix, stirring vigorously until the flavours are released. 
Now add the mincemeat, and add 1/2 teaspoon salt. Stir-fry until cooked.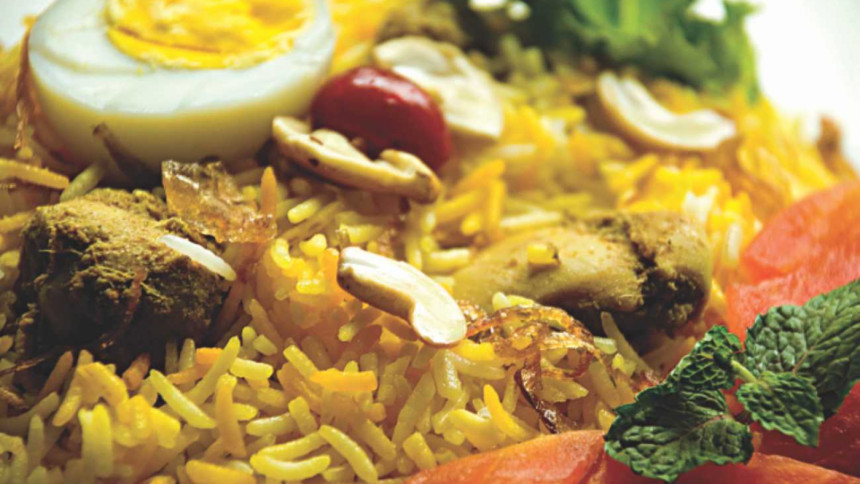 Take the wok off the flame, and let the mincemeat cool down to room temperature. 
Add apple, raisins, pistachios and mint to the mincemeat and mix. Blend well. Stuff the chicken with this mincemeat and eggs. Sew up the rear end. 
Grease a large casserole trey with 1 tablespoon ghee and place the bird in the centre. Take care that there's space between the bird and the sides of the tray. 
Cover the casserole tray with a tight lid, and bake in the oven for 90 minutes, preheated at 180°C/350° F/gas mark 4 (moderate).
Take out the tray and let stand for 10 minutes. Serve over a bed of pulao.
Photo: LS Archive/Khazana/Sazzad Ibne Sayed