Ramadan and Eid ul Fitr 2022 at The Palace Luxury Resort
Eid ul Fitr 2022 will be a reminiscence of the 'good old' Eids where people could celebrate one of the most festive times without having to worry about a pandemic. True, COVID-19 still persists but as more people are getting vaccinated, this year's Eid will be in way better circumstances than the past two years.
After one month of fasting, a lot of people feel the need to enjoy a relaxing vacation or stay-cation during Eid ul Fitr holidays. Many a times, people not only want to visit pristine and picturesque destinations, but also stay at a place that will bring them one-to-one with nature. The Palace Luxury Resort at Habiganj, Sylhet is an excellent and popular choice to meet this purpose.
Perhaps the most striking attribute of the resort is the lush green environment within which it is located. An escape into mother nature from monotonous urban life is something all tourists look for, and The Palace offers exactly that. The resort itself can be termed as a 'mini tourist spot' because of the ambience, natural aesthetics and tranquility.
"The resort has been constructed and designed as such that it seems nature itself has decorated the place," said Arifur Rahman, Managing Director of The Palace Luxury Resort. He also added "My days at Sylhet Cadet College were mostly amid tea gardens. That is where my love for tea gardens became very strong and I wanted to be involved in work that concerned tea gardens. I wanted to combine the beauty of Sylhet's tea gardens with tourism. That is how my business partner and I went forward with the idea of The Palace."
Thanks to their attractive facilities, it becomes obvious why every year The Palace Resort is one of the favourite destinations for people to spend their Eid vacation. As Eid ul Fitr 2022 will be the first Eid since the COVID-19 breakout where things are finally under control, The Palace Resort has come up with an amazing package for their guests — an offer of Tk 22,000 net (2 adults) per night including all buffet meals at the Tower Building. Guests get an additional discount of BDT 1000 per night off if they stay for multiple nights.
We often tend to do or try out activities during a vacation that we cannot do in regular life. You will be happy to know that The Palace has a number of recreational and sports options in store like trekking, cycling, boating, fishing, badminton, basketball and maze. In addition to pool, sauna, spa and gym, they even have option of Turkish Bath. If you want a tour of the entire resort, you can opt for their Buggy Service.
"The idea behind these features was to make a resort that not only offers lodging, but also a lot of the activities that tourists expect from a vacation," said Arifur.
Good food is a very important aspect of every trip. It is a must to try out different items, cuisine and style of cooking. But it is not just taste we look for: we crave for standard too. The Palace Resort ensures top notch quality of their food items. They always use fresh and top-quality ingredients in the kitchen. The buffet station keeps a hot holding temperature which is more than 65°. All of the chefs and kitchen staff maintain safety protocols. In addition, the FNB (Food and Beverage) team have training on basic food hygiene knowledge, mostly from abroad.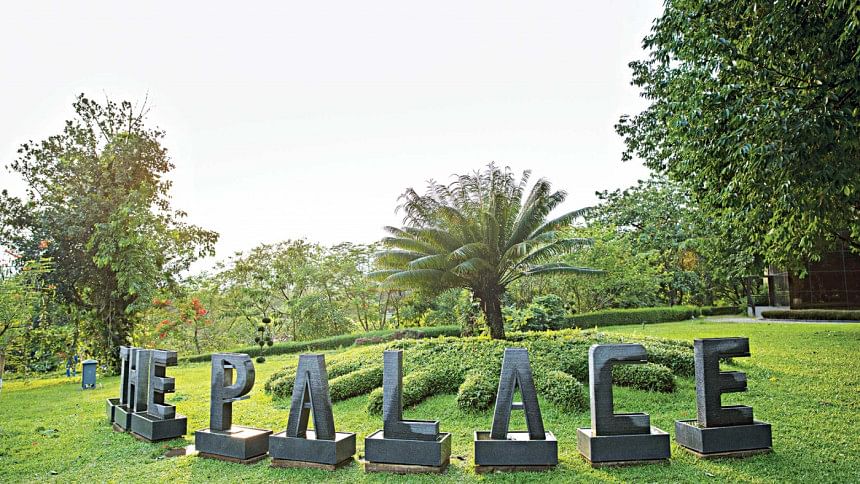 A few days still remain of Ramadan. If you are someone who likes trying out different places for iftar, do give The Palace's Ramadan offers a try. They have introduced some new dishes this year. Keeping in line with their tradition of having deep fried items for iftar while also considering the health and nutrition of their guests, The Palace has a wide selection of half-fried baked items such as lentil balls, breaded spicy alur chop, and spring chicken chop. They also have a package for Tk 10,999 (2 adults) per night along with iftar, dinner and sehri at their Tower Building. 
Some of their iftar items have gained a lot of popularity among their guests. Chicken lolly peyaju, cheese sambousek, mutton kabsa, mutton Hyderabad biryani, Moroccan mutton tagine, assorted baklava and basbousa, are some that top the list.
"The creation of The Palace Luxury Resort has not harmed the environment in any way. No trees were cut and no hills destroyed," mentioned Arifur.
The location, features and beauty of the Palace Luxury Resort simply creates a unique and outstanding aura. The experience that you will have at this resort will undoubtedly be a one to always remember. If you are planning for that much needed Eid vacation, then you know where to look!
Photo: LS Archive/ Sazzad Ibne Sayed
Photo: The Palace Luxury Resort