How will Eid journey be this time?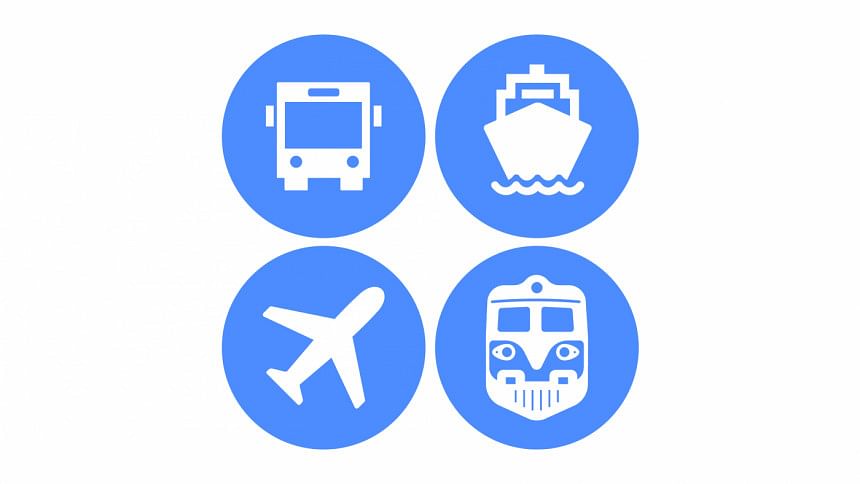 Another Eid is nearing, and Dhaka dwellers are planning to leave the city and head home for the holiday. The country is celebrating Eid-ul-Fitr with a nine-day holiday – giving people the perfect opportunity to spend time with their near and dear ones outside the capital, at home, or at tourist destinations. People in Dhaka can move around with relative ease; however, holiday-makers are expected to face a difficult situation.
According to transport authorities, a whopping 15 lakh people are set to travel to various destinations during this Eid holiday. To avoid rail, roads, and riverways, many travellers have taken to flights as a more viable option. According to Biman Bangladesh, the national flag carrier, and private airlines, 80 to 90 percent of air tickets have been sold out a week before and after Eid. Additionally, due to a surge in demand, ticket prices tripled in some cases.
Holiday-makers who choose to travel by bus face similar predicament. Bus terminals were packed with people trying to get tickets. Eighty percent of bus tickets for April 29, 30 have already been sold out, leaving people unsure of their travel options. Additionally, bus routes that require a ferry crossing may face delays of up to 5 hours. According to BIWTC, usually 600 to 700 small vehicles pass through each ferry route on a regular basis; however, during the Eid rush, the numbers increase to 3,500 to 4,000.
Bangladesh Railway had offered train tickets to be sold online to alleviate the Eid rush. But it was all in vain. As railway planned to sell advance tickets ahead of Eid, tickets were quickly sold out and long queues were seen at train stations. Crowds of people waited all night at platforms for tickets but were unable to purchase them. Railway employees were also unable to provide them with a satisfactory explanation.
After two years of Covid-19 pandemic, people of the country are finally being able to celebrate Eid without any travel restrictions. Many are planning to travel to their village homes and tourist destinations for some much needed R&R. Cox's Bazar is the most popular tourist destination in Bangladesh, with 50 percent of hotels and living accommodations already booked.
Due to a lack of planning by relevant authorities, comfortable Eid journey for the holiday-makers' is now uncertain.