Biman plane suffers landing gear issues, hovers over Dhaka for 30 mins before landing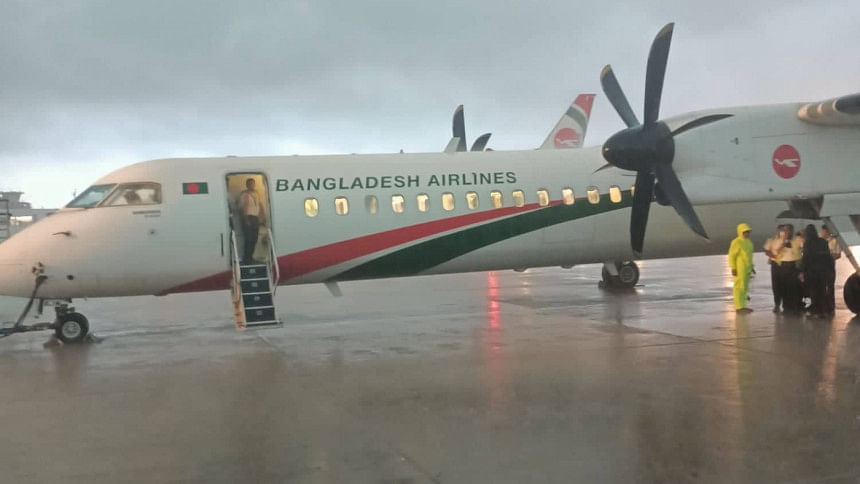 A Biman Bangladesh Airlines Dash-8 aircraft, bound for Dhaka, encountered a technical issue with its main landing gear and had to hover over Dhaka for more than 30 minutes.
The 74-seater plane that took off from Barishal Airport, however, landed safely at Hazrat Shahjalal International Airport, according to Sharmin Sultana, a passenger on the plane.
Because the main landing gear was not working, the aircraft had to be pushed to the parking area from the runway using a pushcart, she said.
Sharmin Sultana told our correspondent that the Biman flight was due to take off from Barishal Airport at 12:15 pm. However, due to excessive rain, the plane departed the airport for Dhaka around 1:30 pm.
The aircraft hovered for more than 30 minutes over Dhaka and landed at HSIA at around 2:30 pm, she added.
"The pilot then announced that the main landing gear of the aircraft got out of order and passengers would be taken to the parking area with the help of a pushcart," she also said.
Group Captain Kamrul Islam, executive director at Dhaka Airport, told The Daily Star that the Dash-8 aircraft suffered a "technical issue."
When the Biman station manager was asked for comments, he said he was not aware of such an incident.
Biman's spokesperson Tahera Khondoker was not available over the phone to comment.