Irregularities in hiring pilots
Biman forms probe body after Star report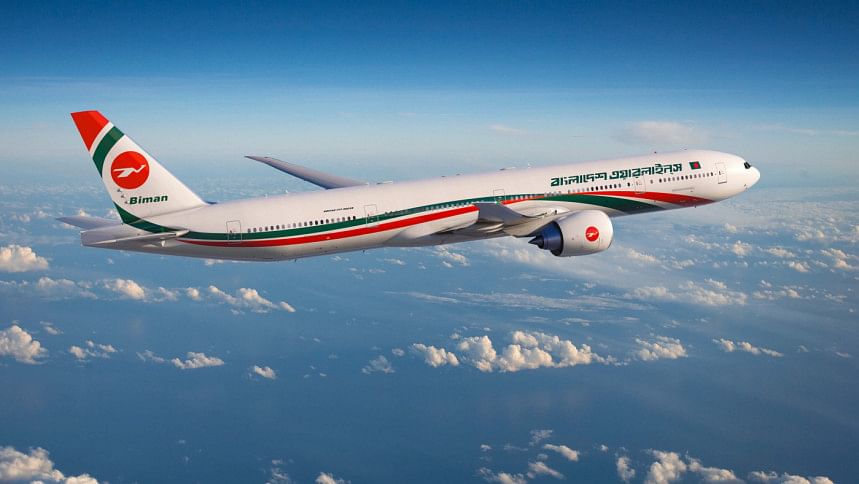 Biman Bangladesh Airlines today formed a three-member investigation committee to probe the alleged irregularities in hiring pilots for the national flag carrier.
The probe body is formed in response to a report published in The Daily Star on March 1.
In the report titled "Biman paying for hiring unqualified Boeing 777 pilots", the newspaper reported that in February last year, Biman recruited a batch of contractual pilots to fly its Boeing 777-300ER aircraft, claiming that it needed pilots immediately due to a shortage.
A year later, only five of the batch of 14 pilots have taken to the air. The rest, according to the report, have been found guilty of forging certificates, incompetence and failing licensing exams.
Biman spent a huge amount for their inflated salaries and training, all of which are now money gone down the drain.
Capt Siddiqur Rahman, director, flights operations, Biman, was made the convener of the probe committee. Capt Enam Talukder, chief of flight safety, was made member and deputy chief of training, Taposh Ahmed was made member-secretary of the committee.
Biman said the probe body will also investigate the alleged forgery Sadia Ahmed, a first officer of Boeing 777. According to the report, she forged her HSC certificate.
The committee was asked to submit its report within three working days.
Its own operation manual mandates that to fly the Boeing 777, the world's largest passenger jet in production, all first officers must have at least 300 flying hours in the preceding two years under their belt.
But none of the recruits met that criterion.
The Civil Aviation Authority of Bangladesh (CAAB) called it a "safety concern" in official correspondence and even the Prime Minister's Office intervened and asked the national flag carrier to investigate.
According to a document of Biman dated February 13 this year, out of the 14 recruited, only four captains and a first officer passed all the tests to fly the plane.
Biman, however, has been flouting rule after rule and going to great lengths to protect the pilots who failed.
A recent investigation revealed that Sadia Ahmed had submitted a forged educational certificate, claiming that she was a student of the science group during her higher secondary school exams.
Data retrieved from the Dhaka Board of Education, however, shows that she was a student of humanities, passing in second division from Shaheed Anwar Girls' College in Bangla, English, civics, psychology, and home economics.
The CAAB rulebook mandates that all commercial pilots must have an educational qualification of HSC (Science) or equivalent with mandatory physics and mathematics.
Sadia is the wife of Biman Chief of Training Captain Sazid Ahmed.