Biman completes pre-hajj flights, 29,992 pilgrims ferried to Saudi Arabia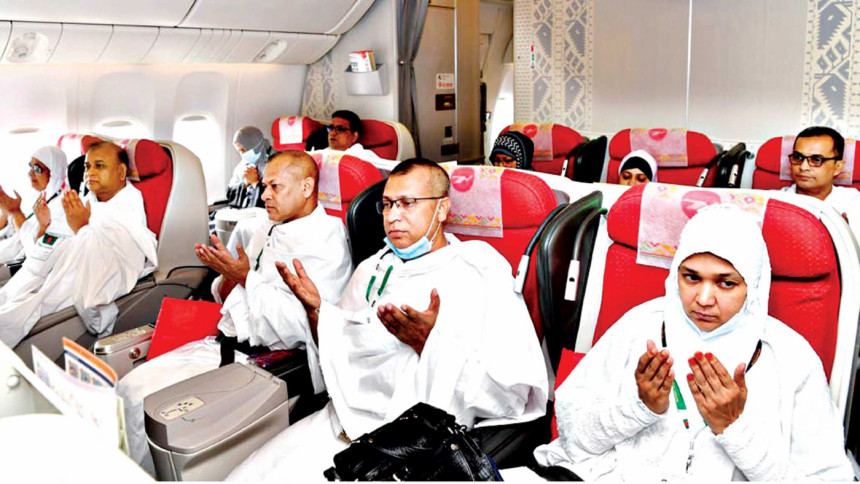 Biman Bangladesh Airlines has completed its pre-hajj flights this year – carrying 29,992 pilgrims to Saudi Arabia.
"Giving the highest priority on the religious sentiments of people, Biman has safely ferried 29,992 hajj pilgrims to Saudi Arabia this year as per the quota," the airlines said in a press release.
The last pre-hajj flight, BG-3141, left Hazrat Shahjalal International Airport at 7:55pm for Jeddah yesterday (July 3, 2022).
Biman has operated a total of 87 pre-hajj flights, including 67 dedicated and 20 scheduled, to carry hajj pilgrims to Saudi Arabia this year.
Without taking any aircraft on lease, the national flag carrier this year used its four Boeing 777-300 ER aircraft to operate hajj and regular flights to Saudi Arabia.
Due to the sincerity and dedicated efforts of Biman officials and staff, all the flights were operated on time and no hajj flight was cancelled.
The first hajj flight of this year started on June 5. Biman's post-hajj flight will start from July 14.
According to the bilateral agreement between Bangladesh and Saudi Arabia, a total of 60,000 Bangladeshis will be able to perform hajj this year.
Of the total pilgrims, Biman will carry half of them and two Saudi Arabian airlines – Saudia and Flynas – will carry the rest.
In 2019, around 1.27 lakh Bangladeshis were allowed to perform hajj. However, due to the global Covid-19 pandemic, the largest annual Muslim congregation was held on a limited scale in the last two years.