4 places to visit in Tangail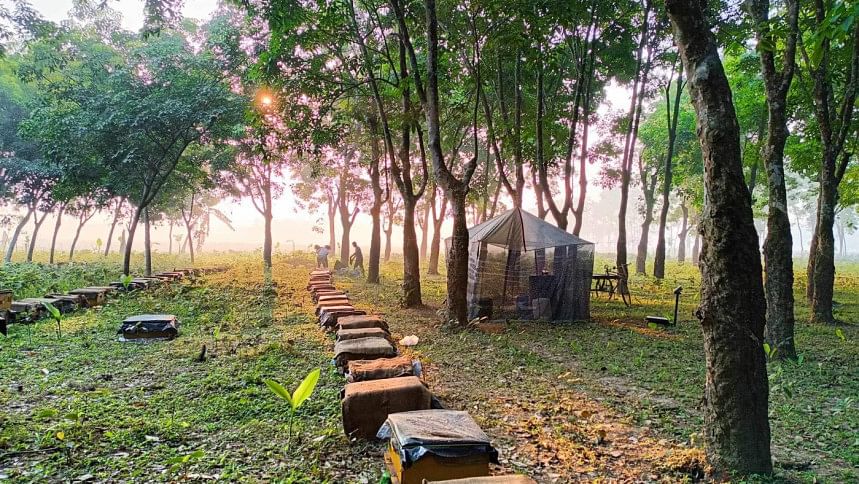 Located around 100 kilometres north of Dhaka, the Tangail district is a place where not only the hilly forest of Bhawal meets the mighty Jamuna River, but also a melting pot of Bengali and unique cultures like the Garo and the Koch people. Although not particularly known for tourism, the Tangail district features an astonishing blend of picturesque countryside, deep forests, rich cultural heritage, and sites of historical significance.
Whether you are a history enthusiast or just looking for a day trip outside of Dhaka, Tangail will have something to offer. Here are some of the hidden gems in this district. 
Madhupur National Park
Covering an area of over 20,000 acres, Madhupur National Park is one of the best places to visit if you plan to have a serene afternoon enveloped in deep forest. Far from the maddening crowds of the city, Madhupur National Park can be an ideal retreat for nature lovers. This little-known reserved forest also features a deer breeding centre, a treat for wildlife enthusiasts seeking the opportunity to witness untamed creatures in their natural habitat.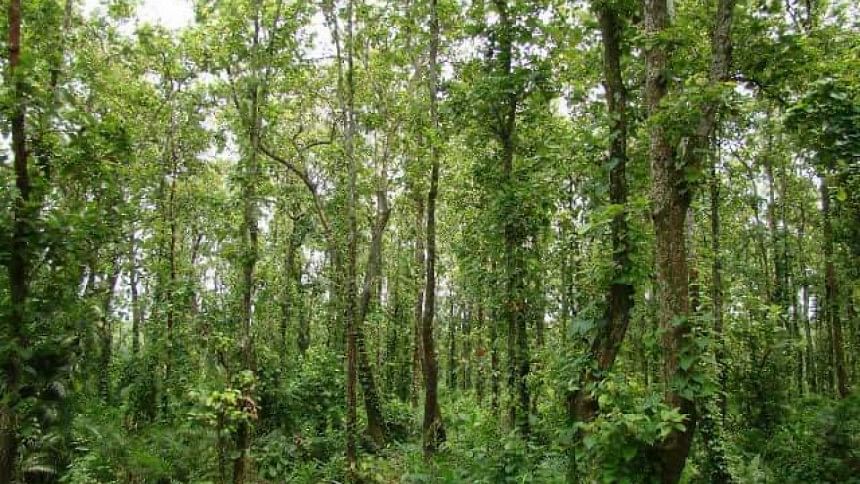 We also recommend a visit to Caritas shops in the nearby area, a place where indigenous homecrafts are available for sale. Last but not least, do not forget to try the pineapples of Madhupur, as they are cheap and arguably the best kind grown in our country. It takes approximately a two-hour drive from Dhaka to reach the town of Madhupur, from where the National Park is within a matter of minutes.
Pirgacha Rubber Garden
Also situated within the Madhupur Upazila, the Pirgacha Rubber Garden is one of the most picturesque sites in this region. The beautifully arranged rubber trees, growing to majestic heights, present two captivating sceneries; one during the leafless winter and another during the lush green monsoon, each possessing its own remarkable charm.
Travellers can also visit the rubber factory, located just east of the garden, which features a demonstration on how raw rubber is collected, processed and made into sheets. Depending on permission, visitors also have the opportunity to stay in a charming rest house surrounded by a flower garden. The Pirgacha Rubber Garden is about 10 kilometres from the Madhupur and can be reached via CNG, auto-rickshaw or motorbikes. 
Atiya Mosque
The Atiya Mosque of Delduar Upazila is one of the most iconic and recognisable landmarks in the Tangail district. Once featured on the Tk 10 banknotes, the design of this mosque is a wonderful blend of both Mughal and Sultanate styles of architecture.
This relatively small one-domed mosque is particularly famous for its intricate vegetal clay motifs and curvilinear cornices on four sides, a mosque-building style that is unique to and originated in Bengal. Located just 6 kilometres south of Tangail city in the Atiya village, this beautiful mosque can be reached via CNG or auto-rickshaw.
201 Dome Mosque
The 201 Dome Mosque is situated in the Pathalia village of Gopalpur Upazila. Alongside its grand collection of 201 exquisitely adorned domes, the mosque showcases eight towering minarets, half of them measuring at a towering height of 101 feet, and the other half at 81 feet. The western wall of the mosque is also under construction, and planned to feature the entire Holy Quran.
To visit this majestic mosque, travellers will need to reach Gopalpur Upazila by bus or personal vehicle. Once you are there, local transportation to the mosque can be found from anywhere in the Upazila.