Words of wisdom from Kylian Mbappé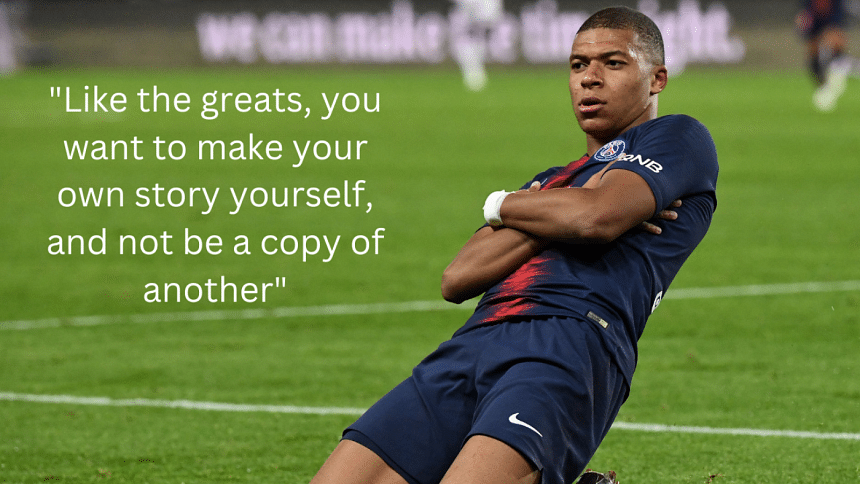 While his accolades and achievements make him look far away from us, Kylian Mbappé's words of wisdom resonate with everyone. The following quotes transcend the football field and are words we all need to hear. Values of sportsmanship, teamwork, individuality, and motivation are different for everyone. Yet, the essence of these values and how it pushes us to keep striving for what is best and right is the same for everyone. Throughout his career, Kylian Mbappé, the French professional footballer who also plays forward for Paris Saint-Germain, has faced his share of obstacles and challenges. In spite of it all, he has managed to come out on top.
Here are some words of wisdom from Mbappé himself:
If the team needs you, you need to sacrifice
At times, when we find ourselves fighting for the greater good or to achieve a collective goal, we need to let go of our personal achievements and desires, especially when working with others. We might not always like to, but when others rely on us, some sacrifices need to be made. There might be times when we can achieve more if we act individually; however, in reality, if we are the only ones succeeding in the team, the win appears disappointing and underwhelming.
Like the greats, you want to make your own story yourself, and not be a copy of another
We all have our own stories, personality, and ambitions. Mimicking someone else will only get you so far and it is important to look at what makes you yourself. Which traits and attributes, skills and experiences, are unique to you and tell only your story? Setting your own goals for yourself, and approaching those goals in ways, which benefit you the most paves this path of individuality. It is easy to get wound up with what others are doing and go with the herd, sometimes it seems like the easier option. However, the easier path does not always call for greatness.
We must always set the bar high, otherwise we do not progress
Failure is a given in any endeavour. That does not mean that your goal should be the bare minimum. Setting a higher bar for yourself would push you to work harder for what you want, and in the process, improve. Be it in academics, work, or your personal life, the bar for success should never be low. Otherwise, you get comfortable and find yourself in a stationary state.
You can't sit around and do nothing, you have to carry on
When life throws you a curveball, you want to give up. If you fail a test or get fired from a job, you might think to yourself, 'What's the point in trying anymore?' It is okay to take a break but failure should not be your comfort zone. Rather, pick yourself up and think of the next step on how to get back on track and keep moving. Just as life goes on, so must you.
We must stop feeling fear
Fear is powerful. We fear disappointing ourselves and others failing in our actions or even doubting ourselves and our capabilities. In these moments, we have to remind ourselves that fear will not bring anything fruitful. Even if we know we are going to fail and probably not be able to achieve a particular goal, why not still take the shot? In doing so, we learn valuable lessons and take away tips on how to do better next time. Fearing what might happen or how something can end, will only hamper the positives of what could have been.