Blender's Choice-The Daily Star OTT & Digital Content Awards 2021: Who wore what?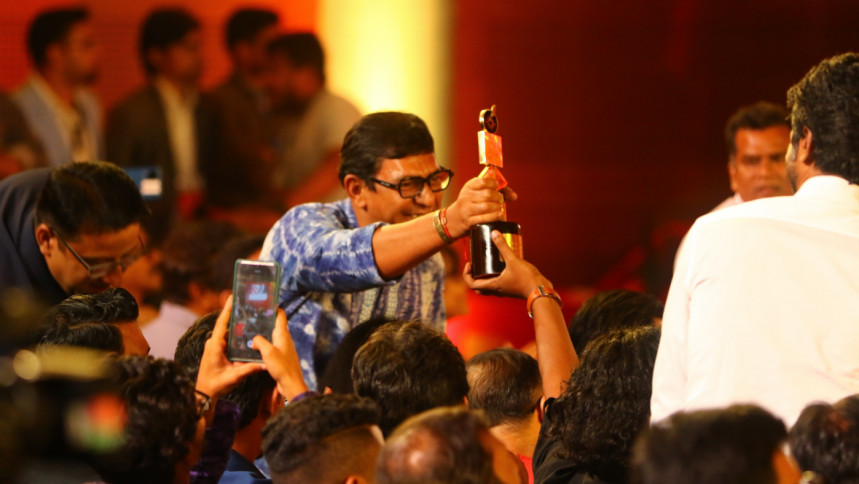 Have you stopped to realise how wonderful this year has been in the entertainment sphere of the country? From music to movies, and from web series to vlogs, artistes from a plethora of fields rose up to offer numerous splendid performances. It seems, arguably after quite some time, people have started to really talk about Bangla movies, series, etc.
Meanwhile, another phenomenon which has been happening simultaneously is how, in recent times, we have embraced Bangla content in the digital media. All these set the stage for an award show, a gala event paying tribute to those who are pushing the envelope for Bangla content in the digital world. Therefore, the Blender's Choice-The Daily Star OTT & Digital Content Awards 2021 came into being. The event was held on 3 September, 2022 at the Bangabandhu International Conference Center (BICC).  
And hence, featuring the event, Star Lifestyle presents this brief look into what your favourite artists featuring in all the content you are now raving about.
Arifin Shuvoo
Wearing jeans with comfortable kurta (short panjabi), the actor certainly prioritised the deshi look. The statement hat, silver beads, and brown shades certainly matched his look for the day. If it was entirely on us, we'd assume that he was going for the perfect blend of eastern and western styles.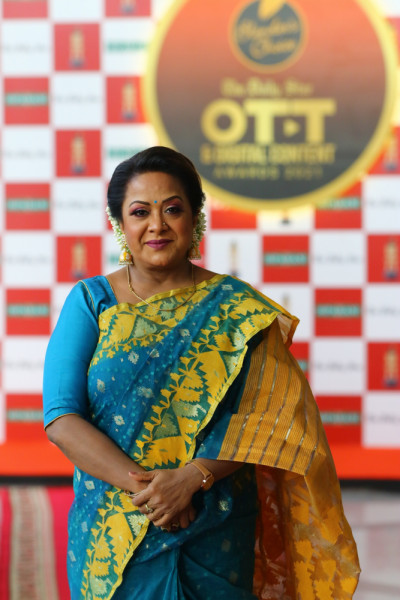 Aruna Biswas
Keeping it traditional, Biswas wore a beautiful jamdani sari in the combination of blue, yellow and sea green. She opted for a low bun adorned with beli ful (Arabian Jasmine) and gold jhumkas (danglers). Thanks to Aruna Biswas, the venue was uplifted with the traditional touches of a bygone era.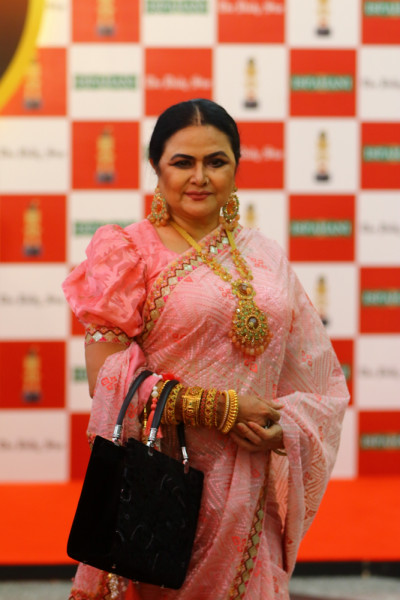 Shanta Islam
Shanta Islam donned the deshi jamdani in peach-pink. The actress made sure her jewellery made up for the colours that she was wearing for the red-carpet evening. With a puffed sleeve blouse, heavy neckpiece and a handful of gold bangles, Shanta Islam certainly stood out amongst the crowd.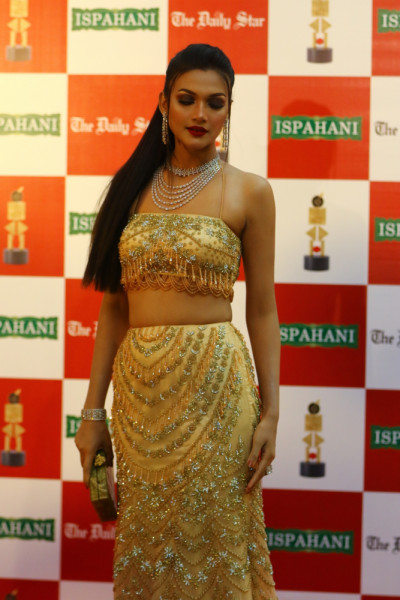 Shirin Akter Shila
For the exclusive red-carpet evening, Shiring Akhter Shila was wearing Meher by Samina Sara, an outfit that carried multiple crystals and exclusive stones. What stood out amongst the entire wardrobe was her bright and blood-red lipstick. Great choice in shades!
Shoumik Ahmed
The famous YouTuber/actor looked dapper in a black suit with tiny black crystals embroidered onto the outfit, a creation of Meher by Samina Sara. According to Ahmed, the designer developed a custom-made suit, so that Ahmed could dazzle the red carpet with his persona.
Shohel Mondol
Clad in a white, striped tuxedo shirt, black tuxedo pants, bow tie, and black glasses, Shohel Mondol certainly stood out amongst the crowd. Mondol's entire look was etched by Rulmaker, a soon-to-be extremely popular gentleman's clothing store, especially after the red-carpet event.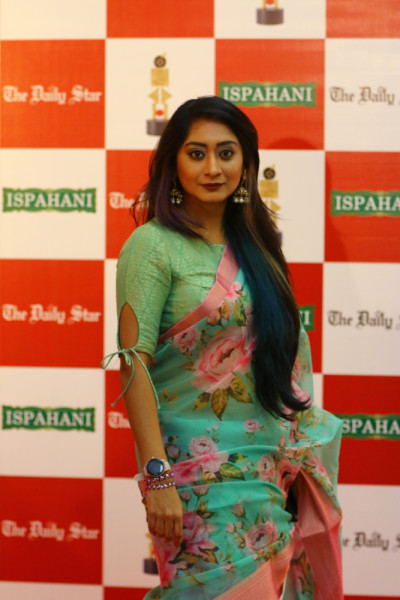 Zinat Sanu Swagata
Swagata wore a printed floral sari in shades of pastel. She paired her look with an equally gorgeous mint-green blouse, minimal makeup prioritising the recent favourite 'nude look,' and a pair of traditional jhumkas (danglers).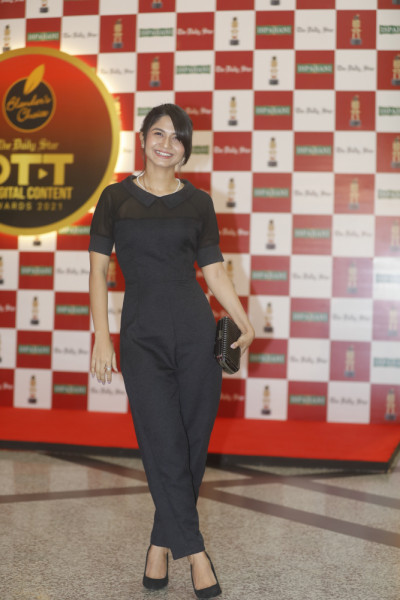 Orchita Sporshia
Sporshia wore a solid black jumpsuit with black heels. For jewellery, she went for pearl ear studs and a thin pearl necklace. With minimal makeup, her look was classy, sassy, and fresh at the same time.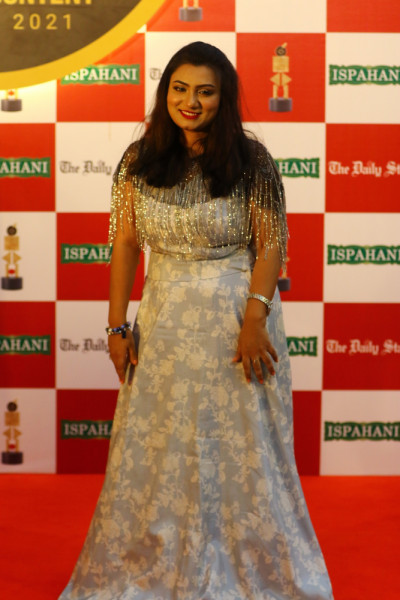 Abanti Sithi
Despite a leg injury, Abanti Sithi sportingly made it to the red-carpet evening and still managed to rock the stages with her beautiful aura. Clad in a white gown with floral imprints she looked simply beautiful.
Armeen Musa
We simply love her and now even more so because of the way she rocks the classic black. Armeen Musa was clad in a lovely black and yellow combination sari, but that was not what actually made her stand out for the evening — it was her lovely dinosaur earrings that pulled the crowd.
Chanchal Chowdhury
Chowdhury was absolutely rocking the down-to-earth attitude with flare. Clad in a royal blue tie-dye panjabi and thick glasses, Chanchal Chowdhury looked calm and composed. Not sure if he was already deep-seated in a character, the whizz actor seemed cheery throughout the evening.
Intekhab Dinar
In a heavily embroidered ash-brown panjabi, Intekhab Dinar looked dashing, traditional and quite fit for the occasion.
FS Nayeem
The actor looked sharp in an all-black ensemble. When asked which brands he was wearing for the evening, Nayeem thanked Artisti, BD Express, and Gant Chelsea for the entire look.
Chayanika Chowdhury
Chayanika looked gorgeous in an orange-red cotton sari with gold borders. With minimal ornaments and a tiny red dot at the centre of her forehead, Chayanika proved once again that simplicity is the key to beauty.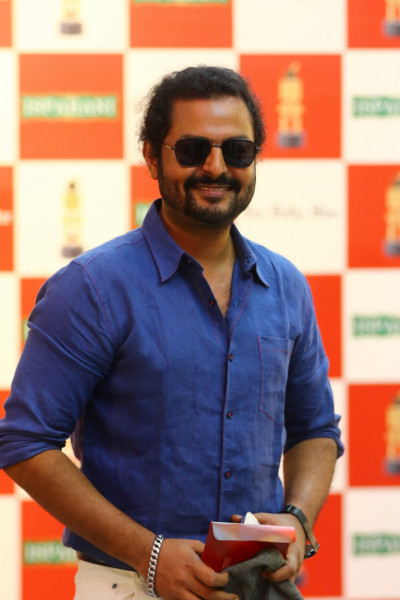 Rehaan Rasul
In an old-style combination of blue and white with black shades, Rehaan Rasul rocked the evening in an all Taaga ensemble.
Elina Shammi
The actress looked stunning in a retro look — black muslin sari with gold imprints. What stood out mostly for the evening was her beautiful jet-black tresses, and gorgeous smile.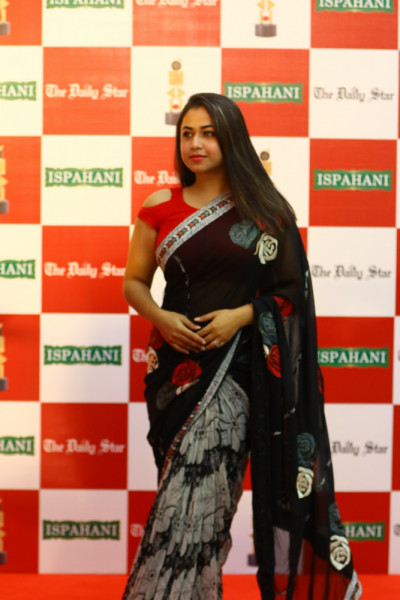 Faria Shahrin
Donning the classic combination of black and red, Faria Shahrin looked suave and charming throughout the evening. The floral imprints on her black sari however, stole all the attention because the big red roses truly complemented the beauty that she is.
Rukhsana Ali Hera
Looking sharp in an all-black jumpsuit, the model definitely turned few heads amongst the crowd. What mostly pulled us towards her look were the silver and crystal combo jewellery that she was wearing for the evening.
Ziaul Roshan
Roshan made a point to put a twist with T-shirt and jeans. The actor dared to pull the comfort look effortlessly in a local environment and make it look like a walk-in-the park.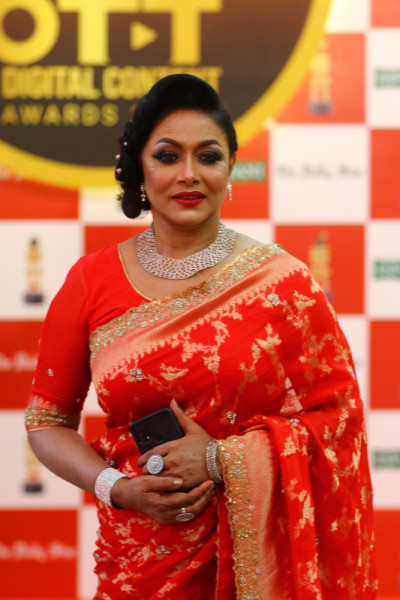 Rozina
The evergreen actress looked stunning in an orange-red sari, diamond necklaces, and a mid-level bun. What mostly stood out was her spectacular sunrise orange lipstick and pearl beads embedded meticulously into her locks.
Peya Jannatul
The supermodel looked exquisite in an ivory white, Grecian gown, heavily embroidered with golden sequins at the neck and the sleeves. Peya Jannatul methodically paired her attire for the evening with a nude look, gel manicured nails, and glossy lipstick.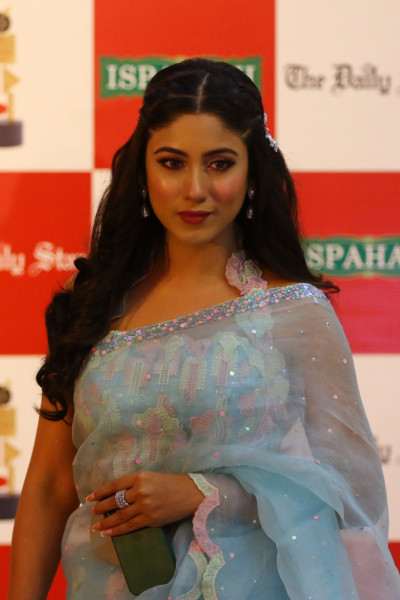 Safa Kabir
With a halter neck blouse and powder blue sari, everyone wondered whose designer outfit Safa Kabir was wearing at the red-carpet event. The answer to that is Butterfly by Shagufta, her favourite go-to brand for any grand occasion.
Nadia Dora
Dora was dressed in a full-length, velvet dress and nude toned stilettos. What caught our attention mostly was her gorgeous silver anklets that were peeping out beneath the gown.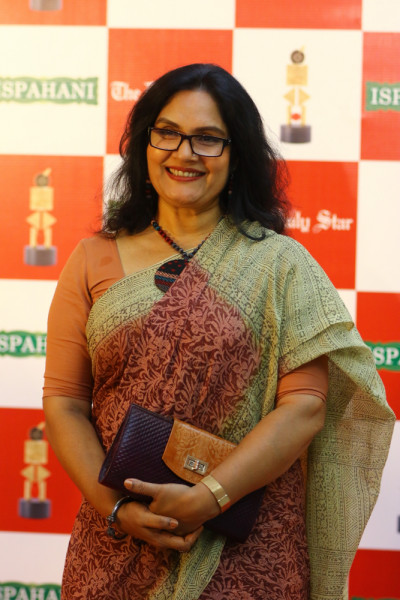 Shahnaz Khushi
Being a true patron of the deshi look, Khushi was in her usual form, wearing a cotton sari in natural dyes, handmade jewellery, locally made leather bag, and minimal makeup. We love her passion.
Sabnam Faria
Donning a traditional ash-toned jamdani with pink borders, the actress looked elegant in her wardrobe for the evening. What mostly caught our eyes was the stylish teep on her forehead.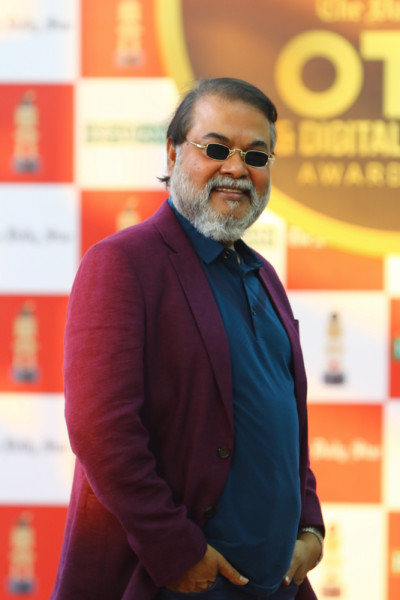 Shahidul Alam Sachchu
The actor looked dapper in retro shades, a purple blazer, and dark blue inners and jeans. Who would have thought retro would make such a big-time comeback on the red-carpet?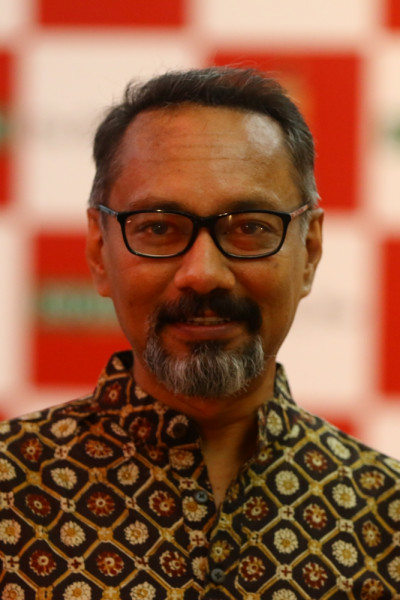 Kaushik Sankar Das
The renowned director chose to wear ethnic attires, namely a floral printed classic black panjabi. His stylishly trimmed goatee and flair for fashion in general is what stood out that evening.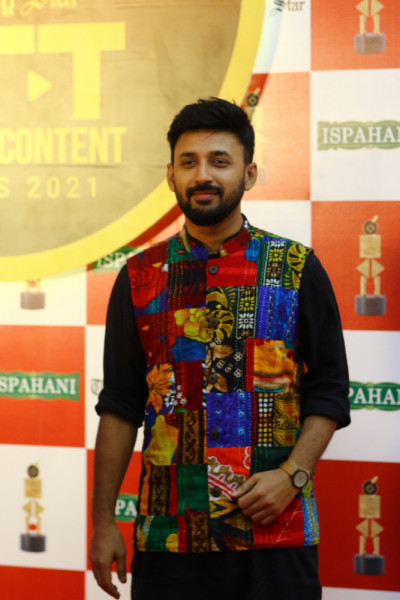 Manoj Kumar Pramanik
An interesting variation to the traditional black was worn by actor, Manoj Kumar Pramanik. He wore an intensely stylish coatee over a solid coloured, plain black panjabi. That intricate patchwork on the coatee and the exquisite hand embroidery was something to behold.
Samina Husain Prema
The acclaimed dancer looked elegant in a bottle-green Manipuri sari, traditional gold jewellery, green teep and a single white flower tucked in her jet-black locks. This is beauty personified.
Photo: Prabir Das and Sheikh Mehedi Morshed