'Till death do us part'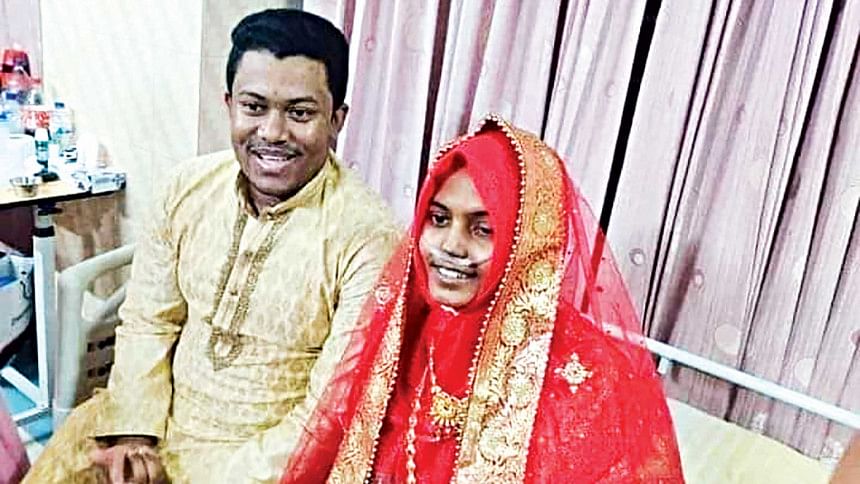 Two lovers. Between them stood the biggest obstacle imaginable -- death itself.
Yet they chose to bet on each other. On March 9, Fahmida Kamal (25) and Mahmudul Hasan (30) got married, despite pressures from family and society.
Fahmida had been struggling with cancer for over a year, and everybody advised Mahmudul against it. But in the end, love won as they exchanged wedding vows at a private hospital in the port city where Fahmida was being treated.
"The bride was dressed in a red sari, while Mahmudul wore pajama and panjabi," said Saifuddin Saki, a maternal grandfather of Fahmida.
"They exchanged garlands, cut a cake and the marriage was registered right at the hospital. Family members, hospital staffers and others present were treated with sweets, cake and dates," he said. But tragically, only 12 days later, Fahmida succumbed to her terminal illness yesterday morning.
"Fahmida was undergoing treatment at the ICU, where she breathed her last at 7:30am," said Md Yusuf, her paternal uncle.
With Fahmida's passing, the couple's story came to an abrupt end. But though it didn't last long, it will stand tall as a phenomenal instance of love winning out over the adversities thrown at its path by reality.
The couple were first introduced in 2018, later developing their relationship into a love affair. They were over the moon during the first few years, until everything came crumbling down with Fahmida's diagnosis of rectum cancer in January last year.
She was first admitted to a hospital in Dhaka, then taken abroad for better treatment. But doctors there said her cancer was already in the advanced stage. She was brought back to the country and admitted to a hospital in Chattogram.
But Mahmudul never gave up on her. The MBA graduate from a private university chose to stick by her side despite incessant protest from family members. As the doctors advised stopping chemotherapy, saying that she was approaching the end, Mahmudul decided to ask for Fahmida's hand.
The proposal startled her, according to family members. Neither families initially accepted this, but acquiesced to his sternness.
On the day of the marriage, Fahmida, an MBA graduate herself, looked happy for a while, which was a massive departure from her usual depressed mood brought about by the severe pain of the disease.
"All of us, from both families, also forgot our sorrows for a moment, seeing the two of them happy," said her uncle Yusuf.
On Friday, this correspondent spoke to Mahmudul. "I love her. I wanted to take care of her and carry all her burdens. We dreamt of marrying each other and we're glad that part of our dream has come true."
Fahmida passed away two days later.
The Daily Star would like to wish Mahmudul and members of both families hope and strength in this tough time.