The troubled life of Donatella Versace: Fashion designer extraordinaire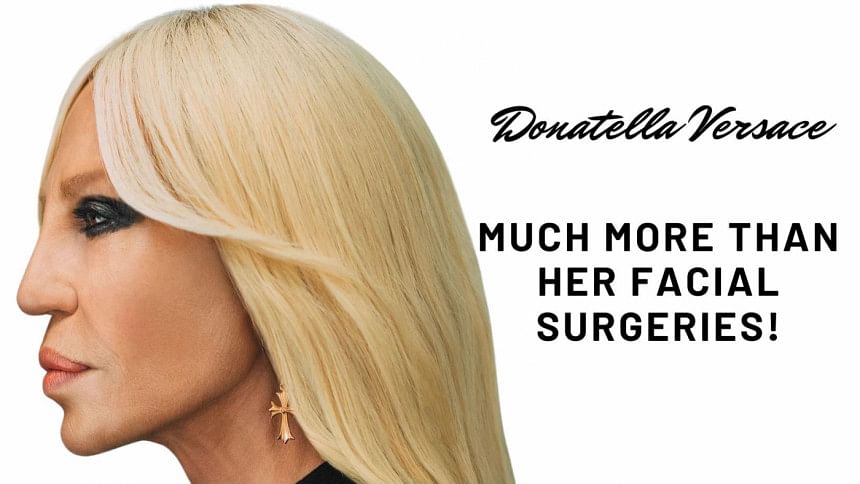 Donatella Versace is an unconquerable name in the world of fashion, a true force to be reckoned with. However, her visibly successful life of now does not give away even a hint of the tragedy she has faced, the insecurities she has battled, or the fears she has powered through in her life thus far.
In the news recently for her botched Botox and badly filled lips, Donna Donatella Versace is far more than just a ruined facial surgery. Behind the droopy eyes, undefined lips, deceptively smooth forehead and lifted brows is an indomitable force that serves as the creative mind at the fashion house, Versace.
Despite a world of success, the 67-year-old Donatella's life has been anything but easy. Her brother's biggest muse, Donatella was handed the business empire after his tragic death in 1997. Devastated, the young entrepreneur knew that there was a mammoth task ahead of her, and none of it would be easy. The then 42-year-old newly crowned tycoon was lost and ridden with self-doubt.
In her efforts to run the company on her own terms, Donatella made a lot of mistakes. Overwhelmed by the pressures that came with her position, she gave in to all sorts of temptations and distractions to stay afloat. Eventually, all of that led her on a downward spiral that would make her lose all control of her life. Donatella realised that she had to regain back her power, and truly believe in her capabilities if she was going to lead her company forward. After all, it was her darling brother's legacy she was fighting for.
Slowly, but surely, the designer found her own unique footing in the world of fashion. Instead of following her brother's steps, she navigated her own path — muted colours, conservative styles and simplicity. She used her experience as a woman to understand how other women perceive fashion, and the stars started to align for her. Through sheer determination and grit, Donatella found herself standing neck to neck, among the big guns, on equal footing.
Donatella Versace led through woman power. A feminist to the core, she rallied for more women CEOs, instead of simply female supermodels. The creative powerhouse was also big on positive body image. She believed that whether a girl wore a small size or an XL, fashion was all about the right fit. She has been known to admit on many occasions how difficult it is to constantly be under public scrutiny, simply for being of the opposite gender. She has shattered the glass ceiling but as paid the price for it too.
While critiques are super disapproving of her many facial surgeries and put it down to her insecurities and self-doubt, Donatella is of the strong opinion that women do not need to look natural if they do not wish to. In fact, she is famously quoted to have been saying "I do not believe in totally natural for women. For me, natural has something to do with vegetables."
From nail-biting fear 25 years ago to designing Britney Spear's wedding dress, the creative designer of Versace has come a long, long, way. Love her or hate her, but you can never really ignore the lesson she embodies that continued success requires consistency and that one can double that portion up if they are women, trying to progress in a world dominated by men.