Thank God It's Friday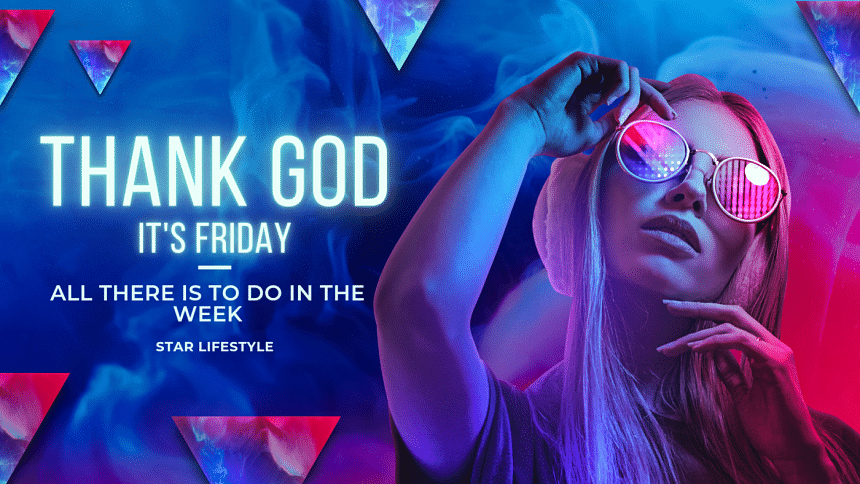 The Art of Rock 4 powered by Heavy Metal T-shirt
Date: Friday, 26 August, 2022 and Saturday, 27 August, 2022
Time:  2 PM – 8 PM
Venue: Liberation War Museum
The Art of Rock is back after three long years! This time they have planned it stronger, bigger and louder! The Art of Rock 4 powered by Heavy Metal T-shirt is going to be two days of pure, raw and unfiltered rock. The lineup (in alphabetical order) includes — Aftermath, Conclusion, Crunch, Dads in the Park, Fused, Implicit, Karnival, Level Five, Owned, Poraho, Rockaphobic, SIN, Shepherds, and Unmaad.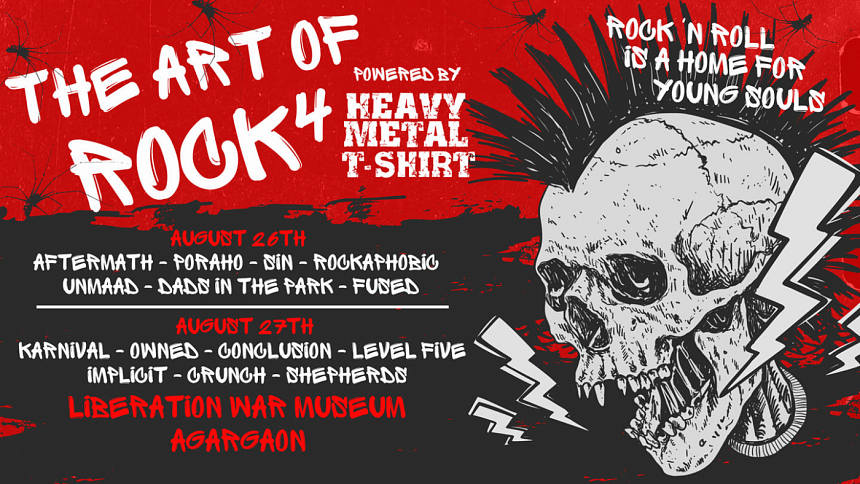 Ticket Prices: Tk 500 (single day entry), Tk 700 (double day entry), Tk 1000 (Double day entry + T-shirt) For tickets log into: https://forms.gle/RuNz99dU2JhAAuuH9
The Renaissance of the Rohingya Culture | Exhibition
Date: 26 – 31 August, 2022
Time: 10:00 AM - 07:00 PM
Venue: EMK Center, Dhanmondi 27
For the first time in Bangladesh's history paintings by Rohingya refugees are being shown publicly. It was through the Rohingya Artolution that refugee artists were able to express how they felt about leaving their families and homes behind in Rakhine. Using a locally driven participatory approach, 30 Rohingya refugees and host community teaching artists collaborated to create the joint art works based on their vision of their community. The Rohingya Artolution Teaching Artists organised this exhibition in collaboration with Artolution, UNHCR, UNFPA, MUKTI, and the EMK Center, the United States Embassy in Dhaka, and the National Geographic Society.
'Gentle Grass' by Anisuzzaman Faroque
Date: 19-30 August, 2022
Time: 3:00 PM - 9:00 PM
Venue: Alliance Francaise de Dhaka
'Gentle Grass' is the first solo exhibition of sculptures and drawings by Anisuzzaman Faroque to be held at La Galerie, Alliance Française de Dhaka. The exhibition is organised by Alliance Francaise de Dhaka in association with Artcon and Studio III.
Masterclass with Ghulam Sumdany Don
Date: Friday, 19 August, 2022
Time: 10 AM
Venue: Sheraton Dhaka
Please find the registration here: https://bit.ly/3O1eWuy
"Masterclass with Ghulam Sumdany Don" is a holistic learning experience for corporate organisations, jobholders, and entrepreneurs. In his Masterclass, Ghulam Sumdany Don will be focusing on his two most demanded sessions, popularly known as Leadership, Productivity & Personal Mastery along with Communication, Negotiation & Presentation Mastery.
 
Joysan Ayurvedic Nutrition Course
Date: Friday, 19 August, 2022
Time: 9:00-10:00 PM (one hour on Zoom)
Venue: Anyone on Facebook
Authentic approach to Food and Nutrition as per Ayurveda classics — is a course to be conducted in Bengali by Dr Sumit Sur, Medical officer, Government of West Bengal, India. The course will deal with topics like — self-healing method, causes for diseases, weight loss techniques, ayurvedic diet etc.
For details, contact: +8801707008277 https://www.facebook.com/events/596467738499874/596467755166539/?active_tab=about
City Subconscious - An exhibition by Aananda Antahleen
Date: 19 August – 3 September, 2022
Time: 4 PM – 8 PM
A docu-fiction on the city of Dhaka, constructed through a dialectical understanding between the broader structures and an individual. A subjective narrative of the different circumstances, situations, and experiences in the context of the city. Just as this story contains commentary/critique of urban economic, political, cultural, and power structures, representations of private, intimate moments are included.
In the end, it's a story of the artist's ongoing conversation with the city, a story of my own reality amidst the urban politico-economic context.
City Subconscious - A Ghartera project is curated by Kazi Tahsin Agaz Apurbo.