Tattoos of our favourite footballers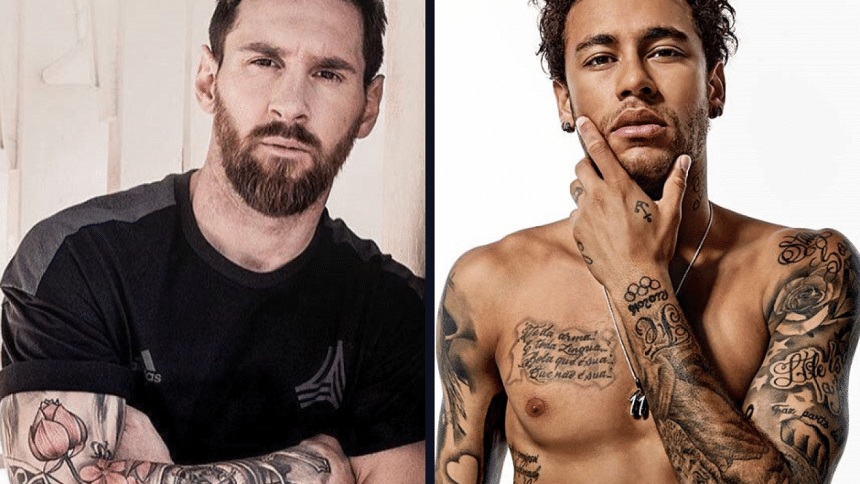 For decades tattoos have been used to turn the human body into a canvas. For many tattoos symbolise their personal hardships and challenges, have been used to honour their families, embody their individuality in artistic forms, and act as a reminder to keep doing what they do. Footballers are no different. Many beloved football players have graced their bodies with ink with heartfelt tattoos and with sentimental value. It puts into perspective how despite the fame and glory, they remain grateful and in touch with where they started and came from.
Here are some of our favourites — 
Messi's love story  
Lionel Messi has several tattoos on his body, including his first sons' hands, Thiago, holding a football, Jesus Christ's face on his right hand, a lotus flower, his jersey number 10, and many more. However, his tattoo of a kiss symbol on his lower torso is by far the most heartfelt, symbolising his undying love for his wife, Antonela Roccuzzo. 
The two have been together since childhood and Antonela has been a supportive part of his football journey. She has become Messi's best friend, biggest supporter, and life partner. This tattoo is an ode to their love story and the strength the duo share. 
Neymar's dedication to his sister 
Brazilian footballer Neymar is covered in a total of 40 tattoos. The majority of his tattoos, six to be exact, are in honour of his sister, Rafaella Santos. Neymar, in fact, has her portrait tattooed on his right arm. What makes this tattoo more significant is that it is a memorabilia of their roots. Throughout their entire journey filled with many struggles and coming from humble beginnings, they have been united and overcame all of their challenges. Together, they have shared everything up to this point and continue to inspire one another. To this day, the PSG superstar reaches out to his sister whenever he is feeling depressed, making this tattoo symbolic of their hardship and relationship. 
Sergio Ramos's colourful inking 
Spanish player's body is a canvas. All this inkwork depicts his colourful personality and commemorates his career. Starting from tattoos symbolising iconic matches and wins to tattoos, which hold sentimental value, Ramos' body art tell his story. He has a tattoo of a World Cup inked with the date 11-07-2010 signifying when he lifted the title with Spain on his left calf and a tattoo on his left leg, which symbolises the Champions League final injury time goal against Atletico Madrid. 
He also has a Chinese symbol behind his left ear portraying a wolf which is believed to be one of his favourite animals. Behind his neck he has a heart being stabbed by a dagger with a line implanted on it. It reads, 'A lion never loses over the opinion of sheep'. The line is reflective of Ramos's aggression and confidence on the field for which he has been often criticised.
Mesut Özil's confidence 
The German footballer is no stranger to getting inked. He has commemorated his personality, courage, and fierceness through a tattoo of a roaring lion on left shoulder and upper arm which he got when he joined Arsenal. The quote, 'Only God Can Judge Me' is tattooed right below the lion. The tattoo as a whole is a statement. It illustrates how he does not worry about what others' think of him and that he is confident in his values and skills.