Swiss made 24K Minted gold bars launched by Shakib Al Hasan's Reliable Commodities Exchange Co., in association with QRIUS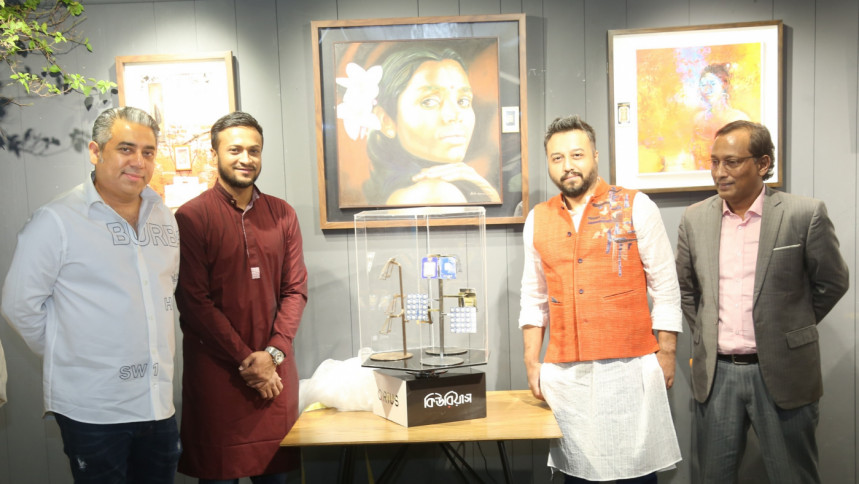 Shakib Al Hasan, one the most prominent Cricketers of Bangladesh National Cricket Team and also the Chairman of Reliable Commodities Exchange Co. has announced the launching of Swiss made 24K Minted gold bars in variable denominations, in association with QRIUS, a fast-growing lifestyle brand in Bangladesh. You will find these exquisite gold bars for purchase at the Banani outlet of QRIUS.
"In our country it was quite customary once to give gold gifts at various occasions, but a continual rising price of gold over the years has changed that habit of people. So we make this arrangement to make gold easily available to people while ensuring the right quality," said Shakib Al Hasan.
Investment in gold is quite common for people of Bangladesh, almost exclusively in the form of jewellery. Even though gold prices goes up over time, reselling jewelleries wont ensure getting the best price as the price varies with design and quality of the gold not to mention any further monetary loss in terms of  conversion rate. 
This is where the Swiss Minted 24K gold bars of Reliable Commodities Exchange Co. excel as the imported gold standard is internationally tested and recognized, making its sales value the same at home and aboard. 24K gold bars are quite popular around the world, be it as a savings instrument, investment opportunity or as a luxury gift item. The 24K gold bar is a 99.99 percent purity gold bar minted in Switzerland.
When asked what was the thought process behind launching gold bars starting with small sizes of one gram, Shakib Al Hasan said, "Let's say someone's monthly income has to be over Tk 1 lakh and upwards in order to buy a 50- or 100-gram gold bar, but anyone with an income of maybe Tk 50,000 will be able to buy at least the one-gram variant of the gold bar. Even if it's a small amount, we want people to buy gold bars affordably."
Gold ornaments play an integral part in our socio economic culture. In addition to adornment they also act as an investment against contingencies. Gold bars can be used to make ornaments of one's own preference and design, while also being a sustainable and risk free investment. Gold is considered a risk free and profitable investment as the market price of gold continues to rise around the world and Bangladesh.
The price of this exquisite gold is set at Tk 6,675 per gram and is available from one, two, five gram to all the way to 100 gram sizes. Offering a huge collection of lifestyle items alongside the gold bars, the QRIUS outlet is situated at Banani road number 11, Block F, House 58, Dhaka.