Ronaldo and Messi's chess photoshoot: 5 interesting facts you didn't know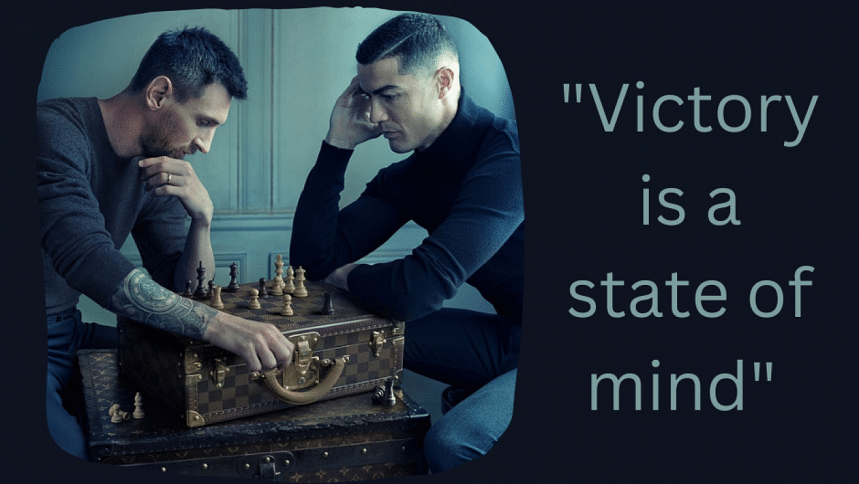 On November 19 luxury brand Louis Vuitton released a new brand campaign featuring the two greatest legends of the football world, Cristiano Ronaldo and Lionel Messi. With no ball in sight, both players appeared to be engrossed in an intense game of chess on top of a chequered Louis Vuitton suitcase. When we say, this one photo quite literally broke the internet in a matter of hours, we are not exaggerating. However, it turns out that there is much more to this photo than meets the eye. Curious yet? 
Here are 4 interesting details you may not have noticed from the GOAT picture:
The chess pieces
As it turns out, the chess pieces on the board were not arranged randomly at all. Instead, this was a recreation of the crucial moment in a 2017 match between chess masters, Magnus Carlsen and Hikaru Nakamura. Although Ronaldo appears to have the lead initially, chess fans know that the game ends in a draw. The message behind this is the continuation of the never-ending debate as to who really is the GOAT, Ronaldo or Messi. 
Same room different times
Apologies if we are about to burst your bubble, but Messi and Ronaldo were not actually photographed together. Annie Leibovitz, the mastermind of this photo, supposedly has the two footballers pose in their assigned positions, at different times and locations before combining them in post-production. Ronaldo in fact, posed in front of a simple grey wall that later helped blend him into the original backdrop.
The Symbolism
In chess, the white piece always makes the opening move, giving the black piece a disadvantage. This could be taken to mean that Ronaldo is a little older than Messi and had a professional debut before him. Another way to look at it is that Ronaldo has many physical advantages over Messi, such as height, build, and speed.
On the other hand, because of his low centre of gravity, excellent game IQ, and nearly unmatched technical ability, Messi might be considered to be the biologically ideal football player.
When legends Tweet 
As this photo made endless circles in every social media platform, it caught the attention of the chess masters themselves, Magnus Carlsen and Hikaru Nakamura. These players share a similar history of long-term rivalry much like Ronaldo and Messi, and quickly took to Twitter to share their thoughts on the game with some good-natured humour.
Sharing the iconic photo, Nakamura wrote, "I was wondering why this chess position looked familiar!" Carlsen, often known for his witty comments added, "Second greatest rivalry of our time mimicking the greatest." 
Proving the Speculation
The 'Victory is a State of Mind' campaign by Louis Vuitton is further fuelling speculation on Messi's Argentina and Ronaldo's Portugal coming face to face to battle it out at the finals of the Qatar FIFA World Cup 2022. 
Both of these legends are playing their fifth and final World Cup this season. The fact that they were photographed playing chess on the very Louis Vuitton suitcase that is used to hold the World Cup trophy, only makes the speculations much more real now.
For now, we can only watch with bated breath, as these legends fight their way towards the 'Cup of Life'.