Meghan Markle making headlines with £39 outfit
Meghan Markle released the first episode of her highly anticipated Spotify podcast titled Archetypes on Tuesday. While the inaugural episode that featured tennis legend Serena Williams lived up to all the hype, it was the cover art accompanying the release of the episode that stole the show.
The cover is a black and white portrait of the Duchess of Sussex against a gray background looking as beautiful and elegant as ever, with green gradient border and text that reads, "Archetypes with Meghan."
Markle, who is hosting the show, can be seen in neutral and minimal makeup sporting her iconic dark hair flowing across her shoulders in a straight and glossy style. But it's her dress-up that has got people talking; it has quite literally broken the internet. One would expect a celebrity of Meghan's stature to wear something striking and exclusive on the debut cover of her podcast. Instead, the Duchess wore a simple and cozy white ribbed tank top from J Crew Casual.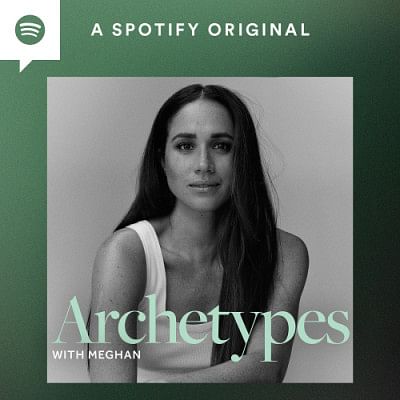 Meghan is a fan of the casual style and is often seen layering her outfits with white tank tops which is a staple for any woman. She can combine elegance and modesty together giving off a girl-next-door vibe.
One thing is for sure, her cover art serves as a reminder that simple can be breathtaking too, you don't always have to be loud to make a statement. Her outfit reportedly cost only £39. A far cry from the thousand-dollar extravagant outfits celebrities wear during photoshoots.
Archetypes will be a 12-episode series that aims to shed light on the facets of the various challenges and labels women have to overcome across different generations. In the first episode, Markle and Williams discuss topics such as ambition and motherhood. The next episode will feature Mariah Carey as the special guest.