In Love with Indaba My Favorite Yoga Studio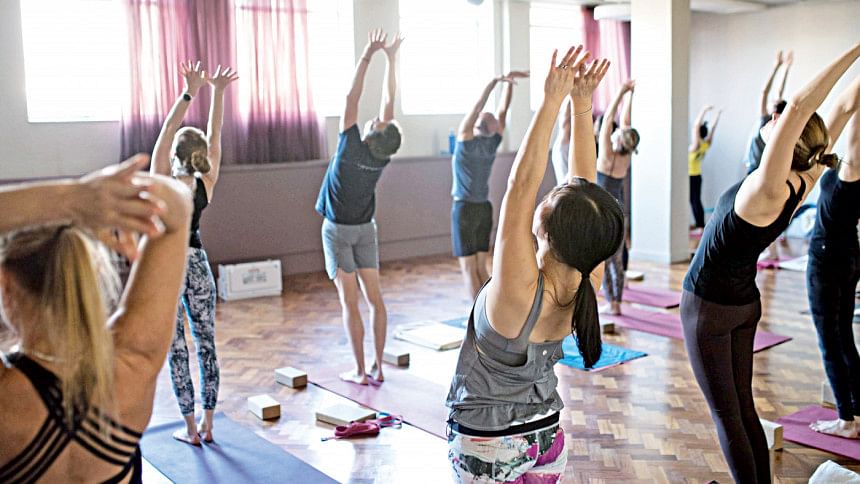 Every now and then, you come across a place where you would like to pitch your tent and stay forever. For me, that's Indaba Studio in Marylebone, London. I have been teaching yoga for more than 20 years, and learning for longer, so you can guess how many studios I have been to over the years, and yet this one rises above the rest to win a place in my heart. Are you wondering why? Here are the top 4 things I love about Indaba Studio.
Experienced teachers
The studio has a collection of extremely dedicated teachers who are deep into their yoga practice and have a lot of wisdom to share. These yogis are not only teaching (at very advanced levels), they also walk the talk, so there is much more to learn from them, apart from challenging postures. I have had the privilege of practicing with a few of the teachers at Indaba, including Leon London, Emi Tull, Stewart Gilchrist, and Ambra Vallo. They are gentle and demanding, focused and open-hearted, and they know just how to inspire every student to be his or her best self.
Mixing it up
I'm a student of Ashtanga, and in search of great Ashtanga teachers, I often end up in studios that offer only Ashtanga. But I like to explore new methods also to see how they complement my madness. At Indaba, there are incredible teachers and the option to explore Primal, Rocket, Dharma, Yogasana and Vinyasa flow. There are also Pilates classes and yin yoga classes, to round it all off.
Atmosphere and energy
I love the feeling I get when I walk in because of the atmosphere created. There are incense sticks burning and soft chanting music in the background, as well as a small shop of yogi treasures, such as chakra healing crystals and copper tongue scrapers, as well as mats and yoga pants, of course. Most important is the community that thrives around this studio — yoga lovers from all over the world who are going deeper into the practice and the lifestyle, other yoga teachers, people who perform in Cirque du Soleil and other acrobatic adventurers, as well as ordinary people who want a dose of positivity in their day.
Online option
The studio now streams all its classes online. This is a special treat for us in Bangladesh. We can now access classes by Indaba's amazing teachers right from our own living room!
Indaba On Demand is another option which allows you to watch recorded sessions with any of the teachers at any time you like. Online and On-Demand gives us the flexibility to practice anytime, anywhere!
Indaba Studio creates a space for yogis to connect, support each other and grow. This is ideal to progress in yoga and even to go deeper into self-study. Group energy helps elevate positive frequencies and cultivate a contagious passion to go deeper. Check it out! www.indabayoga.com
Shazia Omar is a yogi and a writer. www.shaziaomar.com
Photo: Shazia Omar