Fabled 'Dhakai Muslin' Revived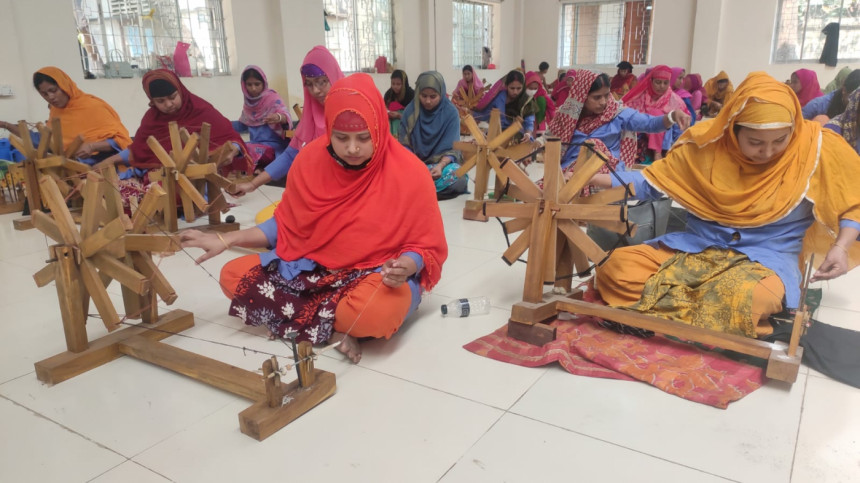 Nearly two centuries ago, Dhaka's Muslin was the finest fabric on the planet. Then colonization happened, and it just disappeared. For over 200 years, muslin was only a memory, until recently, when due to the keen interest of Bangladesh government and the craftsmanship of our local artisans, it was revived and the fabled cloth is now once again a reality.
There are 18 different types of muslin. The speciality of muslin is in its yarn count. The higher the yarn count, the finer the fabric. Back in our glory days, when Mughal emperors donned muslin with pride, the thread count went as far as 1200 but attempts to recreate muslin had been futile for the last 200 years because no one could reach a yarn count that high. The closest thing to muslin we had was the Jamdani which barely tops the 100 count. Until recently when a young woman from Cumilla, Chandina made the dream a reality by spinning 500 metric count yarn. She is the first Bangladeshi artisan in more than 200 years to spin 500 metric count muslin yarn.
"When I first started, the count was barely 10-15. Now I can reach a count of 550," said Mohsena Begum, with spectacular humility as if she doesn't realise that she has brought a myth back to life. "We have to do this on hand spinning wheel, manually. You can't do this on a machine, it's too delicate and the thread will snap if you get distracted even for a moment. It takes 3 to 4 days to spin 1 gram of thread," she added pointing out what a herculean task it is and once again reminding us why muslin is so special.
"There are a lot of things you need to maintain if you are going to work on muslin. For one thing, a sharp eyesight is very crucial. As is the light. We need to work for long hours sitting at the same spot. If the light is not exactly right, there will be headaches. If you are distracted by any other thought, your progress is impeded. You can't work under a fan because of the nature of the work. We need to care for our hands and keep them soft through a number of rituals and caring procedures. It's quite a challenge, to be frank," Mohsena Begum explained.  
Having been married at a young age, Mohsena Begum now has two sons, aged 10 and 14. As a trainer under Bangladesh Handloom Board, she is teaching a new generation of artisans the ins and outs of the spinning craft. Whether she is yarning herself or teaching the craft, she is good at both and you could tell by the results. Her students have surpassed her yarn count and recently reached 731 metric counts, which is the highest so far.
"We want to expand this craft through more training, obviously. Commercializing the muslin is also in the plans and we hope that maybe in the next 3 years or so, we can make that happen. That is a huge deal for us because we really want to establish muslin as what it is, a thing of pride," said Mohd Rezaul Karim, Chairman of Bangladesh Handloom Board, observing that there is a huge potential in the craft.
'Dhakai Muslin' is a GI product of Bangladesh, and it's not difficult to understand why. From Jane Austen to Joséphine Bonaparte, many other historic figures were very fond of muslin. Its resurrection is nothing short of historic.