Discussing the OTT ecosystem with the industry leaders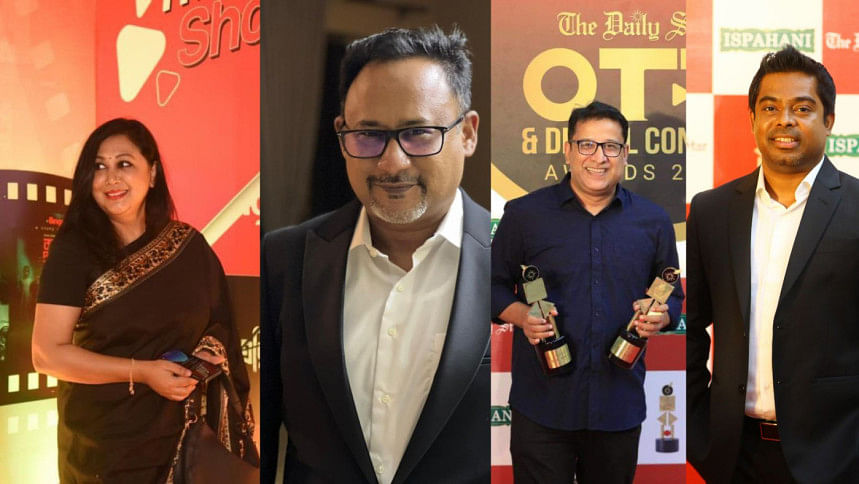 OTT entertainment is an expression that we have been hearing quite frequently over the last few years. It seems like it has taken over the entire visual entertainment ecosphere, or at least most of it as we speak. The term itself is an abbreviation for the word 'Over-The-Top,' meaning that a content provider is going 'over the top' of existing internet services such as YouTube or Vimeo, to provide visual entertainment that suits the exact requirements of an individual consumer.
With global names like Netflix, HBO, Disney, and Amazon investing heavily in the concept, it is inevitable that local names like Chorki, Hoichoi, Binge, Bongo etc., will continue to flourish equally. As the ecosystem continues to grow, we have numerous questions that come into our minds, such as how much OTT has actually affected the overall entertainment industry, what its future outlook may be, and whether there will be any negative impact, as is usual with any swiftly expanding user platform.
Bangladeshi film director, producer and media executive, Redoan Rony, who currently serves as the Chief Operating Officer at Chorki, explained the future of the industry in detail — "OTT and other motion picture platforms exist concurrently — one does not exist without the other. I would personally say that the OTT platform takes pride in habituating the masses to visual entertainment services, and as a result, other visual entertainment mediums are equally flourishing due to the acclimatisation."
Rony was extremely positive about the medium's future, explaining that movie halls could only earn a certain percentage of the revenue; in order to maximise the true potential of any visual entertainment service, it had to be accessible to the masses. And OTT was the best way to reach a wider audience. Hence, the apprehension that the mighty may fall was not applicable to the OTT platform, anytime soon, according to the veteran Director and CEO.
Rizwana Rashid Auni, General Manager, Market Operations at Binge, added to the conversation, saying, "If we compare with Netflix, then we are yet to reach that high point of success. But we are definitely making a mark in the OTT industry. Hence Hoichoi and Zee5 are also investing in Bangladeshi content. This shows the actual widespread opportunity for Bangladesh OTTs, not only within the country but also in the global arena. However, to become large-scale, the OTT guidelines need to be more user-friendly, which is still in progress."
Through conversations with these experts, we understood that it is not possible to discuss the growth of OTT around the world without discussing the advances made by technology in general, such as the increase in broadband coverage, major advancements in communication devices, mass adoption of smartphones, development of tech-heavy apps, and platforms for fast streaming services, etc.
Mushfiqur Rahman, Chief Content Officer at Bongo, enlightened us with a few more insights. "Due to advancements in technology, OTTs are the new medium of entertainment. People usually feel disturbed by the frequent advertisements on TV channels. Whereas with OTT, one can watch whatever they want, whenever they want, that too without any disruptions. Last but not least, the AI utilised in these services are so advanced that it discovers our likings and suggests movies/shows based on our preferences. Why won't OTT be the future of visual entertainment?" said the CCO.  
Our discussions could never be complete without the participation of Sakib R Khan, Country Director - Hoichoi Technologies Bangladesh Ltd.
"Like any other new medium, OTT is also facing its odds. We are fighting these odds with high-quality, contemporary content, and by promoting new talents within our country. It makes us believe in our work more. When entities like The Daily Star and M M Ispahani Ltd., come forward to acknowledge and patronise the medium, it is certainly a positive outlook," said Khan.
What we can say based on everything we have seen and learned so far is that the future looks quite promising for OTT platforms in general. For the moment, we can only imagine that healthy competition will arise between the platforms, leading to the cultivation and motivation of an entire industry.
Here's to wishing all OTT platforms in the country a hopeful future.