Balancing spirituality and social media in the digital age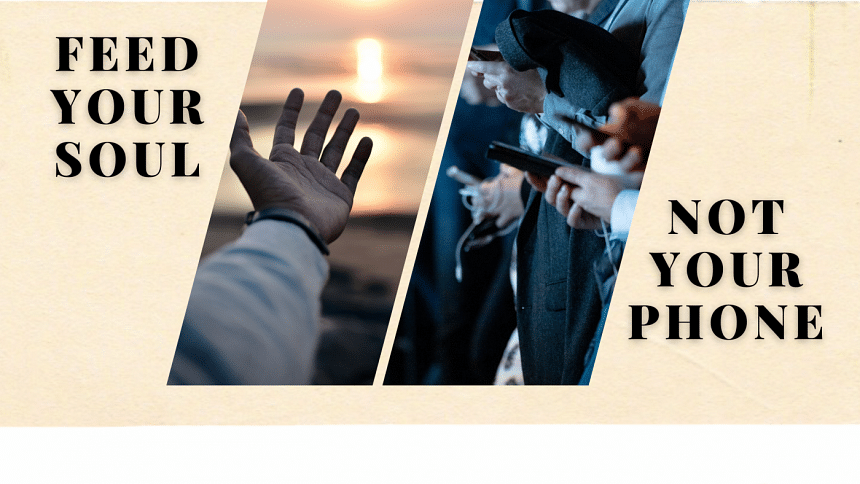 Ramadan, the blessed month for Muslims globally, allows us to introspect and break out of habits that do not add any value to our life but rather cause damage. Many people look forward to Ramadan as a golden opportunity to break out of their habit of smoking and live a healthier lifestyle. In this digital age, many of us are addicted to our phones and various social media apps. So, what more of an auspicious time can you have than now to break out of your smartphone addiction?
Below, we elaborate on how during this holy month you can reduce your bad habit of aimlessly scrolling on your phone, be more centred, and be in touch with your spiritual self to be more productive and strike a balance between your online activities and religious observances.
Are we really glued to our phones all the time?
Is checking your messages and notifications the first thing you do after waking up? Do you get anxious if your phone is out of arm's reach? If you have answered yes to these questions, we regret to inform you that you have an unhealthy relationship with your phone; one where the constant use of your handheld device takes a cognitive toll on you without you even realising it.
Smartphones have become modern-day safety blankets for most people. That temporary dopamine boost we get from checking our phones while ignoring the task at hand is very addictive!
While smartphones are incredible tools, there is sufficient data to prove how addicted we are to our smartphones and social media apps.
In July 2022, a study conducted by We Are Social and Hootsuite reported that on average, an internet user spends 6 hours and 53 minutes online per day. Audience research company GWI reports that the typical working-age internet user spends more than 2.5 hours per day using social media platforms, which accounts for 38 per cent of total daily online time globally.
At the end of 2022, Meta, Facebook's parent company stated that Bangladesh is one of the top 3 countries in the world with the most active Facebook users. A 2015 survey conducted by UCWeb, a Chinese mobile internet company showed that 23 per cent of internet users in Bangladesh spend more than 5 hours on social networking sites.
Social media usage during Ramadan
Ramadan is a month of moderation, spiritual growth, discipline, and community building. This month offers Muslims an excellent opportunity to reflect on their actions and habits and be more in tune with their faith. However, the distracting nature of social media can make it difficult to perform and concentrate on religious observances.
Aimlessly scrolling through our feeds takes up a lot of time and energy on our part. This unproductive activity does not encourage virtuous behaviour, reduces our attention span, and hampers our focus. This is time that can be better spent praying, making dua, and doing other productive tasks, even resting in a calm setting.
Over recent years, social media has lent itself to gossiping and vain talk, which goes against the principles of fasting that leads toward spiritual purification. Excessive use of these platforms can lead to jealousy, low self-esteem, and lower satisfaction in day-to-day life.
This is not to say all of social media is drivel, but the goal is to bring balance to your life. If the vast majority of the year is spent overindulging, it is healthy to take a break the other way for a little while.
Control instead of being controlled
By controlling our smartphone usage, we can redirect our attention, time, and energy toward more religious activities, such as sincere prayers, reading the holy Quran, and making dua — all of which are highly encouraged during Ramadan. There are measures you can undertake to curb this addiction.
There are plenty of apps that can track your daily use and also set limits on how long you can use certain apps. Many of the latest smartphones have these features built in. Try setting daily usage limits and blocking distracting apps. Some apps that will come in handy for these services are Flipd, Stayfree, QualityTime, Forest, etc.
When working, turn on the Do Not Disturb mode on your phone and keep it in a separate room. This makes it harder for you to lose focus by constantly checking in. Turn off push notifications for as many apps as you can. If needed, uninstall a few apps, especially social media apps. You might get FOMO (fear of missing out), but soon you will realise you are not missing out on much by not being constantly plugged in.
Remove distracting apps from your home screen. A lot of phone usage is unconscious behaviour, so removing apps from the home screen means you have to seek out those apps on your phone to use it, thus somewhat limiting your accidental time suck.
Turn your screen to grayscale, making it less appealing to use and reducing the rewards the colourful icons give your brain. Do not sleep with your phone in bed and do not charge it in bed as well.
Last but not the least, every time you pick up your phone, ask yourself why you are doing so and if it is necessary at this time. To prompt yourself to ask these questions, you can set up custom lock screens with wallpapers saying, "Why are you picking me up?", "Stop looking at your phone, put the phone down" etc.
May this Ramadan bring peace of mind, help you get rid of damaging habits, and take you a step further in achieving your goals and spiritual discipline.