A guide to healthy food habits for your children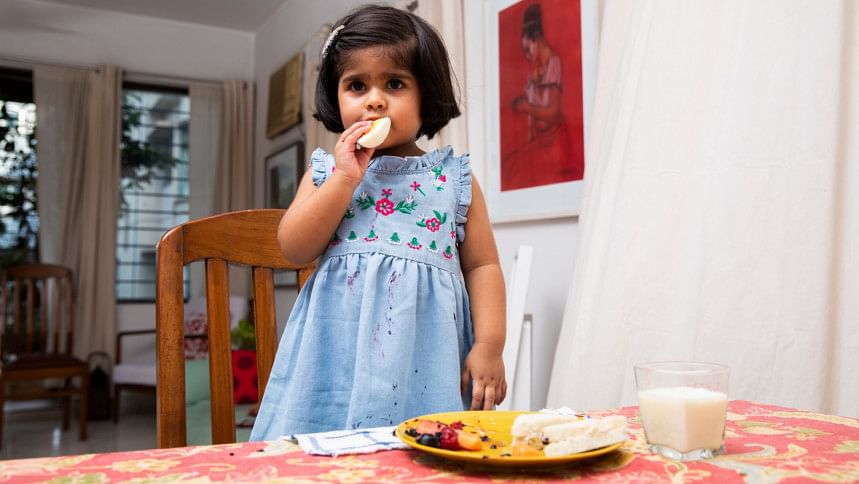 World Food Day is observed to highlight the importance of an inclusive society where everyone, including children, must not be left behind when it comes to food security. In line with this theme, we need to make sure our children are growing up healthy and have access to nutritious foods, whether at home or school.
Ask any parent and they will say how difficult it is to develop healthy eating habits in their child, especially the school-going ones as they are easily enticed by unhealthy, ready to eat, junk foods instead of nutritious meals. To help maintain healthy food habits, we recommend four essential food groups for the children down below. 
Fruits and Vegetables
Vitamins, antioxidants, fibre, water, fruits and vegetables are an essential source of nutrient that helps children from diseases later in life. We know for most children fruit-and-vegetable heavy meals can be unappealing, but we must encourage them to try out fruits and vegetables of different colours and tastes, freshly sourced or cooked. 
"I regularly give my son almond and cashew nuts in addition to fruits like apples, bananas, oranges, and grapes. Children like fruit salads as its quite colourful and nutritious, so I often make that for my son, along with putting vegetables like carrot, and cucumber in his meals," said Nusrat Ali Hasnat, a homemaker and mother of a seven-year-old son residing in Bashundhara.
Grain foods
Children need energy to grow, develop and learn, and grain foods like pasta, rice, corn, oats, and barley are essential to help children achieve the necessary growth. The best thing about whole grain foods is that they keep children full for a long time and in turn, make them feel energetic, thanks to having a low glycaemic index. 
Dairy products
A great source of protein and calcium, dairy foods like milk, cheese, and yoghurt are ideal healthy food options for children. Children should be encouraged to have different kinds of dairy regularly. This can include drinking milk, cheese slices, or a bowl of yoghurt. 
"I actually include a lot of dairy as part of my son's regular foods, like making cheese sandwiches. To maintain a healthy weight, I try to include butter in his food whenever possible," stated Nusrat. 
Protein-rich foods
Protein-rich foods are very important for growth and muscle development of children. Foods like lean meat, fish, chicken, beans, eggs, and lentils are high in protein as these also contain many other useful vitamins and minerals like iron, zinc, and vitamin B12. Omega-3 fatty acids from oily fish and lean red meat are especially important for children's learning and brain development. 
Protein-rich foods are especially ideal for children's tiffin, as they need to be in school for a long time. Healthy protein-rich food ensures that they are not devoid of energy and have all the essential nutrients outside of the home. 
When asked what her ideal tiffin for her son looks like, Nusrat said, "In addition to fruit salad and vegetables, I like to make foods like burgers for my son's tiffin. For the patty, I use chicken breast pieces with some salt and pepper and marinate them the night before, so that the patty will be delicious and healthy!" 
Essential drinking and foods that should be consumed less
When it comes to healthy drinks, just sticking to plain water can do the trick and along with the necessary food elements, it is fortified with fluoride for strong teeth. In addition, fruit juices can be great for children, as long as it is homemade and not too full of sugar. 
Foods that contain lots of salt and sugar put children at risk of health conditions like childhood obesity and type 2 diabetes. Also, overconsumption of these foods leads to unhealthy weight gain. 
 Of course, children being the free spirit they are, it can be downright impossible to stop them from consuming junk food. So instead of outright forbidding these foods, we have to make sure children will eat them only from time to time, under parental supervision, and even then, foods high in salt, sugar, and saturated food should be consumed in limited quantities. 
Model: Aliza Mahmud
Styling: RBR