The Swadeshi Movement inspires couturier Emdad Hoque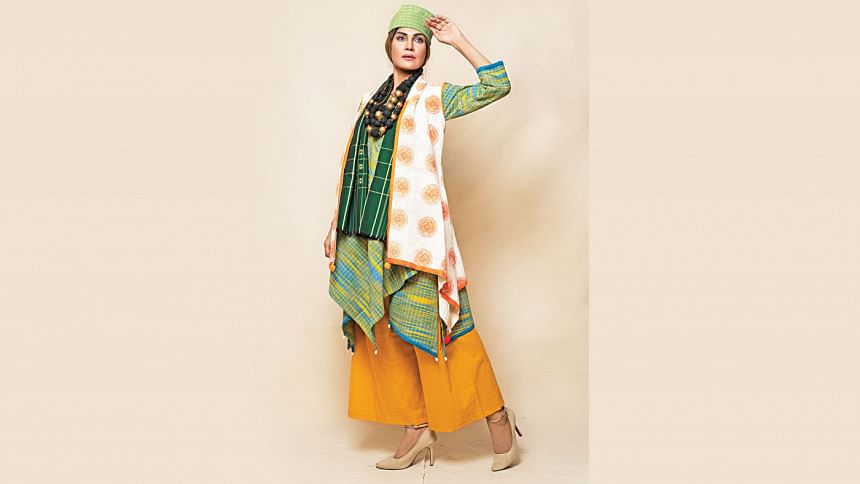 The purpose of the Aspara Fashion Week 2021 was to showcase garments, local textiles and fashion designs of different counties on an international platform. Due to the COVID-19 pandemic, this year's event was held virtually via Zoom.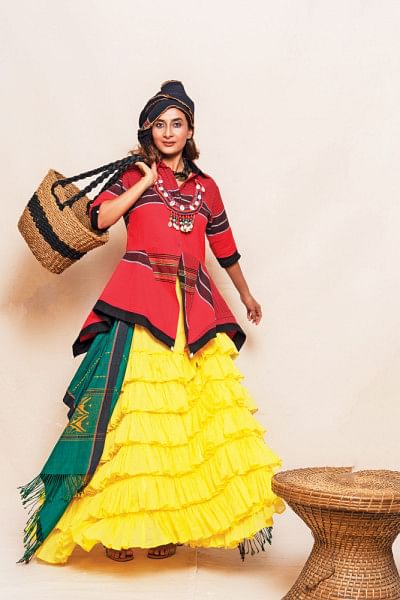 The Fashion Design Council of Bangladesh (FDCB) took part in the event where the work of 11 Bangladeshi fashion designers were displayed.
"FDCB feels very proud to have been part of such an esteemed programme where we got the opportunity to share the beauty of Bangladeshi fashion with the rest of the world," said Emdad Hoque, Vice-President of FDCB.
All the participating members of FDCB each worked with a different theme.
"At FDCB, we always work with local materials. Khadi is my personal favourite, so I decided to use this material for my deigns. The Swadeshi Movement and Mahatma Gandhi are closely associated with khadi. As this material has strong historical roots that concern us, I thought it would be a good choice for depicting our cultural heritage," added Emdad.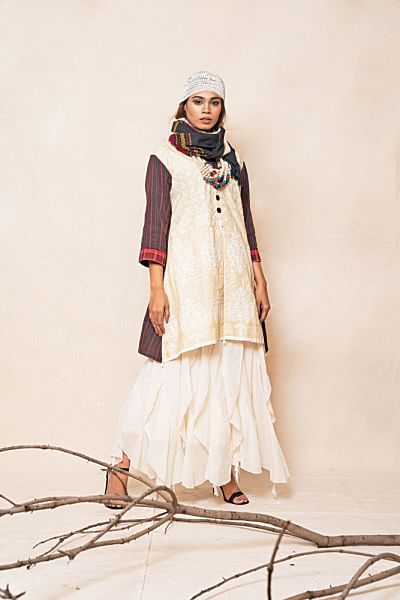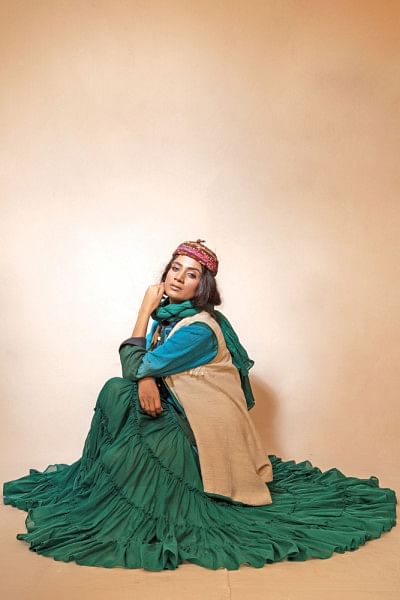 He blended tribal fabrics from Rangamati to his work to produce a very raw look. Malmal is a favourite fabric of Bangladesh, which was also present in Emdad's work. Other materials like silk have also been used for accessories.
"I have included caps with all my designs as caps are somewhat my signature. My entire theme was 'Rhythm of Fabrics' because I wanted to represent the various local fabrics of our country and how they blend with one another so harmoniously. Bangladesh is a colourful country and I wanted to keep that feature in all my work," said Emdad.
He also mentioned that he tried to make his work simple and raw, yet trendy and fashionable. The khadi for all of Emdad Hoque's collections were collected from the Gandhi Ashram at Noakhali, Bangladesh.
Photo: Uturn Production
Model: Maria, Hira, Mili, Tania, Efa, Nazia
Wardrobe: Emdad Hoque
Make-up: Orko
Co-ordination: Sonia Yeasmin Isha