Photos of Barbie, the movie, are out and we are loving the fashion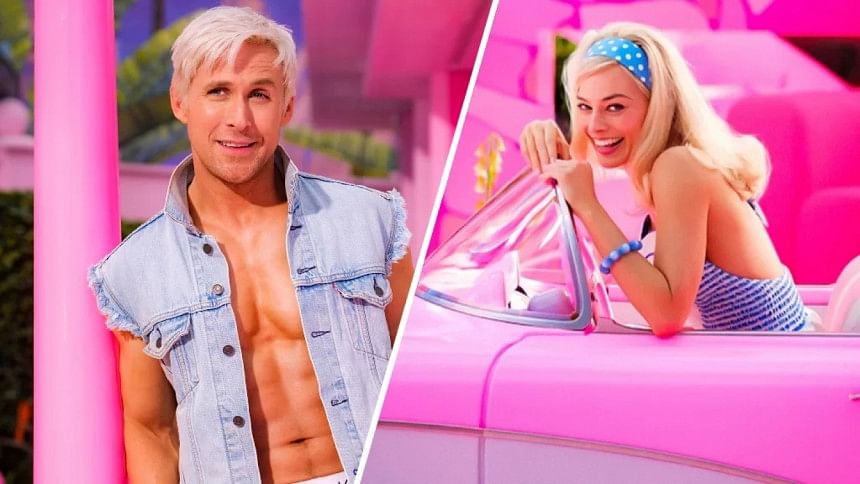 Ever since the first look of Margot Robbie and Ryan Gosling from Barbie was published it successfully broke the Internet. Initially, Sony Pictures were signed to make the film with actress Anne Hathaway and Amy Schumer, but the project eventually landed to Warner Bros, starring actress Margot Robbie who will play Barbie opposite to actor Ryan Gosling as Ken in the upcoming movie.
The two photos of the leading actors of the movie Barbie are generating much enthusiasm and fans have taken over social media to share their excitements.
This is the first time the American toy franchise has merged with a production house and signed for a commercial movie; previously we have only seen animated series such as, Barbie life in the dreamhouse which is available on Netflix.
The Notebook actor Ryan Gosling, who is already known for his good looks, is undoubtably the perfect match for a life size Ken doll. Everyone is loving Ryan's incoherent smile and look forward to a promising movie. His blond hair, tanned skin and beautiful abs are just like we had on our dolls. His quintessential 80s head-to-toe faded denim outfit is also a classic.  
And, who could have played Barbie doll better than Margot Robbie! It will surely be one of her iconic roles. We have all witnessed her beauty and talent in The Wolf of Wall Street and Suicide Squad. The first look of actor Margot Robbie as Barbie features her beautiful smile, blond wavy hair in a blue and white outfit, blue polka dot headband and a matching beaded bracelet. The actor looked dreamy on a bright Barbie pink convertible.
The famous Barbie dolls has been a big part of our childhood, I remember I had around 24 barbies at the age of twelve, but it was never enough, we wanted more and more. It was difficult to purchase Barbies in Dhaka during the 90s, so we all waited for our summer vacations to get our hands of this diva.
Barbie doll was introduced on March 9, 1959 by Mattel Inc., a southern California toy company. The first look of Barbie was in a black and white swimsuit, black high heels, and big glamourous sunglasses. The doll became so famous over the years that now they have over 300 outfits along with different career appearances: teachers, doctors, pilots, singers, lawyers, and many more.
Barbie dolls easily became a fashion role model.  In many households, Barbie dolls served as a child's first experience with fashion, glamour and the knowledge of growing up. During my childhood, the Barbie dolls worked as my muse, it inspired me to experience with clothes, colours and styling just by playing. Knowingly or unknowingly, Barbie has inspired me to become a fashion designer!
I remember Barbie dolls were suddenly out of fashion during 2007-2008 when Bratz dolls took over; they even made a movie on Bratz dolls. I have always found Bratz dolls tacky and deeply missed the gorgeous Barbies in the market. Luckily a miracle took place last week when the photos of Ryan Gosling and Margot were released.
The photos have already created high hopes for all Barbie fans. Directed by Oscar nominated Greta Gerwig, the Barbie movie cast also includes Simu Liu, Will Ferrell, Michael Cera and Emma Mackey. The screenplay is by Greta Gerwig and Noah Baumbach. The movie will premiere in the theatres on the 21 July, 2023 commemorating the 60th anniversary of the famous Barbie doll.
Photos: Collected/Warner Bros