Outfit repeating is fashionably trending
"Repeating your clothes is not savvy" — what a foolhardy notion some people are promoting in this day and age! A few believe that outfit repeating is a big NO because you become less of a fashionista if seen wearing the same sari twice. And you are almost red in shame when Facebook memory reminds you how 'uncool' that was.
Unfortunately, the clothing industry has drilled this idea into our heads that the biggest fashion crime you can commit is to repeat your clothes. It is time to undo and ditch that unsustainable idea promoted by advocates of fast fashion.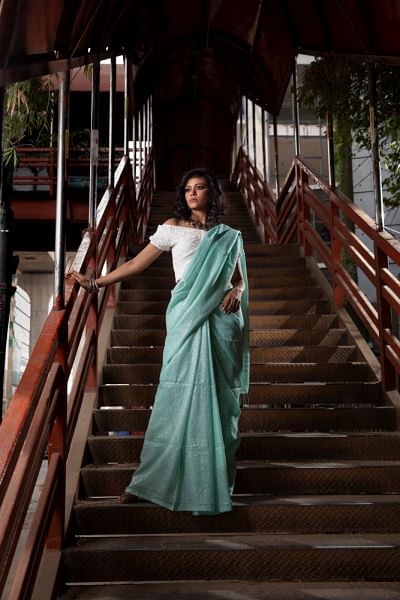 Consider this. It takes a handloom weaver almost 90 or more days to weave a signature cotton sari; a complex process involving the interlacing of horizontal and vertical threads. You flaunt the artisan's hard work by wearing it on an occasion and without appreciating much of his/her majestic effort, you stick the sari somewhere at the back of your wardrobe, never to be worn again. What a waste of talent, hard work, and money! And it only talks about your poor taste, as far as fashion is concerned.
Wearing 365 (or approximately some numbers closer to it) new attires a year is an insane idea because the stigma around re-wearing your old clothes is deeply ingrained in you, this becomes a decision for you to practice. Think about it; how wrong it sounds. What do you do with the pile of old clothes?
One way to challenge yourself is by rejecting those boundaries and discover endless opportunities for re-wearing the same items without getting bored. Outfit repeating is caring, not only for your own resources, but also for the planet we live in. It means you can flex your creativity and add more to the old and yet, still be fashionable.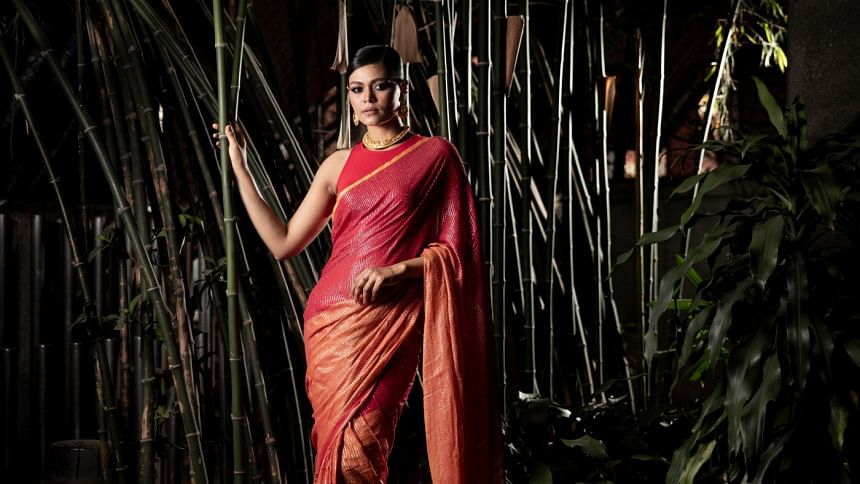 Being in vogue is not about new clothes only, it is totally about styling what you wear. And how you style an old sari and make it fit in your modern wardrobe is the answer to the question of how fashionable you are.
Luckily, for many of us, the idea of creating something new with the old is a big inspirational high. Cutting off the full sleeves and turning an old top into a sleeveless one is a tested option, just like jazzing up sleeveless blouse with a shirt is.
Cutting beautiful old saris and stitching them up into skirts, long dresses, kurtis, anarkalis is injecting modernity into your wardrobe. You become no less a fashionista if you upcycle old wears.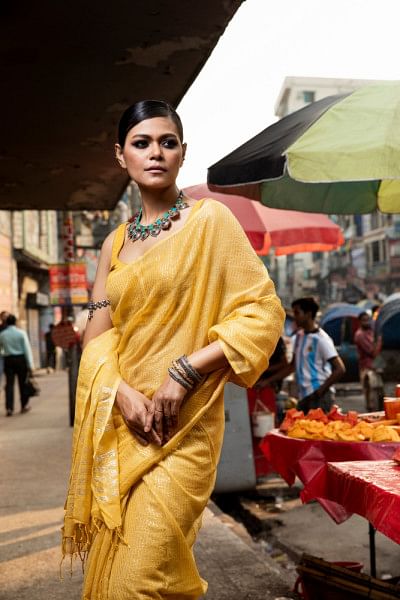 Changing the accessorises you last wore with it or embellishing the sari with laces and mirrors, wearing it with a coat or a long blouse, kameezes turned into winter coats or day dresses — you can try so many options to give your old wardrobe a new look. Reduce, re-wear, re-sell, recycle, and repair; these are the new mantras of our fashion-conscious wardrobe.  
Fast fashion brands push us to buy more but remember, no amount of purchasing and donating can ever solve our fashion crisis. Amidst the bombardment of advertisements and constant promotion of fast fashion; repeating, re-styling, repairing the old time and time again is one of the most avant-garde fashion actions you can ever take.
Model: Jolly
Makeup Sumon
Wardrobe: Menka
Styling: Sonia Yeasmin Isha
Special Thanks to Sabiha Akond Rupa for the arrangements