Nature inspired fashion this Eid from Rose by Nizhu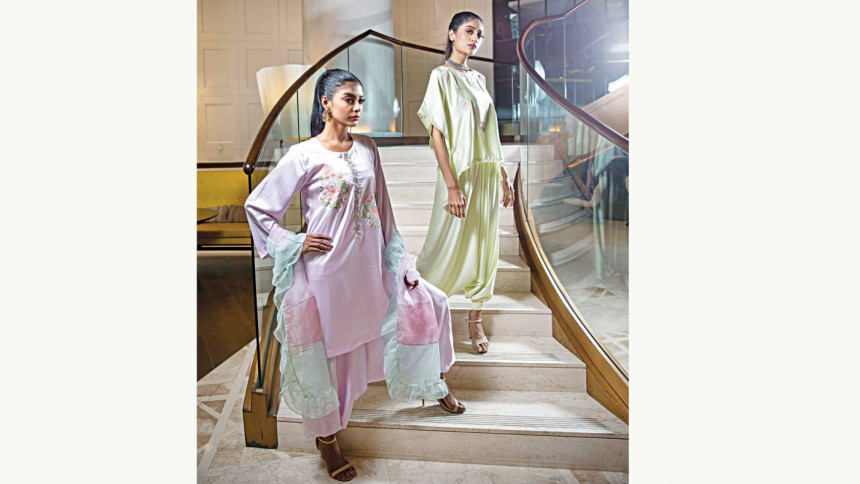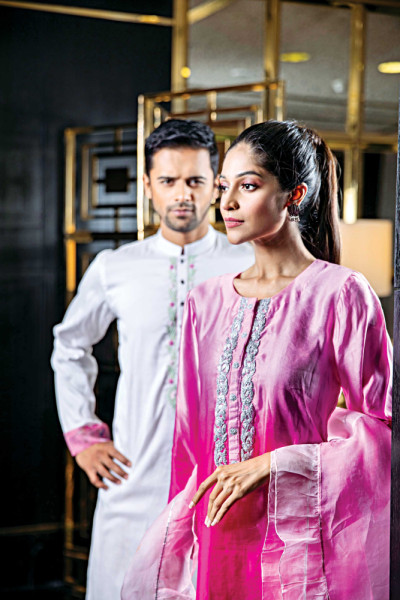 While every flower is special in its own right, roses are indeed exceptionally beautiful! It is no wonder then that Rojina Akhter, owner of Rose by Nizhu, chose to name her boutique after this extraordinary flower!
Flowers of all kinds, especially roses, inspire her to create designs that are feminine, fresh and inherently elegant. One will find floral motifs reimagined and reinvented in Akhter's creations, in an impressive plethora of colours and styles. Her artistic flair has always leaned towards feminine styles and what is better than florals to express her boundless creativity?
Dainty tea roses in shades of pink adorn Muslin saris paired with a ruffled blouse reminiscent of the Victorian era, while bold peonies are embroidered on wispy chiffons in the prettiest of pastel shades.
A proud Bangladeshi, Akhter favours locally produced fabrics the most, especially Muslins which are featured prominently in her Eid collection this year. Rendered in soothing yet stunning shades, hand painted with a distinct artistic flair, these saris and kameez sets are superb and perfect for Eid!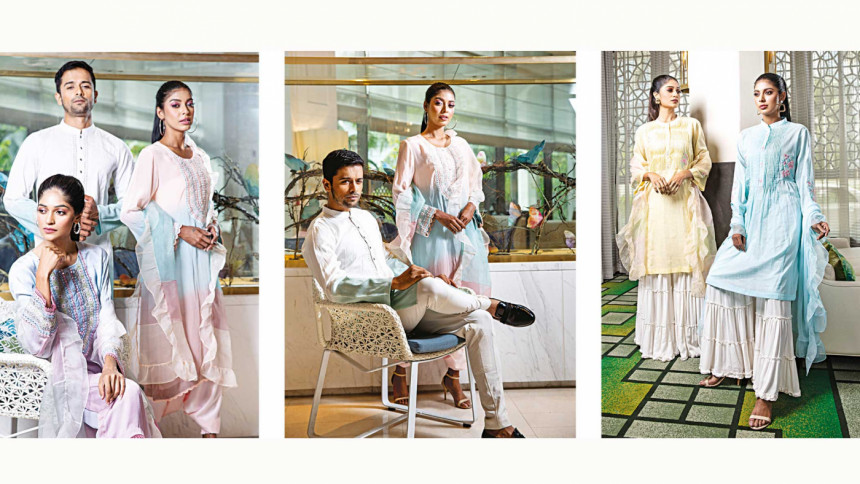 Other stylish details include ruffled borders and flowy silhouettes perfect for summer days. Light kurtis are available for those seeking simplicity yet not compromise on style. Pretty, pale shades of cotton have been made vibrant with details like pin tuck, pleats and gorgeous embroidery.
She also offers panjabis with intricate yet subtle work on collars and sleeves that are bound to make any man look dapper and feel comfortable!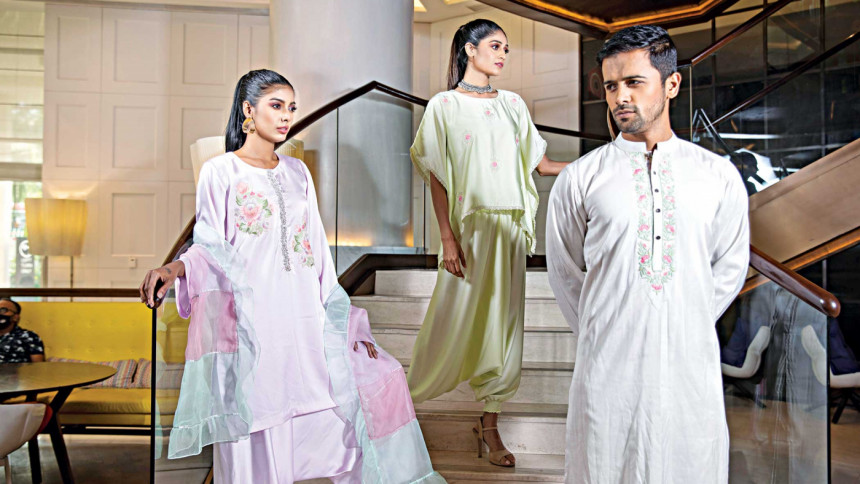 Children are not left out either, for Akhter designs sweet and stunning dresses for little girls and cool panjabis for boys! Akhter also offers style consultations upon request for individual clients as well as families. Matching outfits are wonderful for Eid and Akhter is happy to co-design should clients wish for it!
Rose by Nizhu is a one-stop shop as it offers something for everyone and should definitely be on your must-visit list this festive season! Her page on Facebook and Instagram carries all the contact details and clients can visit her atelier upon requesting appointment. So, if your heart desires to adorn yourself in wispy, soft florals in the prettiest of shades, pay Rose by Nizhu a visit to truly stand out from the overdressed crowd!
Photo: Sazzad Ibne Sayed
Model: Tabinda, Arnira, Daud
Wardrobe: Rose by Nijhu
Makeup: Sumon Rahat
Styling: Sonia Yeasmin Isha
Location: Hotel Intercontinental, Dhaka