How to style kaftans for Eid
Kaftans can be the perfect choice of attire for the upcoming Eid this summer. There are multiple ways to style them to undoubtedly be one of the best-dressed individuals in the room.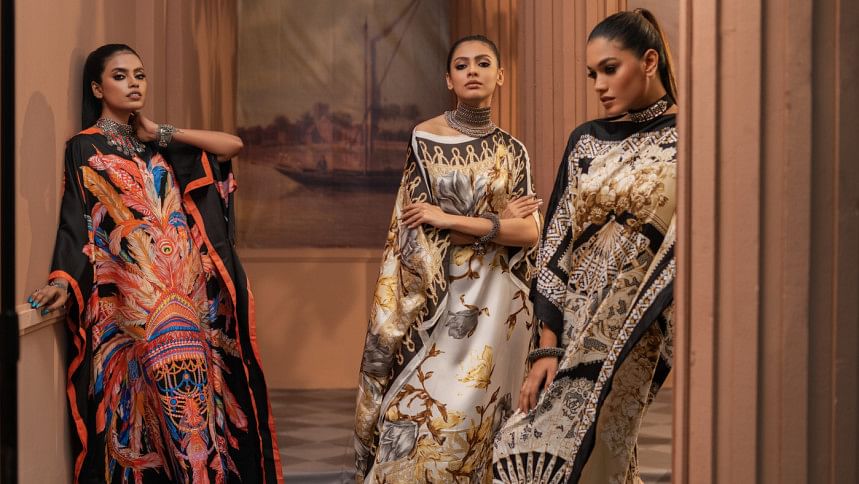 Newsflash — kaftans are back in style. And is there a better occasion than Eid to wear them? Kaftans are comfortable, breathable, and stylish. Their designs are influenced by both Middle Eastern and subcontinental cultures but do not think kaftans are limited in their long and loose interpretations. They have evolved into very stylish tops for youngsters and teenagers along with kaftan-style jackets.
Kaftans have been the symbol of bohemian fashion. This baggy garment with no defined sleeves has truly stood the test of time and geography. Seen on the royal courts of the Ottoman Empire, kaftans transcended borders reaching Africa, Russia, and even Europe.
Depending on how it's designed, kaftans can range from casual and comfortable to luxurious and gorgeous. It can give the vibes of a beautiful summer vacation in the Moroccan villas to going to the most extravagant wedding of your friend. No matter how it is designed, you are bound to feel both stylish and comfortable in this gem of attire.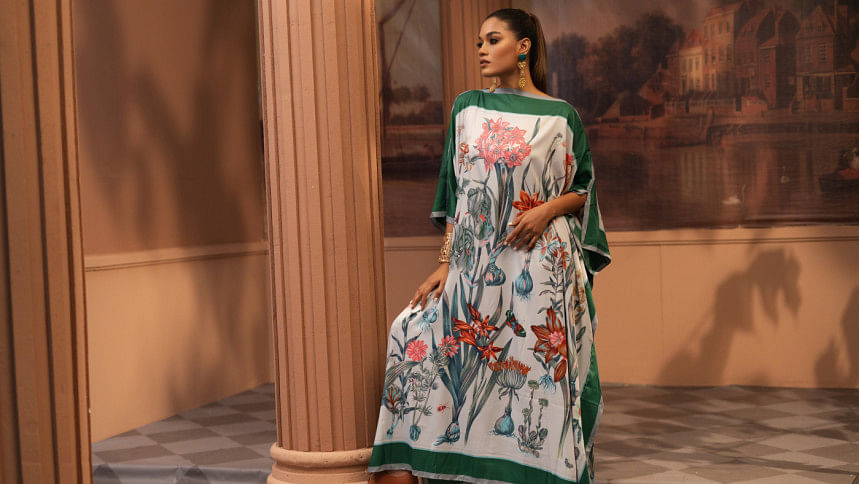 Kaftans can be printed with large, geometric prints or florals and can have tie-dyes, embroidery or zardozi stone embellishments. There is ample room to play around with its styling. Designers experiment with their lengths, sleeves, and neckline. V-necks, boat necks, squared or ballooned sleeves, long kameezes or shorter resort wear, the kaftan enhances any chosen style.
Kaftan tops can be worn with skinny or straight-cut jeans and pants or black opaque tights. Depending on the colour of the top, the bottom can either be similar or contrasted. Avoid wearing baggy or looser-fit bottoms as this will make the ensemble look ill-fitting and awkwardly voluminous.
Since kaftans are very loose, wearing a belt on the waist will provide more structure to the body silhouette. The belt can be simple and chic with one colour or it can have embellishments similar to the kaftan. Fabric belts made of the same fabric as that of the kaftan will also provide unity to the fit.
Kaftan style jackets pair beautifully with t-shirts, cropped tops and co-ord sets. Jumpsuits can also be an excellent addition. Wearing kaftan jackets over the casual dressing formula of a T-shirt with straight pants or jeans provides a bohemian edge.
No look is complete without accessories. Kaftans can serve as a wonderful outlet to go crazy with jewellery. You can wear large necklaces as belts with your kaftans. There are no limits when it comes to jewellery. From beaded pieces to jewellery made of clay and fabric to antique-style oxidised silver jewellery, there is truly no way to go wrong. Just make sure that the jewellery is appropriate for the occasion and pairs well with the colour and design of your outfit.
For casual summer-friendly kaftans, a wonderful accessory would be a hat. Kaftans with perfectly bamboo braided large hats with large rims will ensure that you become the most effortlessly stylish person on the beach. Complete the fit with a bohemian tote or a fabric patchwork handbag.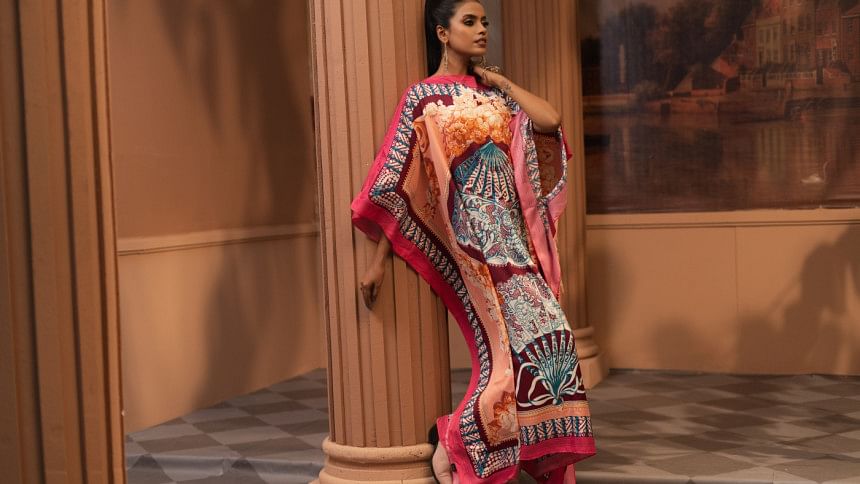 The best hairdo with kaftans is to let it be open. Let the hair move around in seamless rhythms of the air. Whether the hair is straight, wavy or curly, keeping the hair open makes you look much more relaxed.
For footwear, slides, and flat sandals complete the whole bohemian aspect of the look. If the kaftan is dressed for parties and contains luxurious stones and embellishment, opting for shiny and embellished heels, either in high heel or kitten heel styles will give the wearer some height and more definition in the look. Stone-encrusted clutches work wonderfully with such looks.
No matter how you choose to style and wear your kaftan, be sure that you will be one of the most stylish individuals walking in that room.
Models: Isha, Jessia, Efa
MUA: Sumon
Styling: Mahmudul Hasan Mukul
Wardrobe: Izhaar by Isha (Signature Collection)