Crazy about kurtis!
As expected, summer this year is becoming unbearable by the minute! Long humid days that leave us hot and bothered, coupled with unexpected bouts of rain and thunderstorms only add to our national misery! Days as these make us want to stay home, curl up with a nice book and a tall glass of chilled orangeade but lo and behold, life takes over and how. Out we must venture, go to work, run errands, do school runs and so much more.
To beat the heat in style, kurtis are a real godsend! A cross between kameez and shirt, kurtis can be anything you want and more. Our eternal love affair with kurtis is one for the books, and as a tribute to the comfort and joy they bring in our lives every day while making us look effortlessly stylish, let us rejoice in the countless ways we can fashion them this summer!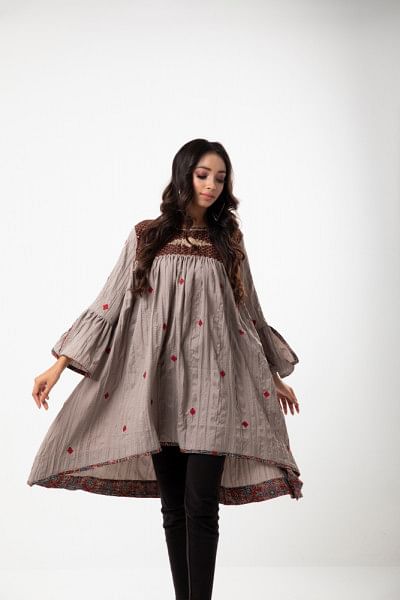 Cotton kurtis are a summer staple that deserve a front row seat in every fashionista's wardrobe in Dhaka, suffice to say. Kurtis in solid colours are the building blocks that are essential for every woman. A classic white kurti is a wardrobe staple during any time of the year. Simple yet sophisticated, a white chikankari kurti is resplendent while endi cotton one is chic and earthy.
From crisp white to ivory to off-white kurtis rendered in this hue (or lack thereof!) is beautiful in every avatar. Moving on to more cheerful shades, pastels are fabulous for summer for obvious reasons. Soothing and sweet, sorbet shades such rose pink, peach, lilac, pistachio and cotton candy blue are perfect for kurtis. With a little bit of embroidery on the neck and sleeves, kurtis look even prettier in these candy hues.
Prints are equal parts fun and cool! Florals are timeless and perennial favourite of all women. Large, blousy roses, little daisies, dainty, wispy cherry blossoms — it's hard to pick one among these beauties! They are perfect for kurtis, especially in summer when we all want some flowery sweetness in our lives!
Traditional, handloom kurtis are all the rage right now. They have made a comeback in a major way and we are here for it. Jaipuri prints in cotton and viscose are incredibly beautiful, in rustic, muted shades such as maroon, navy, forest green, ochre and mustard among others. Traditional weaves and designs such as ikat, chunri, leheriya and katki are eco-friendly, consciously produced fabrics perfect for kurtis that will not only make you look fabulous, but feel great too.
Model: Proma
Make-up: Orko
Wardrobe: Almira
Styling: Sonia Yeasmin Isha