Coatee: How will you wear it?
The coatee is a unisex fashion wear that has come into its own, years after it was worn as a necessity to keep out the cold. Finding its origins in the hilly regions of India, where people donned the first coatee, the garment has since then evolved to suit the needs and styles of people around the world. The garment can be casual and fun, or formal and dressy, depending on what version of it one picks. Whatever the style, a coatee is never, ever, boring!
Favouring both eastern and western styles, the coatee looks elegant and cultural thrown over a beige panjabi kurta, dapper as a waistcoat, and playful as a shrug over dresses, and jumpsuits. Of late, we see coatees in their best form as fusion-wears. Long or short, and using thicker fabric to retain their shape, coatees can provide a splash of colour to an otherwise plain outfit. 
There are quite a few hit designs for coatees nowadays. There are frock-style versions that you can tie up, for a closed and neat look. A friendlier alternative is to wear the entire length of it open, over skinny jeans and a similar coloured shirt or top. These coatees can be embellished with mirrors, embroidered by hand, or block printed to give out fun, amiable, and fusional vibes.
One can also wear the coatee as a plain, monochrome cover-up over sportswear or casual clothing without much bling. The garment is then essentially used as a shrug that lends playfulness to the ensemble without looking out of place, or over the top, especially for the lightly cooler months that are on the way. Paired with white sneakers, the sports casual look can take your style game to another level. 
Short, embroidered coatees look great on high-waisted pants and tank top inners, and even on plain, one-coloured jumpsuits. Easily accessorised with smart, chunky ear tops, a professional handbag, and clunky heels, the ensemble can be a wonderful way to glam up an office event or get-together.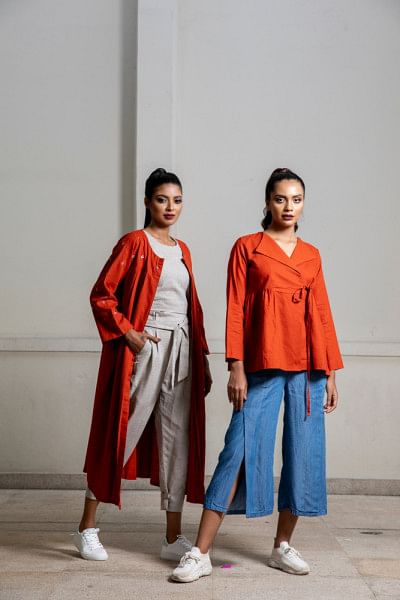 Finally, long, short or mid-length, a coatee also has the glam quotient to be a party outfit. As one-coloured crop top and pants (slim cut, ciggy pants, or balloon), are all the rage now, one can easily amp up that look by shrugging into a contrasting coloured coatee. This outfit can be accessorised with traditional, contemporary and even bohemian jewellery and footwear to create an especially appealing aesthetic. 
Where to get coatees: 

If you want to pair colourful coatees with solid-coloured kurtis, then Warah is your best bet because they have both the beige khadi to go with the multicoloured covers. If you are more into sombre coatees and various embroidery work then there's Aarong for you. 

If you want a specific touch by a designer, then Rifat Rahman should be your favourite option. We are also in love with Tenzing Chakma and his creations. At the end of it all, we only want to say that whatever your preference may be, let it only be deshi.
Models: Arnira, Mysha
Styling: Sonia Yeasmin Isha
Wardrobe: R Rahman
Makeup Artist: Sumon
Location: InterContinental Dhaka