Bangladesh Wedding Couture Week 2022 (BWCW) highlights high-end wedding wear And local wedding services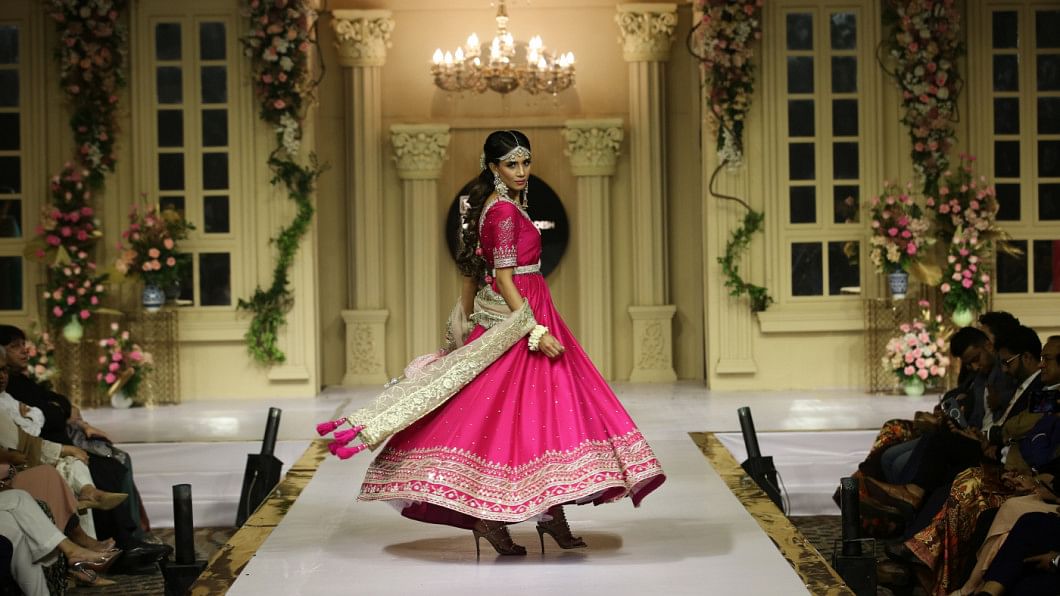 The wedding season is coming soon, and all the bachelors, bachelorettes, fiancés, and fiancées are scrambling all over the city and abroad to get 'the' proper attire, jewellery, watch and so forth. Foreign designers and products glow under the limelight every wedding season just to create a veil of perfect weddings. With the notion that local wedding wear is not up to the mark, most of us shy away from shopping locally for weddings. However, is it necessary to go out of our way to get all the wedding-related essentials from abroad despite having thriving homegrown brands with years of skills to offer?
To answer the question above, the first-ever edition of Bangladesh Wedding Couture Week 2022 (BWCW) gathers all cogs and wheels of the wedding industry under the same roof to highlight multiple local brands of products and services and essential roles in the season.
BWCW aims to shift consumers' focus back to vendors and manufacturers working in the wedding market to make them thrive and innovate further in their crafts.
The three designer brands, Sarah Karim Couture, Zurhem, and Sahar Rahman Couture, showcasing their wedding collections, bring an intricate line of wedding wear, including bridal and bridesmaids' outfits, grooms' attire, and accessories. The suave ensembles bring quality fabric and elegant patterns right next door to you. Not only is their work on par with foreign brands, their high-end quality and the ingenious visions of designers bring locally made branded attire and accessories to the centre stage.
This wedding season, BWCW, presented by TRESemmé and driven by Mercedes-Benz, brings brides and grooms-to-be an array of sophisticated and elegant bridal wear. The three creative minds on the ramp featured wedding attires focusing on holud and mehendi events on 6 October 2022.
Associated with Mohammad & Sons, Jarwa House, and Judith Leiber Couture, the gala event was filled with poised, chic and elegant guests waiting to get wide-eyed by what the three designers had to offer for this wedding season.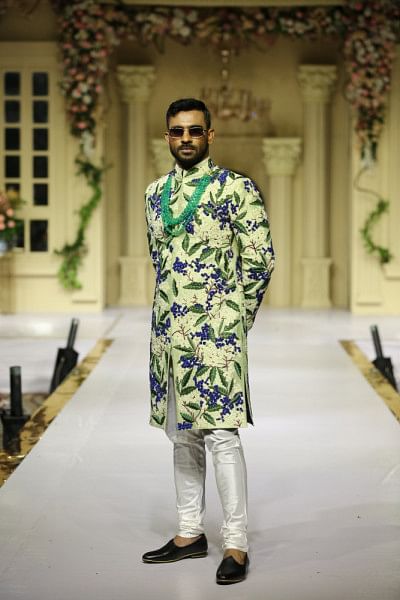 Enrico Nunziata, Italian Ambassador to Bangladesh, graced the event with his presence among the A-list guests. Co-sponsored by Rupayan City, Penthouse Living, F45 Banani, Ananta Terraces, Berger, Este, City Bank, and Kawsar Chowdhury, the 3-day fashion event exhibits outfits unique to wedding events like holud, mehendi night, and the reception.
Traditionally, the holud is one of the most anticipated and activity-filled wedding events. As the way has it, the colour yellow has been the go-to colour theme for ages. With time, the event has received a modern twist. Vibrant and pastel colours now have the space to shine. BWCW featured a multitude of colour shades and pastel tones meant for the holud, while keeping its traditional traits intact.
Starting with Jarwa House, the jewellery brand launched the show with a stellar showcase by bringing gold back to the top of the trending charts. With both traditional and modern designs, the exquisite jewellery line reflects four generations of designing, including earrings, necklaces, and headpieces in minimalism and heavy designs incorporating jade, rubies, and pearls.
Next came the first designer clothing brand, Sarah Karim Couture, highlighting the Holud Collection with bright and pastel colours with hints of yellow, lime green, and fuchsia pink. The bridal wear in this line also caters to the bride's mobility with light fabric like net and muslin accentuating 'gota patti' designs and mirror work, which is popular this season.
Sahar Rahman Couture's line-up appearing third on the runway also highlighted women's bridal wear staying true to the brand's love of bright colours while keeping it soothing to the eye. With two pieces and traditional dresses, the colourful multi-colour outfits combine vibrant and pastel tones of red, orange, pink, green, and blue harmoniously. The traditionally trendy collection blends traditional designs with a modern and graceful flare.
Underling the other major part of the wedding, Zurhem's modern and avant-garde take on the groom's attire collection captivated everyone's eyes. With Mehruz Munir as Managing Director, the luxury menswear brand displayed its wedding collection for men with outfits elegantly designed with multiple colours and floral embroidery. From kurtas, sherwanis, coats and ethnic vests in pastel and vibrant shades of yellow, white, green, and pink, Zurhem gave a contemporary twist on the idea of what a groom can rock on his holud night.
Azra Mahmood directed BWCW's first fashion show. The vibrant night was also made possible through the event partners, Shahjahan Wedding Planner & Event Management for event decor, Privé by Nahila Hedayet and La'belle Beauty Salon for the makeover, and K.Nasif Photography and Snapshot for photography, to name a few.