Azim Uddula's new line of autumn wear
The chiselled hunk of the Bangladeshi showbiz industry, Azim Uddula has been around the fashion block for quite some time in the South-Asian fashion scene. From working with top brands in Bangladesh to showing his finesse in designing, he has done it all. His own men's clothing line, called "AZ," has been raving throughout the streets of Dhaka. With his most anticipated Autumn collection ready to go, Azim Uddula shares a sneak peek for the next season and more with Star Lifestyle.
How excited are you for the upcoming Autumn Collection?
I am very excited about the upcoming collection. Every step was exciting, from preparing the samples, going to Greece for the shoot, and setting up the entire team. The hard work paid off when the results came into my hands. We have not published it yet, but we will very soon. Overall, I am very excited and whoever was involved with the entire process, like the photographer, the models even the owner of the hotel where we shot, were delighted to see my collection.
What was your inspiration behind the collection?
Believing in simplicity has always been my motto. However, quality, the cut of the fabric and tailoring also play a major role for me. While brainstorming on my design board, my top priority for an Autumn Collection was clarity and quality. Besides these two concepts, I was fixated on two additional things. One, a smooth cut, and two, proper focus on solid colours. It was difficult to align light colours and heavy fabric with my vision for the collection. So, naturally, I opted for a sweet balance between the two. So, far whoever has seen my collection behind the doors has loved it!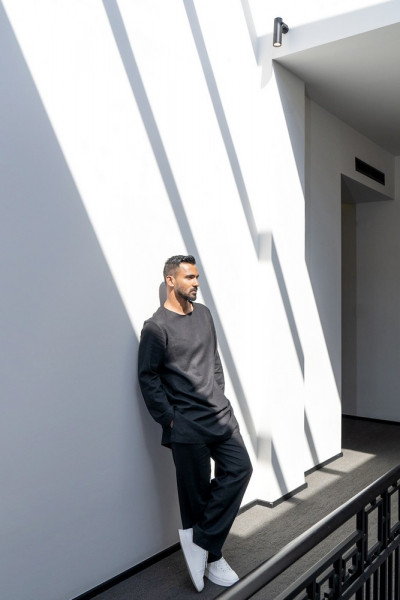 You have been teasing the fans with behind the scene photos of the collection, any particular design/style that we should be looking forward to?
As I said earlier, my focus has always been simplicity and fabric quality. My own preference is wearing solid colours. We came up with an olive colour design, which garnered quite a rave from the fans and fashion-forward people when we posted it on our page. That being said, we plan to have that design in several colours. There are about 7-8 colours; among them, the olive one got the most attention.
The shoot for the collection was done in Greece. How was the experience?
It was a fantastic! Being an avid traveller; I already know some people there. The female model Ines Anna is a client and friend of mine. The leather jackets from AZ played an important role in our friendship. During the time of preproduction, I approached her for the shoot, and she happily agreed. As it was summer, it was pretty hot outside which led me to plan an indoor photoshoot. The InnAthens Hotel in Athens was perfect for it and the owner, also a friend of mine, let us shoot indoors for the collection. Photographer Yvi Tsakiris was also very cooperative and made the overall experience great.
Your new collection has a lot of beach/vacation looks. Any reason you picked this theme?
The shoot was done in Europe during the blooming summer season. Even though the collection is for Autumn, I felt like I wanted to showcase the summer of Europe through my designs. The beautiful beaches, the mountains and Europe as a whole in summer are just sublime. I wanted people to experience it through my collection.
Your leather jackets have been quite a fan favourite. Why do you think it became such a hit?
Leather jackets have a soft corner in my heart. AZ's leather jackets were one of the first few pieces which were made with excellent quality leather. But the problem lies in the design and finishing and tailoring. They were my first issues to fix with my minimalist designs. Initially, people just loved it when we worked on the designs and posted them on the page. Our consumers both from Bangladesh and abroad have loved AZ's leather jacket collection. And the best feeling is when they send me a picture of them wearing it. Their positive feedback keeps inspiring me.
What WOW factor should fans be expecting for winter?
For winter, many designers focus on hoodies and sweatshirts. But the challenge is making the design stand out among the rest. We do have some interesting facets we are currently working on. I am sure my customers will love it. My fan base is waiting for what's coming. I won't disappoint them.
Where do you see AZ in the next five years?
Ever since I started, I have wanted AZ to go international. The way stores are designed abroad always allures me. Even before AZ, I always longed to have stores in Paris, London, and Milan. I want to compete with other brands there through my vision and what I have to offer. I am working towards it. Let's see what the future has in store for us. 
Photographer: Yvi Tsakiris
Model: Azim Uddula
AZ autumn collections Design by: Azim Uddula
Location: Innathens hotel, Athens, Greece