On interfaith marriage
This week Your Advocate is Barrister Omar Khan Joy, Advocate, Supreme Court of Bangladesh. He is the head of the chambers of a renowned law firm, namely, 'Legal Counsel', which has expertise mainly in commercial law, corporate law, family law, employment and labor law, land law, banking law, constitutional law, criminal law, IPR and in conducting litigations before courts of different hierarchies. Our civil and criminal law experts from reputed law chambers will provide the legal summary advice.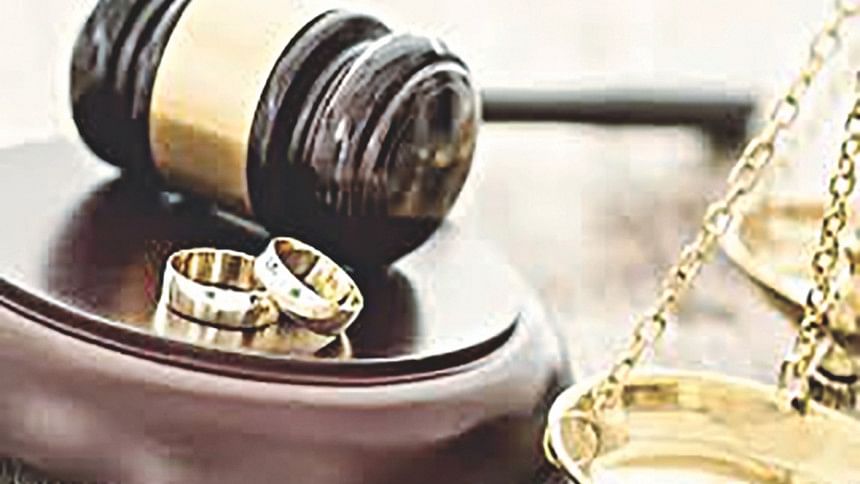 Query
One of my Muslim friends is in love with a Hindu girl for quite a long time. Now they have decided to marry each other. Their family members do not want them to be married. They are adults and have already left their parents' houses. Can they marry as they belong to two separate religions?
Suparna, Dhaka
Response
Dear Suparna,
Thanks for your query. In Bangladesh, family laws including laws concerning marriage are predominantly regulated by the religious laws of the concerned individual. As your friend is Muslim, Muslim law will regulate his marriage-related issues and Hindu law will apply for the girl belonging to Hinduism. In accordance with Islamic Law, a Muslim male is permitted to marry any girl who is a follower of any Kitaab (scripturalist), e.g. Muslim, Christian, or Jew, but marriage to polytheists and idol or fire worshippers (e.g. Hindus) are not allowed under the Islamic law. As such, if they keep their respective religious beliefs, unfortunately, such marriage is not permitted within the existing legal framework of the country. 
Although two adults belonging to two different religions can get married under the Special Marriage Act 1872, they have to declare themselves as non-believer (atheists) before the marriage is solemnised.
When a marriage is solemnised under this Special Marriage  Act, the bride and the bridegroom have to sign a Declaration which reads: "I do not profess the Christian, Jewish, Hindu, Muslim, Parsi, Buddhist, Sikh or Jaina religion" or (as the case may be) "I profess the Hindu, or the Buddhist, or the Sikh or the Jaina religion." It is noteworthy that if the female partner declares that she is a Hindu, it will not be possible for her to marry a Muslim male, as the religion Islam is not mentioned in the second part of the Declaration.
Alternatively, your friend and her partner may get married if the Hindu female partner converts herself to Islam. After conversion, both will have the same religion and can get married under the Muslim law.
I hope you will have answers to your query from the aforesaid opinion.