Law Vision
The need for institutional ADR to uplift country's dispute resolution system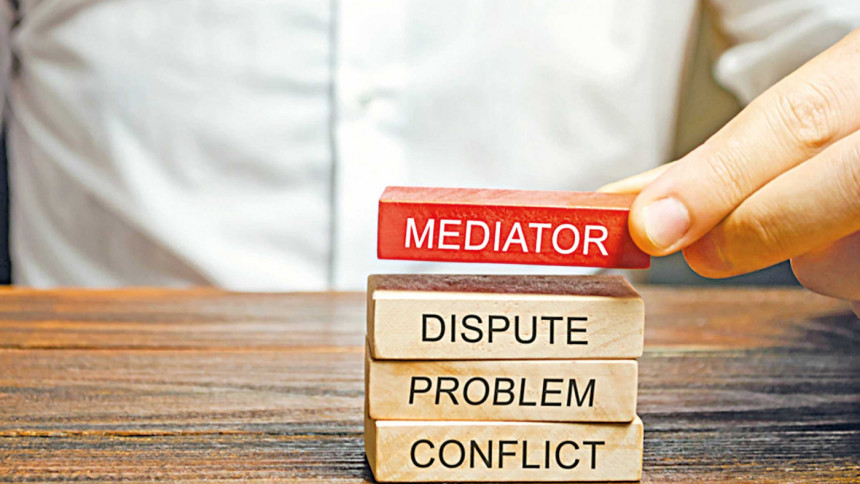 The legal framework for dispute resolution through alternative methods has reached a level of maturity in Bangladesh. In the last three decades, the government has introduced many legislative reforms for the progress of Alternative Dispute Resolution (ADR) system in the country. The enactment of the Arbitration Act, 2001 may be cited as one of the examples. It is a comprehensive legislation in the field, which recognisesd mediation during arbitration and consolidated the laws to govern domestic and international commercial arbitration.
In addition to the above law, ADR provisions have also been inserted in two significant pieces of legislation, namely the Code of Civil Procedure, 1908 (section 89A) and the Money Loan Courts Act, 2003. Since 2001, Bangladesh has also enacted and/or amended some laws to promote dispute resolutions through ADR mechanism in the fields of energy, labour, taxation, insurance, real estate and so on.
However, this article attempts to argue that a mere legal framework is not enough to improve the justice system through ADR. With the enactment and amendment of laws, Bangladesh needs to establish accredited ADR centers to progress the ADR regime in the country and encourage people to adopt the alternative methods for resolution of their disputes.
The main advantages of ADR under an institutional set-up are that it provides for a framework based on the institutional rules. It has trained staff and a pool of both arbitrators and mediators ready to offer services using their expertise in the relevant fields. It ensures transparency and brings predictability to the entire process. The disputing parties know it with certainty as to how their dispute will be dealt with, how long it will take to complete the proceedings and how much expenses will be required for the purpose, etc.
Since the use of ADR under institutional framework is useful, the private institutions have been established and promoted with government supports in many countries where ADR is a success story.
For instance, the Australian Centre for International Commercial Arbitration (ACICA) is Australia's international arbitration institution. The ACICA has been prescribed under Sections 18(1) and (2) of the International Arbitration Act, 1974 (Cth) (Australia) as the authority competent to perform the arbitrator appointment functions under the Act.
In Switzerland, there are two sets of arbitration laws, namely (i) Chapter 12 of the Swiss Private International Law Act (PILA) which deals with international arbitration, and (ii) Part 3 of the Civil Procedure Code which regulates domestic arbitration. The Swiss Arbitration Center, as an independent institution, provides for ADR services to satisfy the need of ADR users. Similar institutions have been established in many parts of the world including Singapore, UK and Hongkong. These institutions offer ADR services and administer the entire process based on their own rules which provide for faster and more efficient resolution of disputes.
In the UK a number of successful bodies supporting and promoting the use of ADR have been established. The Civil Mediation Council is one such, set up in 2003, which sets standards for training and practice. There also exists a standard guideline for fees to avail ADR services.
Similar ADR centers or institutions should have been established in Bangladesh to promote and encourage ADR practice. It may be mentioned that an ADR institution is currently providing for ADR services with facilities based in Dhaka. Bangladesh International Arbitration Center (BIAC), which was launched in Bangladesh on April 9, 2011 as a private institute for ADR. It started functioning with the main objective of facilitating ADR, more precisely arbitration and mediation, for resolution of domestic and international commercial disputes. The other objective is to promote Bangladesh as an attractive venue for both arbitration and mediation. BIAC has its own institutional mediation and arbitration rules, known as the BIAC Mediation Rules and BIAC Arbitration Rules. It offers ADR services and functions as an administrating body under those rules.
However, if compared, in terms of its power and legal status, BIAC is not similar to ACICA in Australia. BIAC has not received any legal recognition to function as a default appointing authority to offer ADR services to the users.
ADR is a tested mechanism and its role in building up an efficient dispute resolution system is undisputed. Thus, the presence of independent ADR centers in Bangladesh with right support and personnel can guarantee the taking place of a meaningful ADR mandated by different statutes as well as the Arbitration Act, 2001.
The writer is a Student of Advanced Masters in Compliance, University of Fribourg, Switzerland, and an Advocate, Supreme Court of Bangladesh.