Enforcement of contract in Bangladesh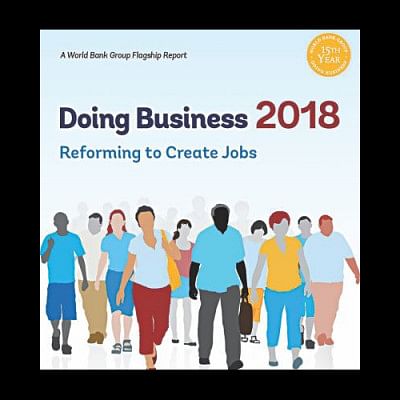 Enforcement of Contract' is a very important regime of the Ease of Doing Business Ranking of the World Bank held every year. In 2018, India ranks 164th in Enforcement of Contract indicator, whereas Bangladesh does 189th. Very unfortunately, in 2017 as well as in 2018 total score in Enforcement Contract issue is 22.21 (out of 0-100), time (days) to resolve a dispute is 1442 days, cost of resolving the issue is 66.8% of claim amount, and quality of judicial process index is 7.5 (out of 0-18). This is very strange how and why an index in its every component is same in two consecutive years.
To improve its ranking, India enacted the Commercial Courts in 2015 which provides for constitution of specialised commercial divisions in the High Courts. This Act seeks to achieve its objectives through a three step approaches: (a) the Commercial Courts/Divisions are to be manned by specialised judges "who have experience in dealing with commercial disputes", (b) specialised procedure by amendments to the Code of Civil Procedure, 1908; and (c) narrow appellate jurisdiction against interlocutory orders. Further, the President of India has promulgated the Arbitration and Conciliation (Amendment) Ordinance, 2015 and the Act 2015 accordingly. This Act contains provisions for the enforcement of contract, specially international contracts and to attract Foreign Direct Investment (FDI). This Act (specifically Section 29A) requires that an arbitral award has to be passed within a period of 12 months, which can be extended further by another six months with the consent of both the parties.  Otherwise, the provision stipulates that the mandate of the arbitrators shall be terminated, unless a court of competent jurisdiction grants a further extension.
Despite these laws, finding little development in index, on 19 December 2016 India has schemed an eight-point strategy to make it to the top 50 of the list in Ease of Doing indicator. Improving its rank under the 'enforcing contracts' parameter was the first priority.
In the Ease of Doing Business indicator, India has developed their position from 130 in the year 2017 to 100 in the year 2018. Only one day after the Ease of Doing Business Ranking heightened, for the activities they have taken, the government on 2 November 2017 took major legal moves to improve the regime for enforcement of contracts. The changes they intended to bring forth are, to amend the law to designate a few district courts in Delhi and Mumbai, to begin with, as commercial courts. In addition, the law will be amended to allow for an alternate dispute resolution, such as mediation before a case is filed.
Very unfortunately, position of Bangladesh went down despite some steps taken, including the declaration of Executive Chairman of Bangladesh Investment Development Authority (BIDA) to develop Bangladesh by a certain period of time. BIDA adopted a memorandum and action plan for reform. But till today there is no substantial development in terms of implementation of the policies.
Therefore, the recommendations for development in 'Enforcement of contract indicator' should be, such as, the constitution of specialised commercial court/tribunal; making arbitration and mediation more popular in terms of resolving commercial disputes; amendment to the court processes to ensure expediency, introducing effective pre-action protocol type procedure in Bangladesh; and bringing more effective changes in the Code of Civil Procedure and in, specially, ADR and arbitration laws of Bangladesh.
The writer is an Advocate, Supreme Court of Bangladesh.