Reza Kibria looks to run as Oikyafront candidate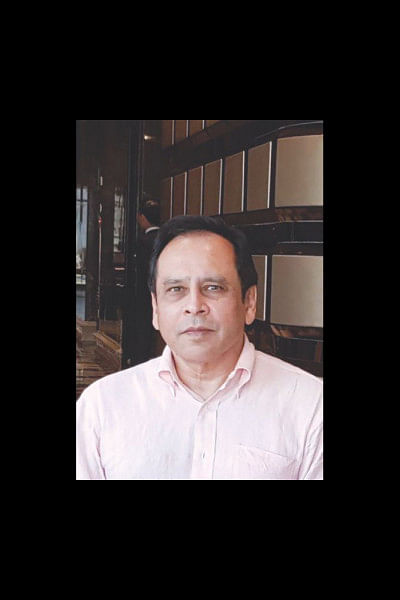 Reza Kibria, son of slain former Awami League Finance Minister Shah AMS Kibria, wants to contest the December 30 parliamentary polls under Jatiya Oikyafront from Habiganj-1 constituency.
Reza, an economist by profession, has recently joined Dr Kamal Hossain-led Gono Forum, a component of Oikyafront. He collected Gono Forum's nomination paper and submitted it on Friday, seeking the party's ticket to contest the polls. Oikyafront will contest the election under the BNP's paddy sheaf symbol.
Reza's father, Shah AMS Kibria, served as the finance minister under the Sheikh Hasina-led government from 1996 to 2001. He was elected as a member of parliament from Habiganj-3 constituency in the 2001 general election.
The former finance minister was killed in a grenade attack during a public meeting in Habiganj on January 27, 2005.
Speaking to The Daily Star about why he joined Gono Forum, Reza said, "I do not agree with the way the country has been run over the last 10 years. I feel that Awami League has moved away from the policies that my father and Sheikh Hasina previously supported."
He said he was also dissatisfied with the way Awami League has handled the investigation into his father's assassination.
"I trust and greatly respect Dr Kamal Hossain and I am comfortable with the thought of him guiding the future of the country after the election," he said.
Replying to a query, he said Dr Kamal was his leader and he was in close contact with him.
"I hope to contest from Habiganj-1 which is my ancestral home. My father always wanted to contest from Habiganj-1, but was not able to. I am very keen to contest from there," he said.
Like his father, Reza has worked at the UN. Though he was born in Jalalshap village in Nabiganj Upazila's Debpara Union, he spent most of his youth abroad. Most recently he has been Macro Fiscal Advisor of International Monetary Fund, Ministry of Economy and Finance, Cambodia.