Janmashtami celebrated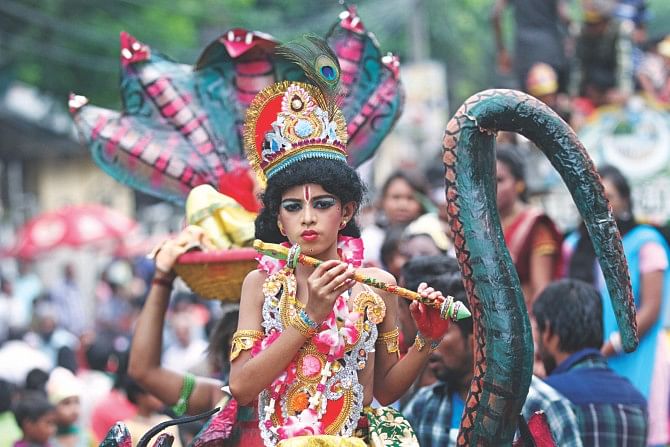 Janmashtami, one of the major religious festivals of the Hindus marking the birth of Lord Sri Krishna, was celebrated in the country yesterday amid much fanfare and festivity.
According to the Hindu Puran (mythology), Krishna was born on the eighth tithi of Shukla Pakkha (fortnight of the new moon) in the Bangla month of Bhadra and He takes birth in ages in the world to safeguard the good and pious people from the hands of evils to establish truth, justice and beauty in the society, BSS reports.
Colorful processions displaying the events of the life of Krishna were brought out in the capital, divisional cities and district and upazila headquarters, it adds.
Our staff correspondent from Chittagong reports, thousands of devotees from the city and upazilas brought out a procession from Anderkilla intersection in the city and ended it in JM Sen Hall area.
Our Barisal correspondent adds, colorful processions with musical instruments, placards, banners and festoons were held in the city.