Rahul Gandhi sent back to Delhi on arrival at Srinagar airport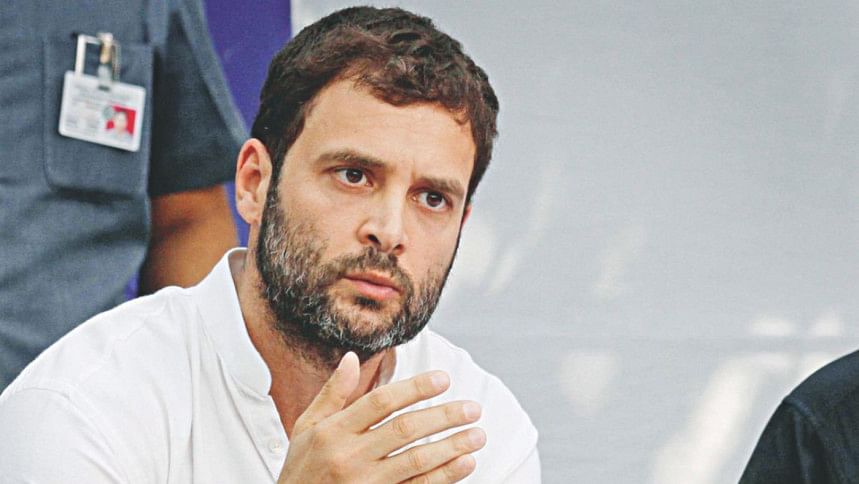 Congress leader Rahul Gandhi along with other opposition leaders, who had flown to Jammu and Kashmir, were sent back to Delhi from the Srinagar airport.
The delegation of opposition leaders had arrived at the Srinagar airport earlier in the day even as the Jammu and Kashmir administration had asked them to stay away.
The leaders had travelled to Kashmir to meet the people and party leaders in the region where restrictions have been imposed since the abrogation of Article 370.
The delegation comprised of Rahul Gandhi, Ghulam Nabi Azad, D Raja, Sharad Yadav, Manoj Jha and Majeed Memon among others.
The Bahujan Samaj Party and the Samajwadi Party were not part of the delegation.
This was Gandhi's first visit to Srinagar since the abrogation of Article 370 and bifurcation of the state into Union Territories of Jammu and Kashmir and Ladakh.
Earlier, the Jammu and Kashmir administration had requested them against visiting the state, saying attempts should not be made to disturb the gradual restoration of normal life.
"At a time when the government is trying to protect the people of Jammu & Kashmir from the threat of cross border terrorism and attacks by militants and separatists and gradually trying to restore public order by controlling miscreants and mischief mongers, attempts should not be made by senior political leaders to disturb the gradual restoration of normal life," the Information and Public Relations Department of the Jammu and Kashmir government said in a series of tweets.
"Political leaders are requested to cooperate and not visit Srinagar as they would be putting other people to inconvenience," it said.
"They would also be violating restrictions that are still there in many areas. Senior leaders should understand that top priority would be given to maintaining peace, order and preventing loss of human lives," it added.
"Government says the situation in Jammu and Kashmir is normal. Then, they do not allow leaders to visit the state…. haven't seen such contradiction. Why are Omar Abdullah, Mehbooba Mufti, and Farooq Abdullah are under house arrest? Why aren't they allowing me to go to my home? If it's normal, why aren't we allowed?" Mr Azad asked as he left from Delhi this morning.
Meanwhile, restrictions were reimposed in Srinagar city on Friday after posters issued by the separatists called on people to march to the local United Nations military observer group office.
Restrictions were eased in most areas of Kashmir this week, with barricades being lifted and the movement of people and traffic increasing gradually, but markets remained shut and mobile and Internet services suspended for the 18th day on Thursday.
At least 400 political leaders in the Valley including former Chief Ministers Omar Abdullah and Mehbooba Mufti have been kept in preventive custody after the Centre had on August 5 revoked almost all the provisions of Article 370, which gave special status to the state and bifurcated it into Union territories.
Earlier this month, Congress member of Parliament and leader of Opposition in Rajya Sabha Ghulam Nabi Azad was sent back to Delhi hours after he was stopped at the Srinagar airport.
Azad was accompanied by Jammu and Kashmir Congress chief Ghulam Ahmed Mir when they were stopped at the airport.
Communist Party of India (Marxist) leader Sitaram Yechury and another party member D Raja were also detained at the Srinagar airport and sent back to Delhi.